Super Chikan is not yet super famous, but he deserves to be.
With his killer Delta Blues tunes, a knack for riveting storytelling, and a mouth full of gold teeth offset by a rainbow assortment of diamonds, he's an incredibly colorful character just waiting to become a talk show celebrity.
Raised in/around Clarksdale, Mississippi, the artist formerly known as James Johnson grew up the nephew of Delta Blues legend Big Jack Johnson.
He spent a lot of time with his grandfather, a high-level Mason who deputized guys like John Lee Hooker, Muddy Waters, and Sonny Boy Williamson to help poor blacks escape the Delta via the Underground Railroad.
He tells incredible tales of informal jams on his granddad's front porch that would give any serious Blues fan goosebumps.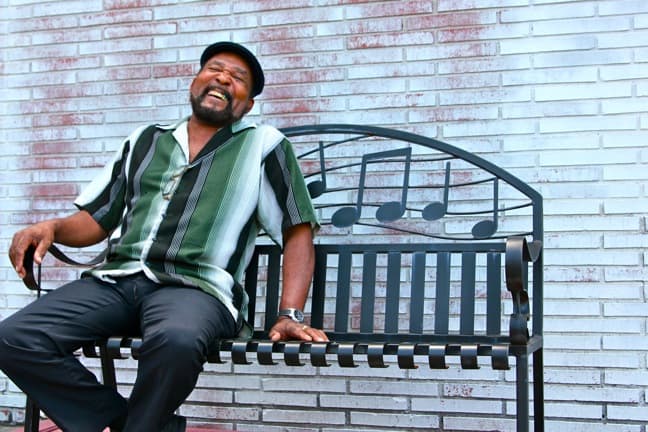 Chikan first made a name for himself by building homemade guitars out of scrap items such as gas cans, ceiling fan motors, plastic toolboxes and rifles, then adorning them with vivid paintings and colorful gems. But he eventually became equally well known for playing the hell out of any stringed instrument he got his hands on, first in Uncle Jack's band The Jelly Roll Kings, and then later as a solo artist.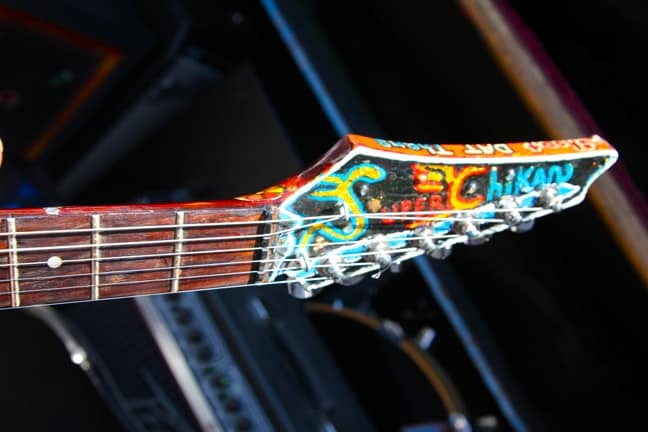 Now, at age 62, Super Chikan is one of the last truly great Delta Blues musicians, keeping alive a rich African-American musical tradition that has influenced bands ranging from the Rolling Stones and Led Zeppelin to the White Stripes and Black Keys. He's the favorite of Morgan Freeman, who moved to Clarksdale and opened the Ground Zero Blues Club, a modern-day juke joint where Chikan performs regularly. But, despite winning the Blues Music Award for Best Traditional Album in 2010, this Blues ambassador still doesn't have a record deal.
During my recent visit to the birthplace of the Blues, I was honored to have a chance to chat with this local legend about growing up in the Mississippi Delta, learning in the shadow of his famous uncle, his experiences in Africa and Norway, and what makes the Delta Blues so special.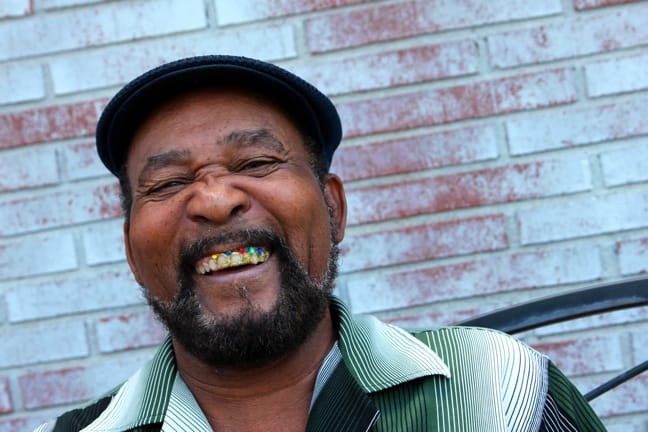 How did you get your nickname?
I had chores ever since I could walk. My job was to take care of the chickens, so they called me "Chicken Boy." When I grew up and got a job driving a taxicab, they called me "Fast Red" because I had a red car. That became my CB handle, but one day my dispatcher called me "Super Chicken." I didn't answer, so she called my car number. She said, "Don't you know your name?" I said, "Yeah, but it ain't Super Chicken!" She said, "Well, it is now!" One of the old ladies from the home place came into town, and she knew me as "Chicken." She said, "Tell Chicken to come pick me up." There was another lady that I'd been hauling around who said, "Well, he's a super fast Chicken: He'll come get ya quick!" Super Chicken stuck because it was funny to them, but I didn't like it at first. What kind of name is that for a cab driver?
But it's a GREAT name for a blues man! What was your childhood like in the Delta?
I am the Blues. Born in the mud, grew up in the mud, get it between your toes and in your blood as well. As a kid, I went from farm to farm, picking cotton. We lived on one farm that had cattle. So if I wasn't driving a tractor, I was riding a horse, herding and raising cattle. One day I'm out in the field on a John Deere tractor, and the next day I'm on a jet going to London to play with a movie star [Steven Seagal]. The next day, I'm back home on that John Deere tractor. That's the Blues!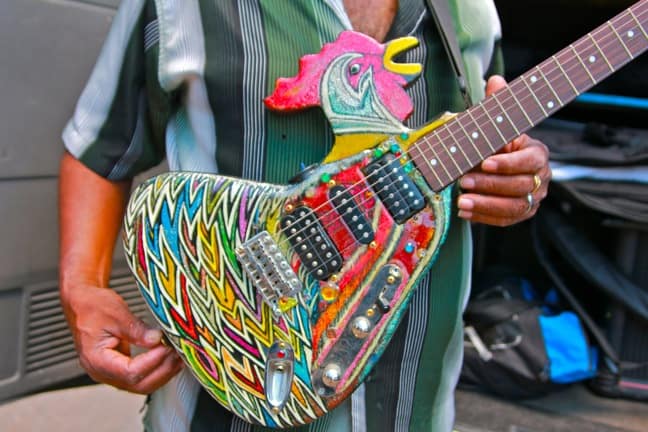 I know Big Jack Johnson is your uncle. How did you get started playing music?
I started out on a diddley bow, one of the first Blues instruments, playing one string and watching everybody else. Back in my day, young people had respect for old people. You couldn't hang around them. So Big Jack was an inspiration, but he was #1 and he wanted to stay #1. I was a bassist for The Jelly Roll Kings for a while, but I had too much energy for him. He said, "I'm the king up here. If there's any jumping going on, I'll do it. You just stand over there and play bass!"
How did you get into making your own instruments?
When I started playing the Blues, I had a white BC Rich Guitar. Everybody called it a rock guitar, but it played the Blues just fine. I got offstage one night and there was a lady who was mad. She said, "That rock guitar is out of style. You need a new guitar!" Being poor, I couldn't buy one, so I made me one out of a military gas can. We called it the Chick-can-tar. When I started playing it, people were fascinated by it. When Big Jack saw it, he said, "If you don't have two, you better go make one, because I'm going to take that one you got!" I said I would make him one. People kept buying 'em, so I just kept making them.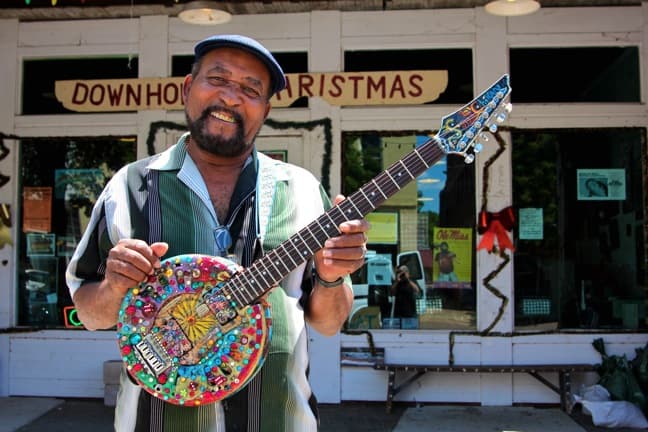 Do you have a favorite?
It's the one I made from a ceiling fan motor, which I call a Gui-Jo. I made a diddley bow from a ceiling fan with a [broomstick], and we call it a Bow-Jo. The strings are an inch off the neck, so you can't chord it like a regular guitar. You've got to slide it, or you could pluck on it like a percussion instrument. The diddley-bow is derived from the African Kora. My grandfather described it to me before he died, and he called it an African Slap Bow. A guy wrote something up in the newspaper about the one I made, and somehow the news got to Africa. I got a letter saying, "Anybody who's got an instrument called an African Slap Bow needs to bring it to Africa." So I took the African Slap Bow and a couple of Chick-can-tars over to Senegal. They were fascinated. I played with several musicians in Africa, and I wound up leaving all the instruments there for them. Now I sell some instruments at Cat Head Records in Clarksdale, some I sell right out of the shop, and I make them special for people.
What, in your eyes, makes the Delta Blues unique?
Originality. The Blues gained more popularity when it changed to the Chicago style, but Delta Blues is more original. Most of the original Delta Blues musicians are dying out. I'm one of the last. I'm 62 years old, and I remember sitting on the porch with my grandpa and a bunch of musicians, listening to them play. The music was part of their soul. They played it from their heart, and they didn't care about being famous. Back then music didn't have rules. You just played what you felt.
How did you feel about the state of Blues music today?
They're sharecropping the Blues, just like they did in the cotton fields. They worked you all day in the cotton fields, made you pay for the seed and tools, and you'd still come out in the hole at the end of the year. It's the same thing in the music business. The cost of everything you do as a musician comes out of what you make. If you fail to be a sharecropper, then they have no use for you.
You recorded your 2009 album, Chikadelic, in Norway with Norwegian musicians. Europeans seem to appreciate Blues more than Americans. What's the reception like for your music there?
It's great! People here in the States didn't want to hear the Blues because it was about all the pressure of life. Since Europeans weren't going through that, it was something new and refreshing to them. What we were singing about was what we were going through every day, and [some people] didn't want to be reminded of it because it made them sad and mad. Years ago they turned their backs on it and didn't want anything to do with it. Now, it's starting to gain a little more attention.
Did Morgan Freeman coming to Clarksdale and opening Ground Zero elevate your career?
Yeah! He lives right down the road. I was playing in this club called 41/61 Crossroads, and Morgan and [business partner] Bill Luckett would come and have such a good time. One night Bill had to go home early and he told me, "Take care of him while I'm gone." So I took care of Morgan, and we've been friends ever since. One day in 2010, he asked me when was the last time I did a new record, and I said I hadn't done one in a while. He said to go to Jimbo Mathus' Delta Recording Studio and record a new album, and tell him I sent you. So I went, we made a record, and Morgan produced it for the Knockdown South record label. It's called Chikan Supe. Morgan being around and having a club and restaurant has been a great help for all of the local Blues musicians. He's a great guy. –Bret Love
To buy Super Chikan's music directly from him, visit his CD Baby Store.
If you enjoyed our Super Chikan Interview, you might also like:
A Musical Passport: 40 World Music Artists From Green Global Travel's First Year
INTERVIEW: Indian Percussion Legend Zakir Hussain
INTERVIEW: Sierra Leone Refugee All-Stars
INTERVIEW: Banjo Virtuoso Bela Fleck