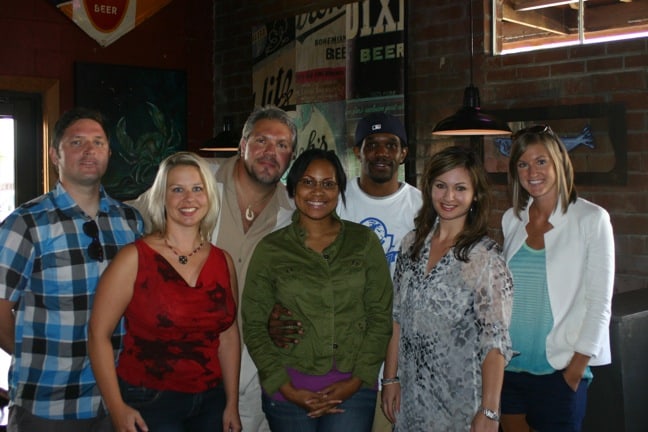 How to Work with Interns
Step-By-Step Guide
Interns can be a huge help to any business, and a good internship experience can be a HUGE leg up for anyone trying to establish a foothold in a fiercely competitive field. Ever since we posted How We Quadrupled Our Blog Traffic in 6 Months, we've been getting questions about how we find good interns, how we put interns to use, and how we reward interns for their work. Never let it be said that we do not listen to our readers! Here, by popular demand, is our step-by-step guide to working with interns:
FINDING INTERNS, PART 1
The best place to start looking for interns is through a college's Career Center. Almost every college and university has job boards for undergrads and alumni, and you can usually find the correct page via Google. Different schools have different rules about whether the internship must be in a physical office or virtual, how many hours the interns must work to qualify for course credit, etc. so do some research. Listings are free, but you'll have to fill out forms, and it's not unusual for a career center counselor to call you with questions. Be honest and professional, and you should be fine.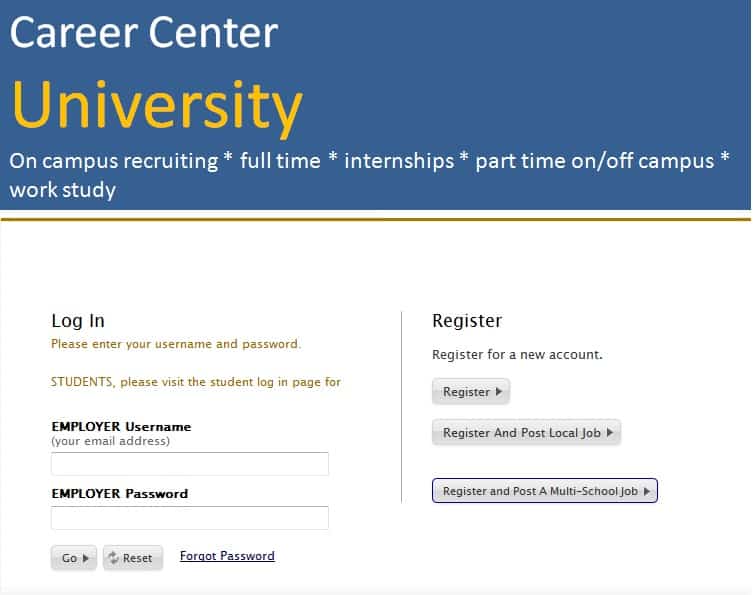 FINDING INTERNS, PART 2
Career Centers may be the most fruitful source for finding interns, but they're hardly the only source. Use your social media network to get the word out: We posted about our internship program via Facebook, Twitter, LinkedIn, Tumblr, and a post on our site. Through LinkedIn, I was able to post it to both of my college alma maters and to my national sorority alumni group. Soon, we had nearly a dozen internship applicants to choose from, many of which were already college graduates!
THINNING THE HERD VIA JOB POSTING
If you really want your business to benefit from working with interns, the most important step is finding good interns. The process of sorting the wheat from the chaff starts with the creation of your job posting. You want your listing to be as specific as possible, including the required time commitment, specific duties and, perhaps most importantly, what the intern will get out of their experience. For instance, our listing says, "Interns will gain real world experience, learn how businesses use social media, and get a professional reference." The more specifics you include, the more time it will save you on the back end.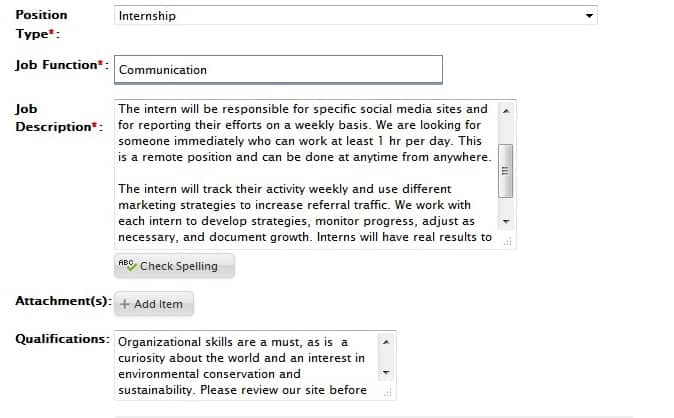 THINNING THE HERD VIA APPLICATION/INTERVIEW PROCESS
In addition to a resume, we require all applicants to submit a cover letter answering the following: Why do you want this internship? What do you like about Green Global Travel? What social media forms do you currently know? What's your availability? Not only will these answers help determine if the applicant is a good fit (for us, students in the international studies, communications and agricultural fields seem to work well), but they'll also show you how well they follow directions and communicate effectively. The interview process takes this one step further, and is usually the deciding factor for us.
CLEARLY COMMUNICATE EXPECTATIONS
For some interns, this may be their first professional working experience. Treat the internship as a professional opportunity and you can expect your intern to do the same. It begins with effective communication of what the job entails, with specific assigned tasks and weekly quotas. For us, this includes checking email regularly, reporting weekly numbers (new people followed, how many followed back, RTs posted, etc.) and giving us advance notice if they can't work a certain day or need to adjust goals. It's also important to communicate clearly the things they should not do: Our interns are instructed NEVER to interact personally on social media as Green Global Travel. They can leave comments on blogs under their own name (i.e. Megan @ Green Global Travel) or RT new people we're following. But we want to make sure if someone gets a personal message via FB/Twitter/SU, it's coming from me or Bret.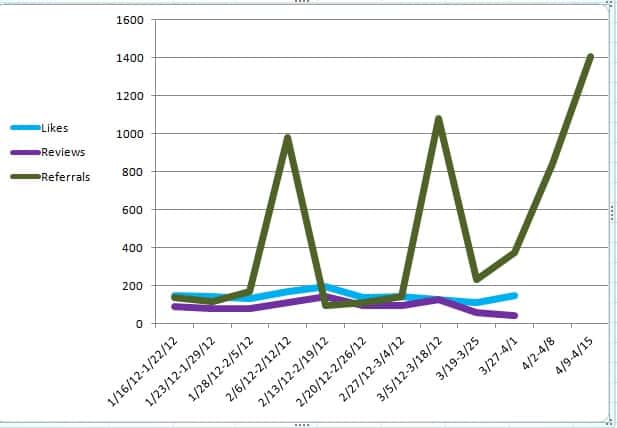 MEASURE RESULTS, THEN SHARE WITH THE INTERN
Everybody likes to know that their efforts are making a difference. One of the best things you can do for your intern is to measure the results of their work, then share those results with them so they can chart their own progress and the impact they're having on the company. For example, one intern single-handedly helped us increase our Twitter followers by 2000 in 3 months. Another, by Stumbling 25 pages a day (in addition to the 25 or so Bret and I do from our friends' shares), helped us quadruple our StumbleUpon traffic in 3 months. By quantifying actions and measuring results, the interns get a sense of accomplishment and statistics they can put on their resume, while we get a huge boost in building our business.
GIVE BACK
Reciprocity is the key to building long-term relationships with anyone, and interns are no exception. If you want to get the most out of an intern, be prepared to invest time in their development. I spend about one hour on intern management for every 5 hours of work they give us. Find out what they're looking to get out of the experience, and then tailor the position to help them reach their goals. Megan, the intern who did such a kick-ass job on our Twitter followers, is looking to get into PR, so we recently promoted her to PR Assistant and have assigned her more responsibilities. Encourage interns to generate ideas that can streamline your processes, and collaborate with them to refine your strategies over time. And if you have perks you can send their way (travel opportunities, free travel gear, etc.), little gifts never hurt!
This may not be everything you need to know about working with interns– a big part of the job is just managing people with different personalities, priorities and schedules– but these are the basic steps that can help you find the intern that's right for you. If you have any further questions, feel free to add them to our comments section below and either Bret or I will respond asap. –Mary Gabbett
If you enjoy reading How To Work With Interns, you might also like:
Seeking Interns for Summer & Beyond