Jeff Corwin Interview
On His New Show & Challenges Facing Wildlife Conservation
I've been interested in wildlife ever since I was a kid, reading my grandmother's old issues of National Geographic and watching Mutual of Omaha's Wild Kingdom. But my initial interest in environmental conservation can be directly credited to two men: Steve "The Crocodile Hunter" Irwin and Jeff Corwin.
Like Irwin, Corwin rose to fame in the late '90s, first on Disney Channel's Going Wild With Jeff Corwin and later on Animal Planet's Jeff Corwin Experience and Corwin's Quest. But Corwin walks the walk of protecting wildlife off the screen as well, with a Masters degree in Wildlife & Fisheries Conservation, an honorary doctorate in public education, and a history of working with the United Nations Environmental Program that dates back to his teens, with a focus on conserving tropical rainforests.
Now, Corwin has partnered with our friends at the Georgia Aquarium to create a new show, Ocean Mysteries, which airs on Saturday mornings on the ABC network. Continuing his career emphasis on environmental sustainability and human coexistence with wildlife, the show is Corwin's first to focus on aquatic adventures, focusing on the undersea world and its species most urgently in need of protection.
We recently spoke with Corwin for this exclusive Q&A that included everything from his early interest in bats and snakes to the current political challenges to the environmental movement.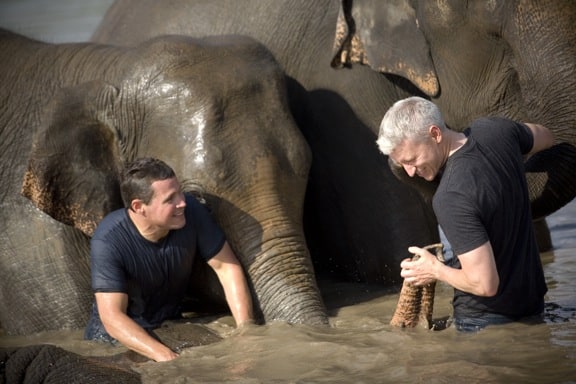 How did you originally get into animals and nature?
I've always been a nature buff, as early as I remember. I saw my first snake at 6 years old and when I was 9 I made a makeshift nature museum in our apartment in the city. As soon as I could get out into wilderness, that inspired my love for nature and wildlife. Growing up and seeing the poor relationship people had with the wildlife around them inspired my interest in conservation.
When you went to the University of Massachusetts you focused on bats and snakes. What was attractive to you about those species?
The snake was the first wild creature I ever saw, and I knew I'd be studying snakes for the rest of my life.  When I was in high school, I probably knew as much about snakes as you could. By the time I worked my way through college I'd become very strong with field experience and an education in biological sciences, along with my own personal exploration of herpetology. I further developed that in graduate school, where I worked with bats. I felt that these creatures were misunderstood, but so important. It all came to a head when I went to graduate school.
It seems like over the past 25 years there's been increasing awareness that these "scary" creatures are actually beneficial to the environment.
Good people make bad decisions because they lack good information. My interest was to inspire them to understand this world. When I started with my first series 16 or 17 years ago at Disney, it was a big leap for them. You've got a guy who likes snakes, and they were willing see if we could make a TV show out of that. To have it go from there to where things are now is amazing. There are people who have watched my shows as kids and are now adults. It's interesting, because I still like that 27-year-old kid in the jungle. You're reminded of how old you are when you see someone in their 20s who just got their Vet degree, and they're telling you that they became a vet partially because of the experiences they had with you growing up. Yes, I think people are much more aware of these things and care about them than they did historically.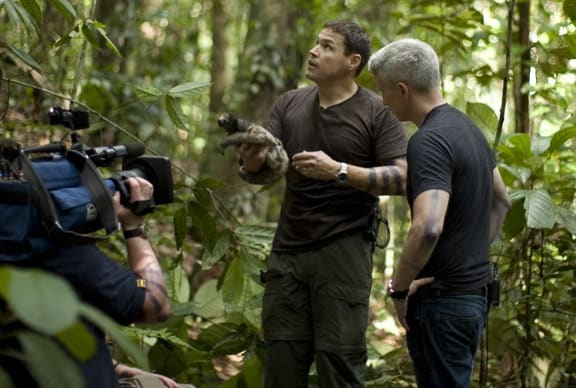 Tell me about the first time you went to the rainforest. How did that experience fire your passion for conservation?
This was an adventure I'd been waiting for my whole life. I saved every nickel I had and, at the age of 16, I went down to do a study on snakes in this remote rainforest in Belize. That for me was really the seed being germinated. I loved the rainforest, and I loved learning about them. My brain was a sponge. It was almost a savant-like thing, and I came back and created an NGO focused on conservation. We created one of the first preserves in Paraguay and southern South America in my second year of college. I ended up living down there and became concerned about issues facing the cultures that depend on these ecosystems.
Why is it so important that we protect the rainforest?
Most of what we have in our planet that is alive is in a rainforest. Rainforests take up 5% of the surface of our earth, yet in that surface is as much as 60% of all life. Whether it's aesthetic value, the global eco-chemistry role that they play in carbon exchange and oxygen, medicinal value or biodiversity, rainforests are incredibly important. So many things in our lives come from rainforests, from potatoes and tomatoes to medicines that fight everything from AIDS to cancer. We lose rainforests at a rate of a few thousand acres every hour, which is a mass of trees and animals as big as Connecticut.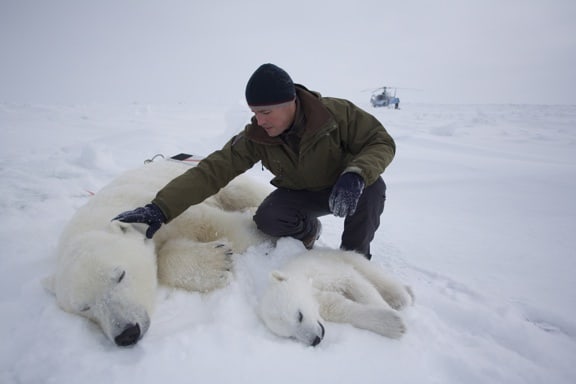 We see all this negative eco news on a regular basis. How do you stay positive in your quest?
I'm very positive. I have this new series on ABC, Ocean Mysteries, that's broadcast to a mainstream national audience. The show is doing really well, meaning that people care and want to learn. All of that I find inspiring. Traveling around the world covering the great efforts that communities and some governments do to protect and conserve natural resources for future generations is positive for me.
What do you see as the environmental movement's biggest challenges?
We're dealing with so many political and economic challenges in the world, it has created a general malaise over environmental issues. I'm very concerned about what I'm seeing politically. It's very likely we may end up with a president that is not only nonchalant about environmental issues, but may be actively anti-environmental. There are very few candidates that care about the warming of our planet and the loss of species. There's a strong possibility we could get a candidate who doesn't believe in conservation because they don't believe in science. Conservation is based on science, and it's through science that you recover and save species. This administration has fallen short on conservation, but the devil you know is better than the devil you don't. I am not anti-resource use at all: I believe in sustainability. It's about conserving resources for every generation, whether it is to cherish or to use sustainably. I believe in using the earth cautiously and carefully. But with what I'm seeing in the current political environment, I'm really scared about the future of life on earth.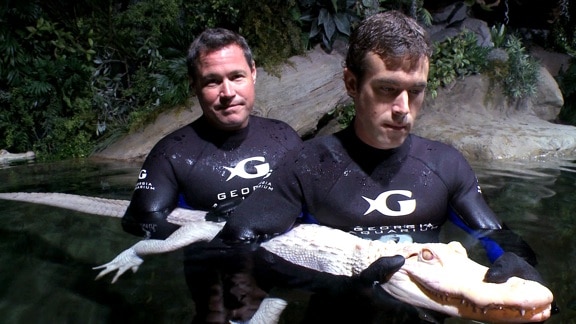 How did you get hooked up with the Georgia Aquarium for Ocean Mysteries?
The Georgia Aquarium was inspired to create a series that illustrated their conservation work and explored where we are with our marine species. I've never had a chance to do a marine-based series, so I was very excited. I look at it as a tremendously exciting and somewhat scary challenge because underwater stuff is hard to do. It has turned out to be really a great experience that I am thoroughly enjoying, but it's a lot of work. Everything when you film underwater is at a premium– sound, air, pressure, safety… When human beings go into water and don't know what they're doing, they drown or freeze. So how do we take a world that we know is undervalued and a lot of trouble, but really exciting, and crystallize it in a way that engages the audience without killing us in the process? It's been an incredible journey. The Georgia Aquarium is one of the greatest aquariums in the world, and they have incredible resources. They are incredibly active in pioneering conservation efforts that are saving species, and I want to be a part of that.
For average citizens who want to make a difference in wildlife conservation, how can they help?
The most important step is to realize you CAN make a difference. When you recognize your power as a consumer and civically within your community, there are tremendous opportunities. It truly begins in your backyard– a local river, a local ecosystem, a regional species that's in trouble. Not being a good steward for the environment just punishes you and the next generation of your family. When people fail to look at their role as eco stewards, then there is negligence. We lose a species of life every 20 minutes on our planet. Ultimately, the world we use today, we're not inheriting it from our ancestors: We're borrowing it from our children. –Bret Love
If you enjoyed reading our interview with Jeff Corwin, you might also like: 
WWF Polar Bear Biologist Geoff York
Marine Conservationist Guy Harvey
Defenders Of Wildlife Wolf Conservation Expert Suzanne Stone