Bear Grylls On Wilderness, Celebrities & Running Wild
I developed my lifelong love of the outdoors as a boy. My parents and grandparents took me backpacking in the Appalachian mountains and to our rustic cabin on Lake Hartwell, where I learned to set up camp, fish, start a fire (and cook on it), forage for wild berries and, most importantly, respect the beauty that Mother Nature has to offer.
On Running Wild With Bear Grylls, the British adventurer does the same thing with some of the world's biggest celebrities. It's thrilling to watch a nervous Ben Stiller rappelling down a mountain on Scotland's Isle of Skye, a terrified Tom Arnold conquering his fear of heights by traversing a tree over a 50-foot drop in Oregon, a boyish Zac Efron stoked to see a wild beaver in the Catskills, and the athletic Channing Tatum backflipping off a helicopter into the waters below.
But what makes the show even more interesting is the rare, honest glimpse it offers of these world-renowned stars emotionally overwhelmed by the challenges of pushing themselves to the limit in some of the world's most beautiful wilderness areas. It's an inspiring thing to watch, and has apparently inspired Discovery Networks to sign Bear Grylls for a 6-episode series, Breaking Point, in which he'll help regular people conquer their fears of nature.
I've been a big fan of Grylls– a former reservist in the British Special Forces (SAS) who later climbed Mount Everest and crossed the North Atlantic and the Northwest Passage in an inflatable boat– ever since his Man Vs Wild days. He recently spoke to us via cell phone from a little cove off the south coast of England.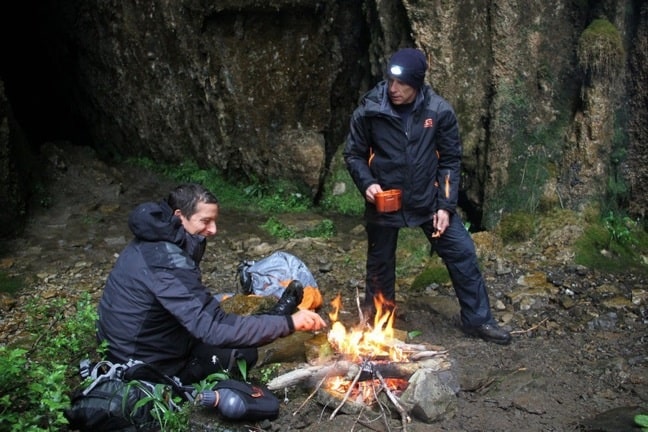 Where did the idea for Running Wild come from? I know you did popular episodes of Man Vs Wild with Will Ferrell and Jake Gyllenhaal. Has this concept been germinating in your mind ever since?
Yes. Those Man Vs Wild shows [with guest stars] have been very successful all around the world. Once we were done with that show, we wanted to revisit this format. We knew it was a format that worked and, for me, it's just really fun because you get to know people and it's such a good dynamic. So it was exciting getting through all the health and safety hoops. Not a lot of it is planned, so that was quite a mountain for us to climb before we even started. But NBC helped us through that, and fought a few of those battles.
You have a lot of experience dealing with these harsh climates and wild places. But is it a lot of responsibility to take someone who doesn't have experience in dealing with these conditions?
Yes, it's a nightmare!  When I'm on my own I've got nothing to worry about apart from keeping myself alive. It's definitely more challenging when you're taking somebody who's done nothing like this before. You've got to think for them a lot of the time. But it's been exciting to be able to take these guys away. I love seeing them come alive when they're facing difficult terrain and big challenges, both emotionally and physically. It's great helping people overcome that, whether it's a fear of heights or snake or whatever it is.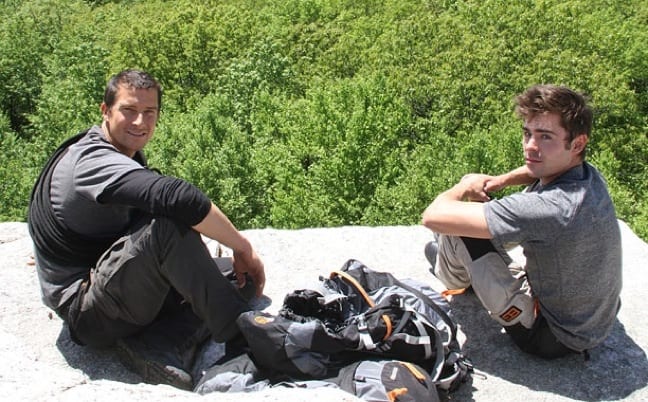 Were they given any kind of wilderness training beforehand to prepare them?
When it comes to training, we said, "You've just got to bring two things– a big bag of fortitude and a big backpack full of enthusiasm– and we'll do the best when we're out there." The fun thing about it is that they're not too prepared, you know? We wing it together, and you see them on camera learning and making mistakes, and that's the fun real part of it. The only training I did with any of them was with Zac, because I wanted to skydive with him. So I gave him some training for a couple of hours the day before. But beyond that, everyone else just arrived with that fortitude and enthusiasm, and I said, "We'll do it altogether."
Of all the places you've been, what's the place that you connect with the most?
Home! (Laughs) A lifetime of doing this has taught me two things. One is that I do love the adventure. I love being out there. It's where I come alive, and it's where I perform at my best. I love the wildernesses we've gone to around the world, and it's such a privilege. But going away a lot has also taught me the value of home. You know, I've got a lovely family, with three young boys. It's the greatest driving force when I'm up a mountain or in a jungle­­– a shining light making me work hard to get out of there in one piece.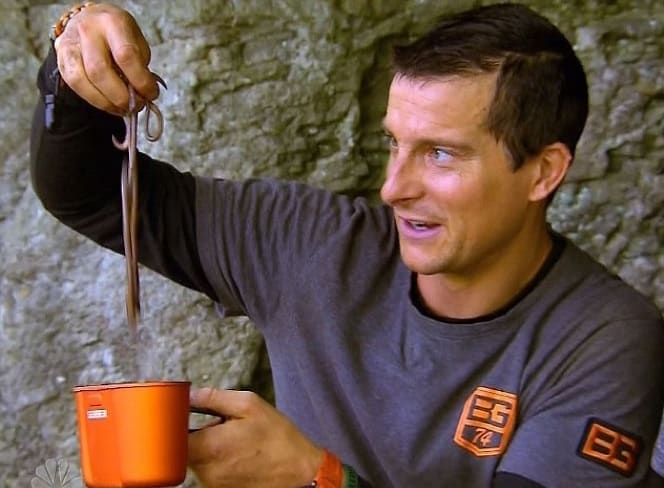 People look up to you as a survival expert. Is there a particular teacher that you would credit for giving you the most survival knowledge?
Well, to be honest, I don't feel like I'm a survival expert. When I started off doing Man Vs Wild, I felt like more of a survival expert because I'd just left the military. That's where I learned all of my survival skills. But the more of this I've done, the more I realize that I'm a jack of a lot of things, but a master of very little. Every day I meet better climbers, better skydivers, better survivalists. The thing about me is that I'll always work damn hard, I'll always keep cheerful even when it's miserable, and I always go for it. But as for the training, 99% was from the military and I learned a bunch as a kid with my dad, who'd been a commander and a climber and loved all this stuff. He'll be turning in his grave if I only credit him with 1 percent… He's about 50%! But he taught me the love of it, which actually counts for everything.
Have you had a chance to take your boys on any of these adventures?
Yes, I get to do that the rest of the year, when we don't have TV cameras around us. They love it! Right now I'm in a little cove off the south coast of England, looking at all three boys, stark naked in the sea in the pouring rain. I'm sheltered under a fallen tree, trying to keep out of the rain while talking to you. But they love it. They live it. It's in their DNA, for sure.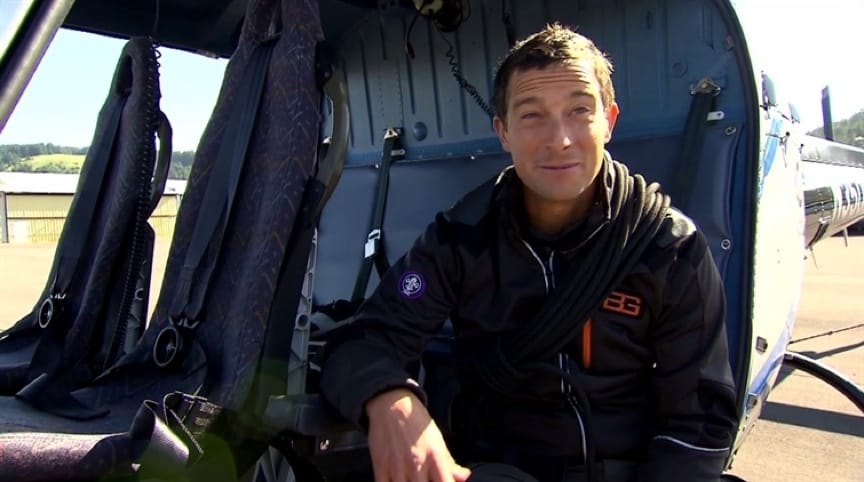 You've visited so many wilderness areas in your life. How do you nail down the places you want to film in?
Well, we try and pick diverse terrains. The Isle of Skye in Scotland is just barren and windswept, cold and rainy. So we contrasted that with the hot deserts and dramatic rock faces of Utah. If somebody has a real wish to go somewhere, we pick that.  But really, it's all about diversity and the challenging terrain.
Has there ever been a place you've traveled that was so difficult that you have no desire to go back?
Probably the black swamps of Sumatra, where the tsunami hit in 2001 and decimated a big part of the island. It's just this stinking, rotting black swamp, with all of these crocodiles feeding off the remains of 6500 human corpses. They lost of a lot of lives in that disaster, and it's become a disease-ridden, crocodile-filled, snake-filled place. So yes, I'm not going to hurry back to that one.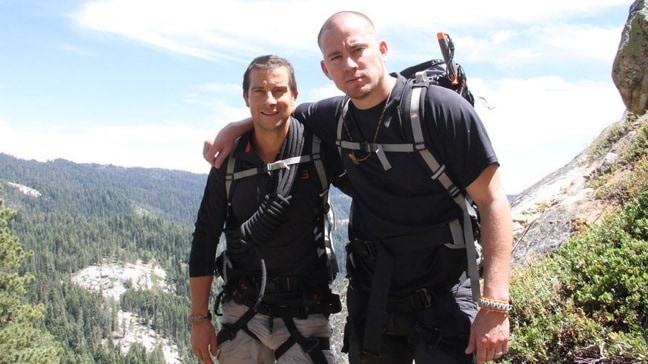 What is it about being in the wilderness that speaks to you personally?
The wild is very revealing. You get to know people in a way that you never do otherwise, because they're uncovered and vulnerable. You get to know their struggles, their doubts, their triumphs, their highs and their lows. And if stuff happens in the wild, it's unpredictable. Things can go wrong very quickly, and I've got a massive responsibility to keep these guys alive. But I love that challenge.
What do you think it is that makes a celebrity want to do this kind of adventure?
They're not doing it for the money, the fame, or the exposure. These guys have all of that. They don't need to take risks. And the truth of doing this is that it is a risk. You're going to look like you're not brave or strong. I think it's a testament to the idea that people at heart love to challenge themselves. These guys have all reached top of their profession, but we all have that yearning inside: If our lives or our family's lives were really on the line, have I got what it takes to survive? All of these guys said one of the best bits was having space and time to think about life and how lucky they've been. The outdoors does that. It creates bonds between people and it gives us space to breathe. At the end of it, all of them had a smile on their face and a light in their eyes that money can't buy. Fame doesn't do it. Drugs don't do it. Booze doesn't do it. It's the power of the wild, and I've seen it a ton in people…   –Bret Love
If your enjoyed our interview on Running Wild With Bear Grylls, you might also like: 
What Is Glamping? An Introduction to Luxury Camping
CALIFORNIA: Hiking the John Muir Trail, America's Premiere Hike
10 Best Uncrowded US National Parks For Your World Travel Bucket List
Pitch Your Park! Rangers Plug Six of the Best US National Parks
INTERVIEW: Appalachian Trail Guru Winton Porter
MONTANA: Hiking Glacier National Park