Taipei, Taiwan is well known for its rich culture, museums, and food. What most people don't realize, though, is that since it is very close to mountains, rivers and the ocean, there are lots of things to do in Taipei for people who enjoy outdoor activities.
With a far-reaching, efficient rail and bus system, it's actually easy for visitors to get out for some healthy outdoor attractions & adventures.
Here are a few of my personal ideas for what to do in Taipei for nature lovers and outdoor enthusiasts:
Taipei Attractions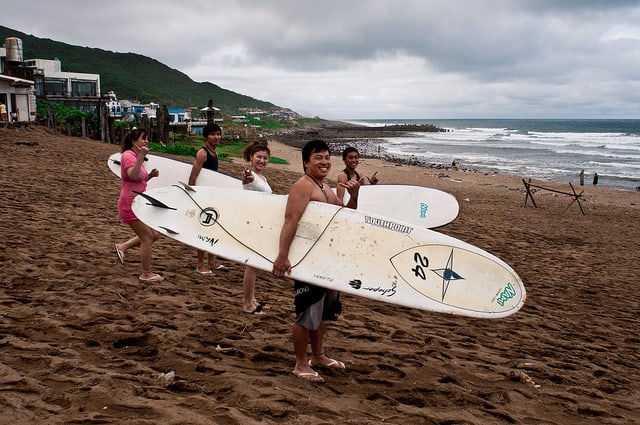 1. SURFING AT JINSHAN
Taiwan isn't known for surfing, but that doesn't mean it's not there. Taiwan actually has some exceptional surfing on the Pacific-facing East Coast. The closest spot for surfers in Taipei is Jinshan, which is just an hour away by car, and only slightly longer by bus.
Jinshan isn't the biggest break in Taiwan, but it is one of the most consistent and has often been referred to as the most popular. There are numerous surf shops where those without equipment can rent boards and find lessons. And don't worry– several of the local instructors speak English.
The beach is a little over a kilometer long and has two breaks– one sand break in the middle that breaks both right and left, and one rocky-bottom break at the north end of the beach that breaks left.
Waves here tend to be knee- to shoulder-high, but if you show up during typhoon season you may be in for a surprise. And if the surf isn't particularly great on the day you show up, you can always pop over to the nearby Yehliu Geopark (item 4 on this list).
READ MORE: 20 Things to Do in Taiwan for Nature Lovers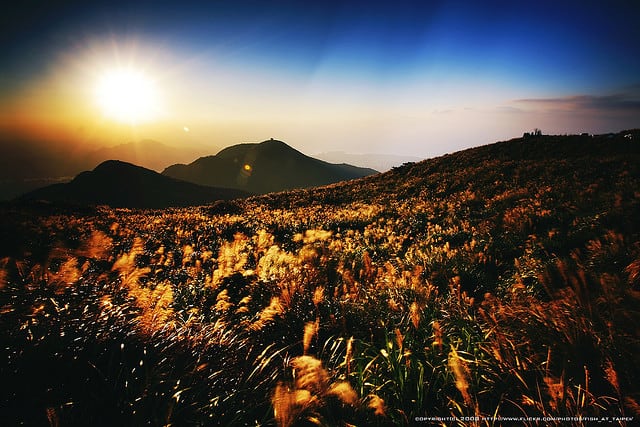 2. MOUNTAIN BIKING IN YANGMINGSHAN NATIONAL PARK
In Taipei's Northern Beitou district is one of the country's most visited recreation areas, Yangmingshan National Park. Located just 20 km from downtown Taipei, Yangmingshan can be reached easily by car, public transportation and, of course, bicycle.
Yangmingshan is covered in a web of small roads and trails. Opportunities for exploring (and for speedy single-track downhill) are plentiful.
Highlights include the peak of Datun Mountain, which offers a truly awesome view of the cityscape, and the Lengshuikeng lookout, where you can see all the way to the ocean. Alan's Mountain Bike in Taipei offers rentals and guided tours.
Coffee shops hidden among the forests and on hillsides are excellent places to take breaks, and Beitou's famed hot springs are perfect for unwinding after a long day of biking. There are even some free public hot springs in the park, so don't forget to bring your swimsuit.
READ MORE: Top 7 Things to Do in China for Nature Lovers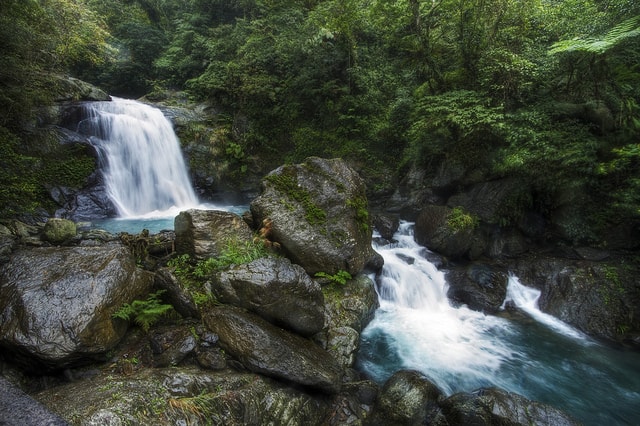 3. HIKING AMONG THE TEA PLANTATIONS AT MAOKONG
Yangmingshan isn't the only part of the city where you can find jungle-covered mountains. Maokong, a suburb in southeast Taipei, is another spot where you can get away for a day without leaving the city.
The area is known for four things: The Maokong Gondola, which you can ride to the top for just $2 USD; its hiking trails; the tea plantations that checker the mountainside; and the numerous tucked-away teahouses, many of which have balconies overlooking the emerald green mountainside.
The easiest and fastest way to get hiking on Maokong is to take the Taipei MRT to the Taipei Zoo stop, which drops you off right at the base of the mountain, just meters from the gondola.
Then, take the gondola to the top, where you will find numerous tea houses serving fresh tea and trails that will lead you across the mountainside.
READ MORE: The Best Hiking Trails for your World Travel Bucket List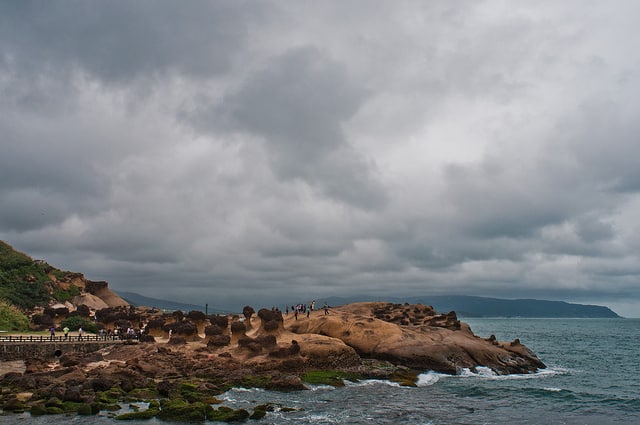 4. EXPLORING THE YEHLIU GEOPARK
The Yehliu Geopark, which is located just north of Jinshan, is truly a unique experience.
Created by a combination of wind, waves and a unique layer of the earth's crust jutting up out of the ocean, the landscape is unlike anything you will find anywhere else on earth, with inverted teardrop-shaped rocks, honeycomb formations and rocks resembling tiny volcanoes.
Yehliu is very popular, and the 1.7 km trail there is often crowded. This should not, however, dissuade you from visiting (after all, the best attractions are often the most crowded).
The park also offers four free interpretative tours each day­– two in the morning and two in the afternoon– which come free with your $2 USD admission. Yehliu can be easily reached by public bus, car or taxi from Taipei. Alternatively, you may just want to join one of the many bus tours that visit each day.
READ MORE: Top 10 Volcanoes in the World (for your World Travel Bucket List)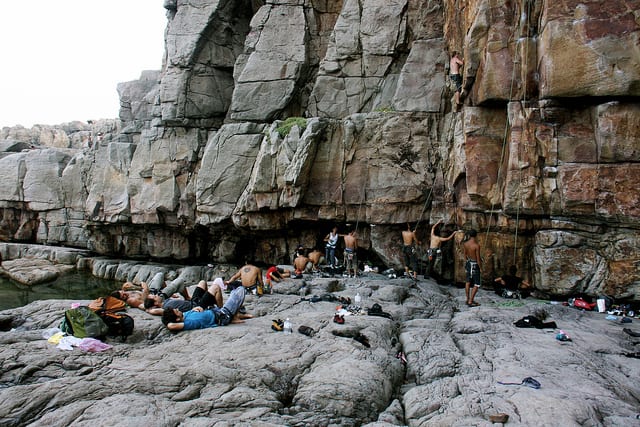 5. CLIMBING THE CLIFFS AT DRAGON (LONGDONG) CAVE
The cliffs at Longdong have been called Taiwan's best climbing spot. If nothing else, they're definitely the most scenic. The sandstone cliffs, which rise 80 meters virtually straight out of the ocean, have more than 500 traditional and sport climbing routes that rate between 5.4 and 5.13c.
Longdong is located just over an hour's drive from Taipei, south of Keelung on highway 2. If you're planning to visit, it's strongly suggested that you check with local climbers on the status of bolts in the cliff side, because the salty air tends to erode them relatively quickly.
The Taiwan Central Weather Bureau has good information on the local weather, and you can find updated information about the climbing conditions on Taiwan Rocks. –by Matt Gibson
(The following is a guest post by writer/photographer Matt Gibson. For more of Matt's work, check out his blog, Facebook and Twitter. If you're a blogger interested in contributing a guest post, please contact Editor In Chief Bret Love at GreenGlobalTravel@gmail.com.)
Top 5 Eco Attractions in Antarctica
Top 5 Eco Attractions in Australia
Top Eco Activities in 'Eua Island, Tonga
10 Off The Beaten Path Ecotourism Destinations
What is an Eco Lodge? A Guide to "Green" Accommodations
Easy Ecotourism: 10 Simple Steps to More Sustainable Travel
The Benefits of Ecotourism: 20 Travel Bloggers on the Importance of Nature Travel