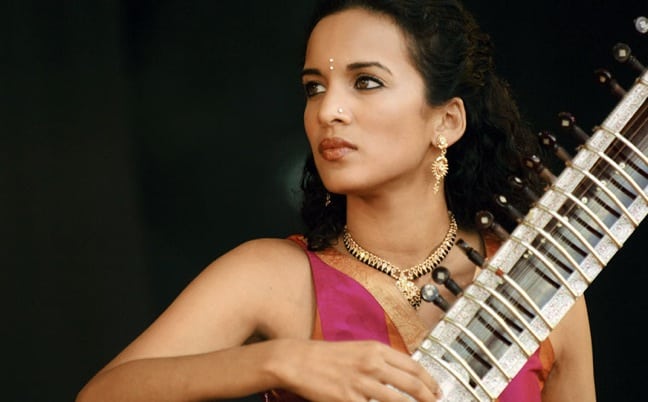 Anoushka Shankar Interview
Indian Music, Her Famous Father & Her Love Of Flamenco 
As the daughter of Indian music legend Ravi Shankar, half-sister of jazz-pop icon Norah Jones and wife to respected film director Joe Wright (Pride & Prejudice, Atonement), Anoushka Shankar may not be the most famous person in her family. But she is arguably the most talented female sitar player in the world today, and she's capably carrying on her father's legacy of groundbreaking cross-cultural collaborations.
Born in 1981, Anoushka began studying with her dad at the age of nine, and by age 14 she was accompanying him at concerts all over the world. She signed her first record deal at the age of 16, and 2003 she became the youngest person and first female nominated for a World Music Grammy for her third-album, Live at Carnegie Hall.
Like her father, who turned the classical music world on its ear long before teaching The Beatles' George Harrison how to play sitar, Anoushka has collaborated with musicians from a broad variety of genres, including Jones, violinist Joshua Bell, Sting, Herbie Hancock and Thievery Corporation. But her latest album, Traveller, features her most extensive collaboration to date, exploring the similarities between Indian music and flamenco with Spanish artists such as Pepe Habichuela, Sandra Carrasco and Duquende.
We recently spoke with Shankar about her famous father's influence, her interest in fusing disparate musical styles, and what she learned about Spanish culture during her time recording the new album in Spain.
I'm fascinated by the discipline required to master Indian classical music. What was your daily routine like when you started studying sitar with your father at the age of 9?
I didn't have any type of intensive routine at that age, or for the next couple of years. However, there was a preliminary discipline that was ingrained in me that was more to do with the fact that the musical form and the instrument demands a certain respect akin to that you might give to deities. Music is considered divine, and from the beginning there was reverence and respect about learning. Practice time was just a couple of hours a week when I was 10 or 11, but by the time I was 13 or 14 it was 2 hours on a school day and 4 hours a day on the weekend. We traveled to India every year, and there it was more intensive– 8-hour days of immersion in the music with my father and his other students.
Your father is arguably the most influential musician in Indian music history. Was there ever a question of whether or not you'd follow in his footsteps?
Absolutely, the question was continually back and forth in my mind. It definitely felt like a very obvious option. After I graduated from high school, I made a decision not to go to college and start touring full-time. Even at that time, I thought maybe I'd do it for a year and see what happens. During that year, it became so clear to me that that was my life and who I was– a touring musician.
I'm a huge fan of your father's revolutionary approach to fusing different musical traditions. Can you talk about his impact on world music, and how his work influenced you?
He was the first person from the East to crossover, exposing the western world to the sounds of India. A decade before his association with George Harrison, he already had a strong career in the classical world. The funny thing is that if you talk to him, he'll say it wasn't fusion at all. What he did was work with other musicians and teach them how to play Indian music. I think timing was the key for what he did and continues to do, and the point was more about exposure to the eastern world.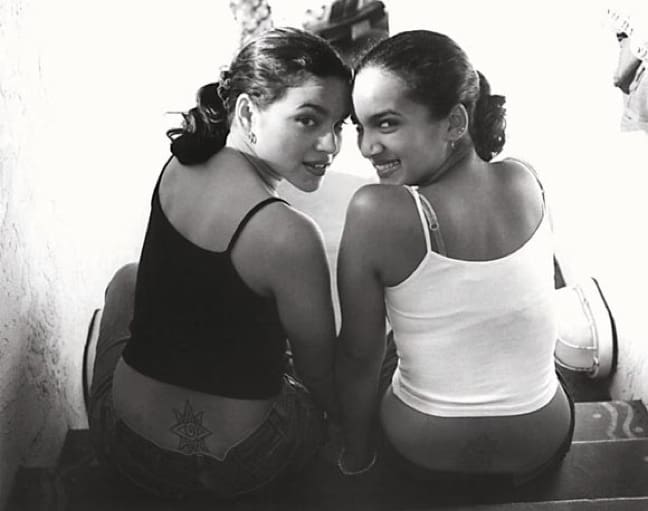 You started mixing Indian and Western musical styles on Rise. What do you think these traditions can learn from each other?
I think the goal of musical dialogue is to open people's minds, because they take in music in a way that they may not take in a news story. If people are exposed to new sounds, they end up gaining a respect for it that affects the whole cultural dialogue. In that sense, collaboration across cultures is extremely important. The other side is a much more personal one, where musicians like me are engaging in various forms of music, making sense of ourselves and the world around us. We live in a multicultural world, and artists are going to reflect that.
How much does your Carnegie Hall audience intersect with your Anoushka Shankar Project audience?
It's like a pie chart: There are people in separate circles, and then there is a section that crosses over. One of my favorite things is to see a bunch of hippies at a concert hall. On a tour like Traveller, where we're playing music that's difficult to categorize, the venue we're playing in impacts the audience response. In a concert hall, the audience receives the music as something culturally important and ancient. Then you play the exact same music in a smaller venue, and it's a bunch of kids reacting to the pulse and melodies with excitement, like "Wow, I can't believe this is Indian music and Flamanco!"
When did you first become intrigued by the flamenco sounds you explore on Traveller?
I've been aware of it most of my life and progressively listened to more of it over the years. I did one collaboration with a flamenco musician on Rise, and that experience left me with a desire to do more. I found the combination really intriguing and challenging. We have to stretch ourselves, and I learned a lot from the process.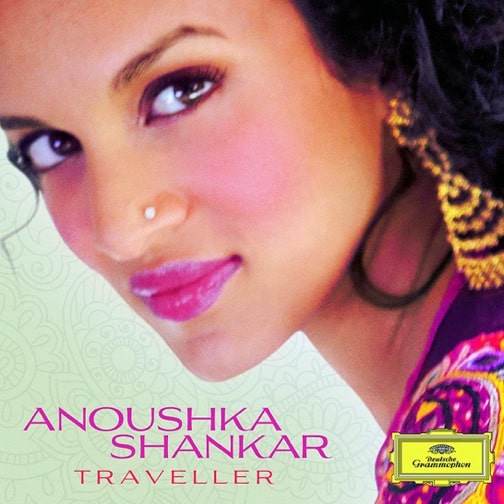 Did you go to Spain to study?
Yes. My producer had connections in Spain, so I traveled around working with lots of Spanish musicians. That was important for me, to soak in the atmosphere and the music.
Tell me a little bit about your experience with Spanish culture.
I love the people, and I love the flamenco approach to music. It is completely soulful and absorbed, with the goal being to get themselves lost in it. Like Indian musicians, they are deeply into their own style and don't listen to anything else, so they knew very little about the tradition of my instrument. There was a lot of me showing people what I do, and often they would say, "Where did she learn to play flamenco so well?" I would say, "I'm not playing flamenco, I'm playing Indian classical music!" Those commonalities were things I had to show people while making this record.
Your father's in his 90s and still performing. Any plans to work together soon?
I hope so! We just did a show together in Bangalore. He's doing a few shows in the U.S. now, but it's when I'm touring separately. But I do hope we get more opportunities to play together.
Your father has left an indelible imprint on music. What do you hope your musical legacy will be?
I don't believe one can think about things like legacies and the future and still be enough in the moment to make good art. The art one creates has to be very much in the present and about one's self-expression. If that reaches people and has a lasting impact, that's something to be very proud of.  –Bret Love
If you enjoyed our Anoushka Shankar Interview, you might also like:
Indian Percussion Legend Zakir Hussain Interview