What is ecotourism, and why ecotourism important? What are the benefits of ecotourism compared to other, less sustainable forms of travel?
How can ecotourism help make the world a better place, preserving nature, wildlife, and the indigenous cultures that depend on those ecosystems for survival?
These are the questions that originally inspired us to launch Green Global Travel in 2010. And finding the answers has been the focus of our mission from day one.
It is our humble opinion that ecotourism– "Responsible travel to natural areas, which helps to conserve the environment and improve the welfare of local people"– offers a simple way that travelers can support environmental protection all year round.
In the years since we launched this site, we've been extremely fortunate to visit some of the world's most incredible ecotourism destinations, from the Galapagos Islands and the Peruvian Amazon to Churchill, Manitoba and Antarctica.
Over the last seven years, we've come to understand that exploring the world's last remaining pristine ecosystems, seeing its most beautiful (and, in many cases, most endangered) species, and understanding its indigenous cultures enriches our lives immeasurably.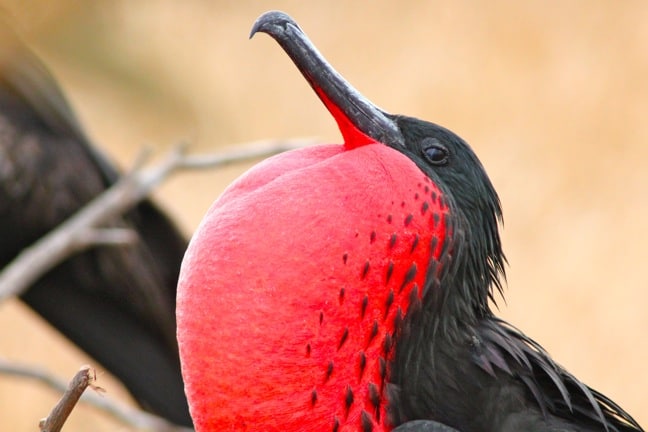 The benefits of ecotourism are not just measured in the amount of wilderness preserved, species saved, or economic impact on developing nations.
There are intangible benefits as well, changing us as human beings and altering the way we perceive our role in the Universe.
The more of these life-changing experiences we have, the more eager we become to protect these special places from the ravages of climate change and unsustainable development.
In observance of Earth Day, we reached out to 20 of our favorite bloggers to ask why ecotourism is important to them.
From fellow nature/wildlife lovers and adventure travel bloggers to family travel experts and cultural travel enthusiasts, what we all have in common is a love of the great outdoors.
Collectively, we hope their words will inspire you to travel the world, and to help protect it in the process….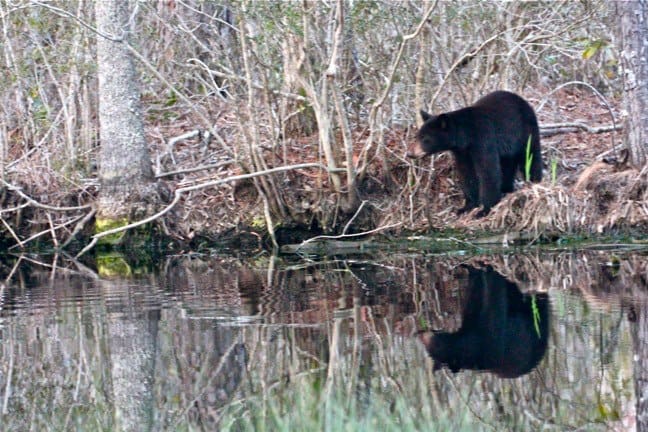 WHAT'S THE IMPORTANCE OF ECOTOURISM FOR YOU?
Nancy Sathre-Vogel, Family On Bikes– "As a long-time schoolteacher who took her own children on a three-bike trip through the Americas, I am convinced that Mother Nature is the best teacher around.
I saw profound differences in my sons when we camped out consistently: they were more creative, and argued less.
When we consistently stayed indoors, they became more like 'typical' kids, with their noses crammed into their Nintendo or glued to the TV screen. If all kids could get out in nature, our world would be a very different place."
Michael Turtle, Time Travel Turtle– "For me, one of the most fascinating things about nature is the relationship that people have with it. In some ways we have become the custodians of this world, and it's important that that's not abused.
The way we treat our environment is a reflection on our society. It was a really special experience for me to spend a week working on turtle conservation on the coast of Uruguay, and not just because of the link with my blog's name.
I was surrounded by local South Americans, who were volunteering there because they felt passionate about the environment.
Although I loved being around the animals and spending the day on the deserted beaches, what really touched me was the generosity of the people I met."

Lainie Liberti, Raising Miro– "As we've learned from ancient cultures throughout the Americas, the Earth is believed to be a living entity.
As her inhabitants, our relationship is designed to be symbiotic. Mother Earth, known as pachamama here in the Andes, is normally represented as a female fertility symbol.
Indeed, the earth is fertile, supporting life through the trees that produce the clean air we breathe, the rich soil needed to grow food and abundant bodies of water to sustain all life.
As humanity advances, it seems as if, collectively, we have neglected the most advanced technology ever designed… our delicate ecosystem.
Ecotourism does matter, as it's one opportunity to bring focus back to what matters most– the health of our precious mother earth."
Ethan Gelber, The Travel Word– "Have you ever been out at night alone in the wild? I've lain alert for hours in Malawi, listening to a fanged maw gnaw at a kill.
I've stood stock still, enthralled by a Maine forest's nocturnal cacophony, only to move but a twig-snapping inch that precipitates silence. I've learned to accept a rising panic when all that separates me from a Sri Lankan jungle heavyweight is a rickety rattan blind.
But in all three situations, I've been reminded that these habitats, animals and a sense of connection with the primeval are under threat.
All because simple acts taken (or not taken), both at home and on the road, put the health of this precious planet at risk.
Ecotourism helps put us in places that remind us we're part of a global ecosystem… one we should embrace, especially out at night alone in the wild."
Laurel Robbins, Monkeys & Mountains–  "Seeing wildlife in the wild makes me feel more connected to nature, and to our planet.
After diving with hundreds of schooling hammerhead sharks in the Galapagos, I was in complete awe of these amazing creatures.
I knew afterwards that I needed to do something about the cruel and unsustainable practice of shark finning. It was now my responsibility– a way to say thank you for witnessing a phenomenon only seen in a few locations on earth.
I have since signed hundreds of petitions and continue to raise awareness for the cause.
I believe that experiencing a 'WOW!' moment in nature is the catalyst necessary for a lot of people to take positive action."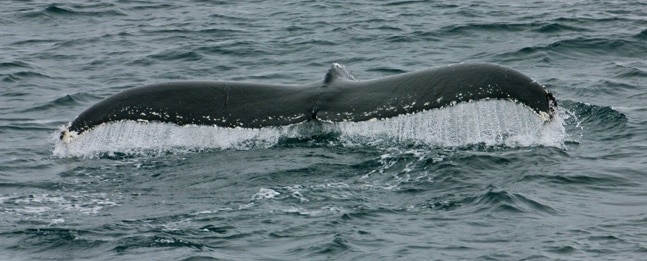 Michael McColl, Ethical Traveler– "Nature helps me see how I am part of a wild, vibrant world full of mysteries, tragedies and delights. It gets me out of my head, and connects me with the broader, non-human-centric world all around us.
Last year, on a trip to Laguna San Ignacio in Baja, we met a 'friendly' gray whale who decided to approach our small dingy of its own accord.
She nudged her baby towards us, encouraging it to interact with us. Why? No one seemed to know. At one point she rolled her massive body sideways, so she could look me straight in the eye.
She held her gaze for 30 seconds, her huge eye locked onto my eyes. What was she thinking? I don't know, and I may never know. But I remain captivated by the memory…"
Barbara Weibel, Hole in the Donut–  "Some years ago, stressed by Bangkok's incessant crowds and traffic, I fled to Khlong Saeng, a wildlife sanctuary on Thailand's peninsula.
In this virtually unknown paradise of dense jungle and sheer limestone pinnacles, a single Thai family had cobbled together a string of bamboo huts that floated on the sanctuary's cobalt lake.
Each morning I awoke to the whoops of gibbons; at night I was lulled to sleep by wild elephants slowly tramping through the forests. And I was renewed.
I worry that these places of great beauty are fast disappearing and wonder what kind of world it will be if the calls of the gibbons are silenced."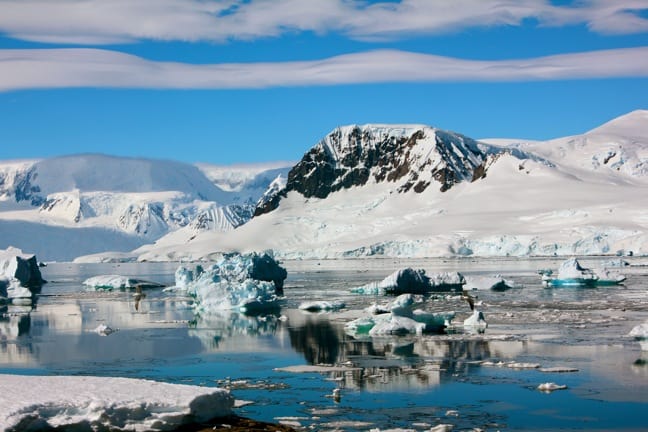 Audrey Scott, Uncornered Market– "Mother Nature has a way of humbling you, of providing perspective on life and our place in the universe when you most need it.
When we visited Antarctica, Mother Nature showed its full force during the Drake Passage. Our boat spun in circles for 16 hours.
But when we arrived south of the Antarctic Circle, there was a peaceful calm in the deep blues of the icebergs and darkness of the water.
It was like she had put us through a test so we could truly appreciate her true beauty and not take it for granted. We didn't. And we still don't."
Caz Makepeace, yTravel Blog– "Experiencing nature and wildlife is one of the major reasons I travel. It allows me to live in awe and to fully appreciate how interdependent all living things are.
The Earth gives us all we need, and every creature plays a part in making sure we are all provided for.
One of the most beautiful wildlife experiences we had was stumbling upon a mud bath in Africa's Addo Elephant Park.
Herds of elephants came loping down from the nearby hills to meet and play with their family and friends. We watched them bathe in mud and wash each other down.
The most precious moment of all was when a young calf and a baby elephant saw each other in the distance and ran towards each other, linking their trunks in greeting before running off to play.
It was a priceless moment that can never be matched."
READ MORE: 50 Interesting Facts About Elephants (for World Elephant Day)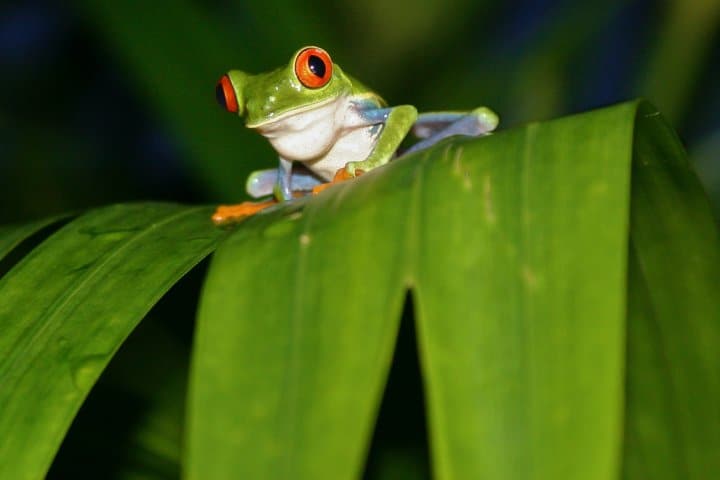 Iain Mallory, Mallory On Travel– "It seems essential that we protect all of nature.
It's not merely the great whales, polar bears, rhinos– the 'poster species' of environmental groups– that need protection. It's vital that more humble creatures are also protected.
At the moment a whole animal kingdom class, the amphibians, is endangered, and in many cases critically. The effect of losing any species can have catastrophic effects on entire ecosystems.
Ultimately, it is the ecosystems themselves that need to be protected, as habitat destruction is responsible for the loss of numerous species.
They are the last refuges for the wonderful biodiversity of our planet. We have a responsibility to preserve them, both for the sake of future generations and because it is simply the right thing to do!"
Matt Gibson, MattGibson.org–  "I love (and write about) ecotourism because it offers developing countries responsible and sustainable methods for using their natural resources to grow their economies.
But I also think it's an essential part of travel.
Trying to understand a culture without learning about the geography and ecosystem that moulded it is like trying to understand a person without meeting their family."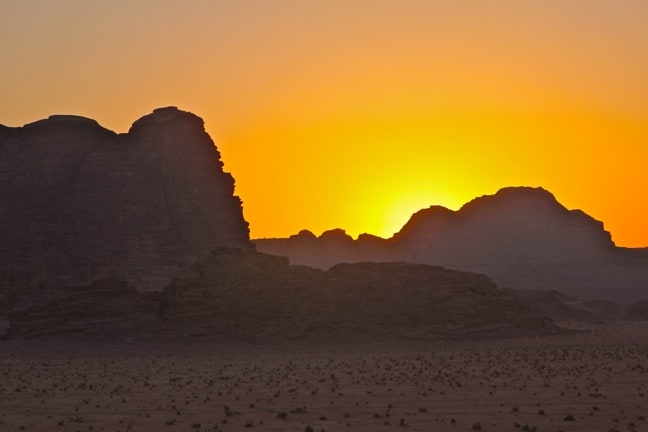 Jeremy Branham, Budget Travel Adventures–  "When I was younger, I never spent much time hiking or in the outdoors.
As I've gotten older, it's become an essential part of who I am and what I enjoy doing. I can't say I've always been a huge fan of ecotourism.
However, when your soul and spirit are touched by nature in a way that the world becomes calm and makes sense, there's something about preserving its beauty that really does matter."
Mariellen Ward, BreatheDreamGo–  "Traveling in Canada and India, there's no doubt that I feel much more connected spiritually to our world and the cosmos when I am surrounded by a natural environment.
The rugged Canadian wilderness, the Himalayas, a pristine stretch of the Ganga (Ganges River) as it flows through a national park in north India, and the great Thar desert in Rajasthan are some of the most beautiful, powerful places I've visited.
One night in Jaisalmer, I went out into the dunes and slept on the perfect sand, kept awake all night by the shower of pulsating stars above me.
At Aurovalley Ashram near Rishikesh, I meditated by staring at the fast-flowing Ganga and the mist-draped hills of Rajaji National Park.
Canoeing at dusk on a forest-encircled lake in Canada, I saw a hawk fly across the face of the setting sun. These experiences made me feel part of the living consciousness that cradles all of us."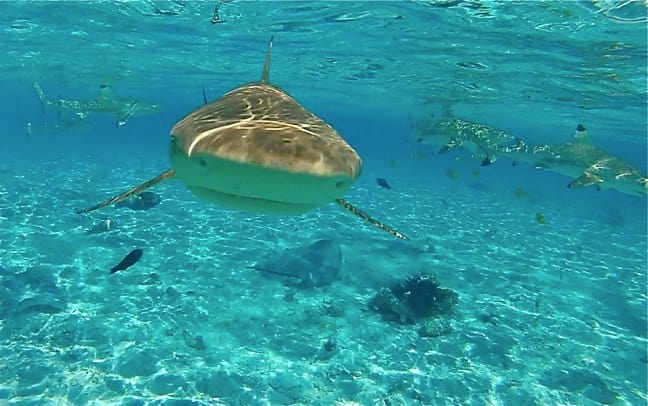 Matthew Karsten, Expert Vagabond– "I've always loved wildlife and the natural world, but it wasn't until I began traveling that I became acutely aware of the significant threats facing Earth's beautiful creatures.
In Fiji I was able to scuba dive with many different species of sharks in a protected ocean marine reserve, learning how overfishing was quickly contributing to their decline all over the world.
Swimming face to face with sharks completely changed my previous perception of them as dangerous man-eaters.
Responsible ecotourism helps spread awareness and respect for the other lifeforms we share our planet with. Locals benefit by saving their natural wonders, not destroying them."
Jen Miner, The Vacation Gals– "The ocean covers around 70% of our planet's surface. Scuba divers and snorkelers are privy to glimpses of a world that seems foreign to landlubbers.
One moment we're bobbing along in the sunlight; the next, everything is blue and quiet. Exploring underwater is akin to exploring a new world.
Recently, off the coast of Maui, while floating along and admiring the yellow tangs, wrasses, and one crabby-looking moray eel, I turned to the right. I stopped in my tracks (if snorkelers have tracks). Seven feet in front of me, a green sea turtle casually bobbed along.
Without intending to, I drifted closer. It didn't mind. We both stayed still. Eventually, it tired of the pale alien creature staring at it, and dove lazily to the bottom.
Unexpected encounters like this one make vacations into memorable travel experiences. And, this Earth Day, I am grateful for destinations like Maui, for taking care of the island, its waters, and its flora and fauna."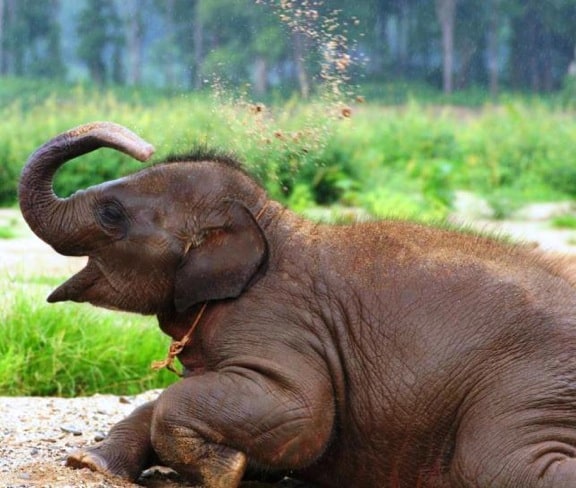 Diana Edelman, D Travels Round– "Wildlife species are currently dwindling across the world as their habitat is encroached on and the demand for them used in tourism, medicine and entertainment increases.
When I first visited Elephant Nature Park in 2011, it made a lasting impact on me.
I learned about the abuse Asian elephants face in the name of tourism, and vowed to raise awareness about what the animals go through in order to satiate an unnecessary human desire.
With education, people around the world can make a difference."
Jessie Voigts, Wandering Educators– "When we travel, we seek out nature, quiet, a place to be and explore locally. One travel experience that profoundly impacted our family was living in a seaside house on the Ring of Kerry.
Experiencing the flow of the tides– and seeing the immediate impact it had on fishing, animals, and the landscape– was incredible.
We were outside as much as possible, even in the amazing daily Irish rain. When I think of Ireland, I think of that green location, and how being outside, in nature, was the essence of the country."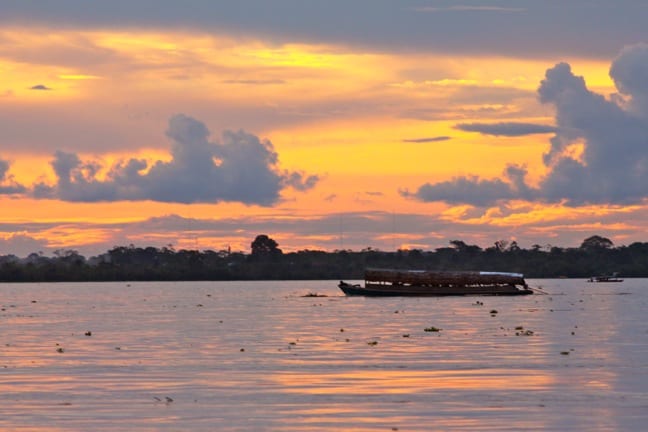 Jim O'Donnell, Around the World in 80 Years– "Travel has taught me that it IS possible for humans to work with, and be part of, nature.
In the swampy delta of India's Mandovi River, my friend Meghnath introduced me to a food forest. His mother has a garden there and sells the produce in Goa, and food was the jumping off point for our friendship.
Meghnath showed me that the food forest– an ancient agricultural concept that mimics nature– is a self-sustaining system of multi-storied trees, shrubs, grasses, flowers, pollinators, soil, water and human beings.
The food forest thrives on biodiversity, and the interplay between humans and wilderness.
As an avid traveler who is passionate about both food and nature, the experience taught me to seek out in my journeys those transition zones where people become one with the natural world."
Karen Catchpole, Trans-Americas Journey– "We created our Trans-Americas Journey road trip through the Americas with a focus on wild spaces, parks and nature.
Yes, we like hanging out amongst the trees. But the real thrill, for us, comes when a wild animal chooses to let us see it. We've spent enough years in the outdoors to know that it's the height of hubris to think that we see them.
We don't: We merely stumble close enough to a creature, which then decides to show itself (or not). Every glimpse is a gift and, in the past six years, we've received a lot of them.
We've had time spent with resplendent quetzal birds, snorkeling with whale sharks, watching grizzlies gorge themselves, scuba diving with hammerheads and dolphins, camping underneath howler monkeys, and so much more. Many thanks, mother nature!  –photos by Bret Love & Mary Gabbett unless otherwise noted
If you enjoyed reading about The Benefits of Ecotourism, you might also like:
GO GREEN TIP #98: 40 Earth Day Tips For Going Green
Easy Ecotourism: 10 Simple Steps To More Sustainable Travel
The Top Travel Destinations of 2016: 35 Travel Bloggers' Picks
What is an Eco Lodge? A Guide to "Green" Accommodations