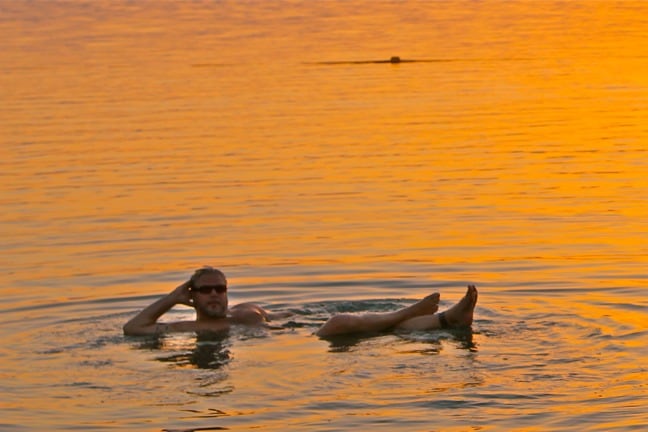 Why I'd Prefer to Forget
Visiting the Dead Sea, Jordan
I'm lying on my side as if lounging on my bed, floating effortlessly in Jordan's Dead Sea with a gorgeous sunset over Israel in the background.
I'm posing gamely for Mary's camera, but my smile doesn't come easily. We've been warned not to stay in the water– which is among the saltiest on the planet– for more than 15 minutes. But after about 15 seconds my skin is SCREAMING for me to get out. I urge Mary to hurry, my flesh feeling as if a million different nerve endings are on fire. The intensity of the burn only seems to increase with each passing moment.
Less than five minutes later I'm sprinting (awkwardly, given the fact that I feel like I'm floating in space) towards the shore and into the shower, frantically rubbing the mineral-rich Dead Sea water from my body. I've never in my entire life been so happy to see a swimming pool nearby.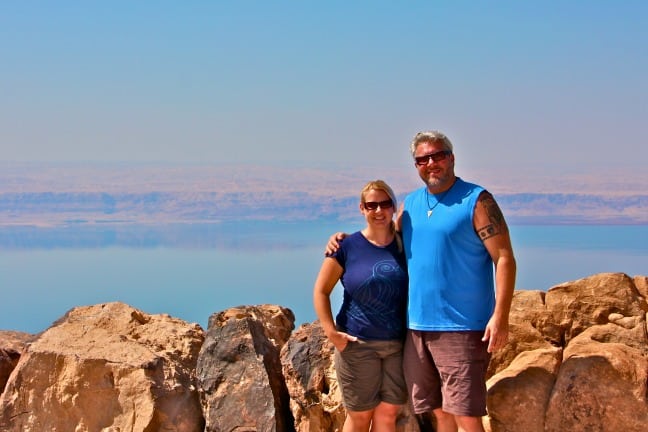 A LITTLE DEAD SEA HISTORY
Billed by the Jordan Tourism Board as "the world's most amazing place," the Dead Sea is one of those incredibly unique natural wonders that inevitably seem to wind up on every world traveler's bucket list.
Located in Jordan's picturesque Rift Valley, nearly 1,400 feet below sea level, this hypersaline lake has attracted travelers from throughout the Mediterranean for thousands of years. The area served as a sanctuary in which King David could hide from Saul, and became one of the world's first health resorts for Judean King Herod.
The Greeks referred to the Dead Sea as Lake Asphaltites due to the steady stream of pebbles and blocks of the black stuff that rise from seeps deep beneath its surface. Aristotle marveled over these immensely salty waters, and the ancient Egyptians used the asphalt for embalming during their mummification process.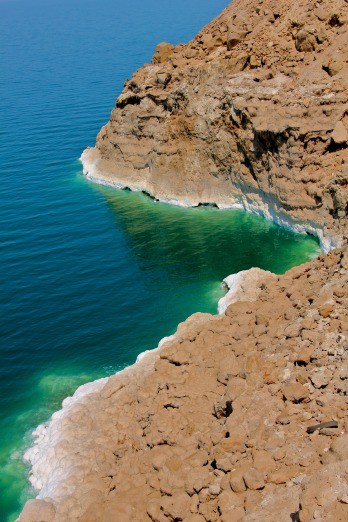 THE DEAD SEA'S HEALTH BENEFITS
In modern times, the Dead Sea area has become a major tourist attraction renowned for its seemingly magical healing properties. The dry climate, low allergen content in the atmosphere, reduced UV levels due to distance from the sun, and high mineral content in the water have all been found to be beneficial in various ways.
People with psoriasis are given climatotherapy, sunbathing for long periods without the usual skin cancer dangers. People with osteoarthritis have less pain in their joints after receiving Dead Sea mud therapy. People with rhinosinusitis get better relief from Dead Sea saline nasal irrigation than typical saline sprays. People with cystic fibrosis seem to breathe easier thanks to the area's higher atmospheric pressure.
And, of course, the Dead Sea is known around the world for its use in therapeutic bath and beauty products, from facial cleansers and bath salts to masks and moisturizers.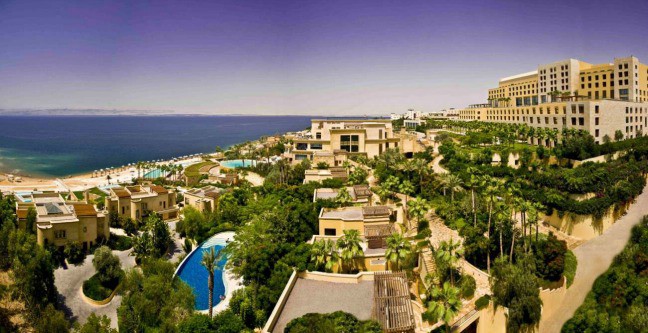 OUR JORDANIAN ADVENTURE
By the time we got to the Dead Sea, we were desperately in need of a little rest, relaxation and relief ourselves.
Our previous 3 days in Jordan had included a grueling14-kilometer hike in the midday heat through the Dana Biosphere Reserve, being chased by an angry camel, climbing mountains to see the Treasury and Monastery in Petra in one day, and spending a sleepless night in the Wadi Rum desert.
So when we arrived at the luxurious Kempinski Hotel Ishtar Dead Sea, we were utterly exhausted, emotionally spent, and eagerly anticipating a rejuvenating 5-star experience.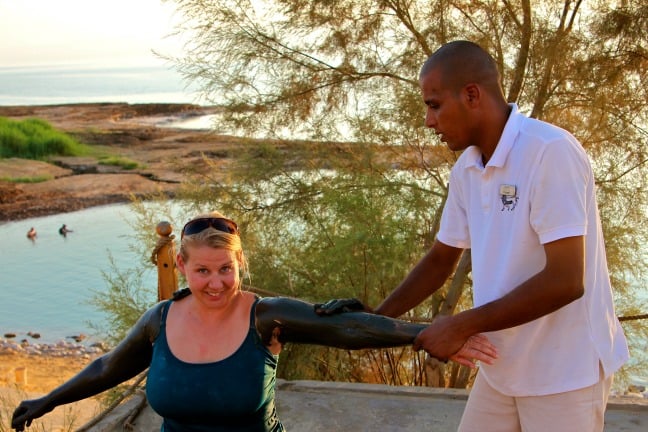 OUR DEAD SEA EXPERIENCE
Our arrival at the Kempinski Hotel certainly seemed promising. Our hosts were gracious and accommodating, practically rolling out the red carpet to welcome us. The lobby was so posh, we were self-conscious of the fact that we might reek of sand, sweat and camel. Our room was spacious, well appointed, and delightfully cool from air-conditioning (a welcome, if not so eco-friendly, development after days in the desert).
We stripped off our dirty clothes the instant we walked in, breathing a huge sigh of relief as we entered our lair of luxury. Hot showers and several glasses of cold water went a long way towards curing what ailed us, and a brief nap made me feel somewhat human again. It was nearly sunset by the time we finally headed out, past incredible infinity pools and lushly landscaped grounds, towards the Dead Sea.
The beach was surprisingly uncrowded as we found an attendant to apply the famous Dead Sea mud to our skin. The handsome young Jordanian clearly relished his job of smoothing the thick goop onto the ladies, gently massaging it into Mary's skin as she grinned like the Cheshire Cat. If only my Dead Sea experience had been limited to documenting her enjoyment, it would've been a very different day.
As I sat down for the application of these mythically powerful minerals, I felt a little like a Native American warrior getting ready for battle. But the more mud he spread on my body, the more I began to feel like a casualty of war.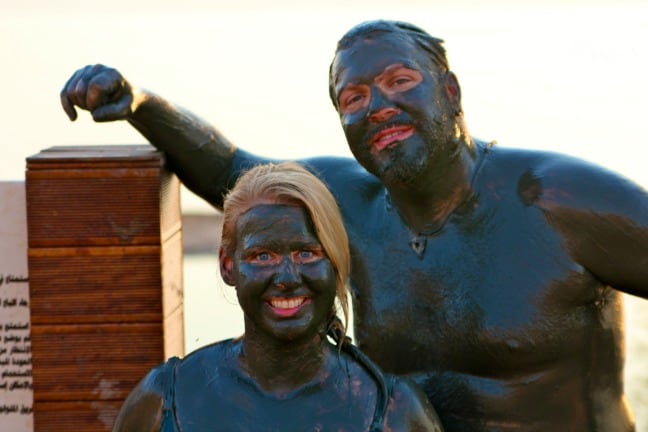 THINGS FALL APART
It began with an intense, radiating warmth, like a sunburn whose heat has no way to dissipate. Then there came an itch, like little ants crawling across your body, which have not yet begun to bite. By the time Mary and I posed for the requisite covered-in-mud photo, it had begun to sting, and I quickly moved down to the water hoping to soothe the pain.
Needless to say, the water didn't help matters any. It was quite literally like salt on an open wound. So I rinsed off the mud as fast as I could, cursing its exfoliating properties every second. The heat faded a bit, and I tried to enjoy myself. I experimented with different floating positions… I checked out the thick coating of salt on the rocks that lined the beach… I experimented with more floating positions.
By that time, not only was I incredibly uncomfortable, I was also bored.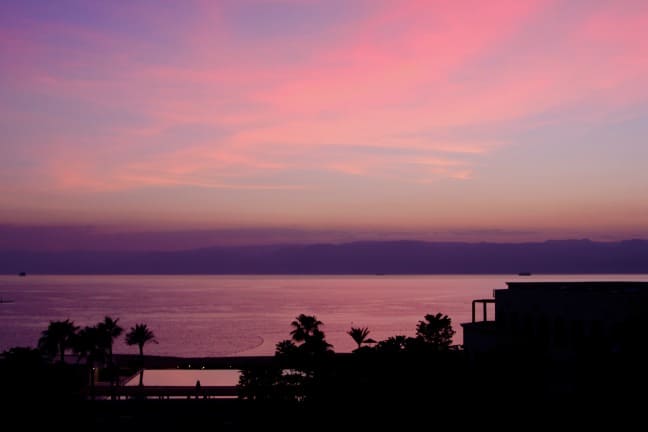 Honestly, we had a lot more fun lounging around the pool, soaking in the sunset, and checking out the remarkably risqué (for the Middle East) clothing choices of the women at the dinner buffet than we did immersing ourselves in the Dead Sea. Even Mary, who had none of the skin irritation issues I had, came away from the experience feeling more than a little underwhelmed.
In the end, the Dead Sea seems more like something you do just to say that you've done it– an item to cross off your "Natural Wonders of the World" list. Despite its history and purported health benefits, the Dead Sea was arguably our least favorite tourism attraction in Jordan.  -Bret Love; photos by Bret Love & Mary Gabbett unless otherwise noted
If you liked reading about Visiting the Dead Sea Jordan, then you may also like:
Jordan- Ancient Ruins of Jerash
Jordan- Dana Biosphere & Wadi Mujib
Jordan- Nature Reserves: Ajloun, Dibeen, Azraq
Jordan- Our Culture of Fear
Jordan- Petra: The Secret Trail
Jordan- Wadi Rum Camel Trekking