On our second afternoon in the Galapagos Islands, we made a dry landing at Prince Philip's Steps on Genovesa Island, an area renowned for its myriad bird species.
What may appear at first glance to be a tender moment between a mother Nazca Booby and her juvenile offspring was, in fact, a remarkably insistent pestering from the young'un demanding his mother to let him feast on the partially digested fish in her gullet.
"Feed me!!" he seemed to say. She eventually did, albeit somewhat reluctantly.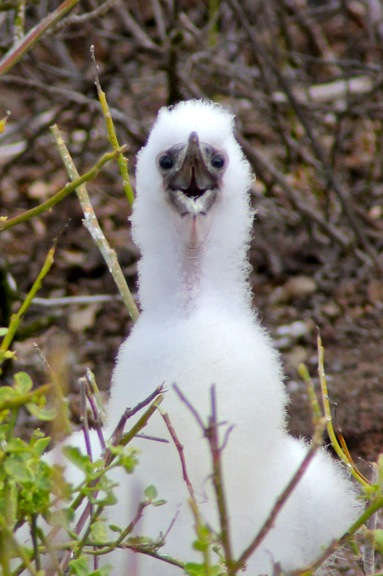 This young Red-Footed Booby also looked as if it were hungry for a meal, but his mother was nowhere to be found.
Perhaps she was one of the beautiful birds we saw making spectacular dive-bombs into the ocean waves in search of an evening meal.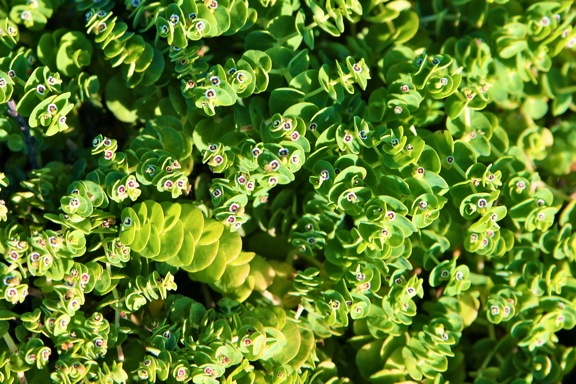 I do not for the life of me remember the name of this tiny flowering ground cover, but I do remember how amazing we thought it was that something so lush and green could grow in the middle of such a barren, lava-dominated landscape.
It was like finding carnations on Mars.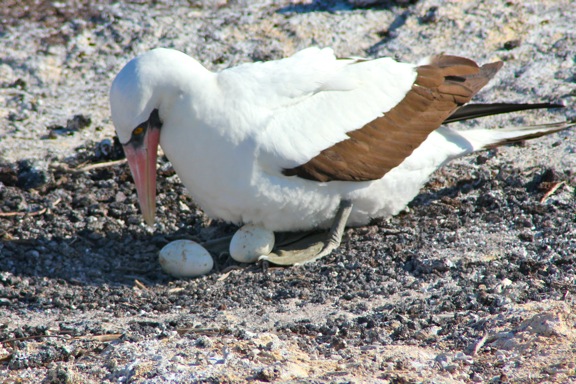 This Nazca Booby was a good 20 yards off the hiking trail (on which visitors must remain at all times), so we found it a bit odd that she seemed so concerned by our presence.
As she moved cautiously over to sit on her eggs, we realized the cause for her concern as the opportunistic Magnificent Frigates circled nearby.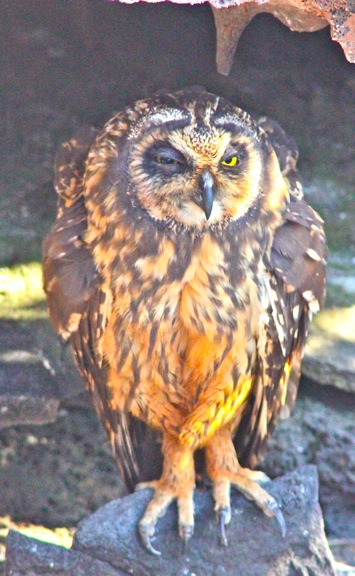 I've rarely seen a naturalist guide as obsessed with finding a specific species as Ecoventura's Cecibel Guerrero was on our afternoon hike.
She was determined to help us spot the elusive short-eared owl, scouring the open lava fields in her search.
Damned if she didn't find one right at the end of the trail, nesting in the side of a cliff, just as sunset was hitting the golden hour!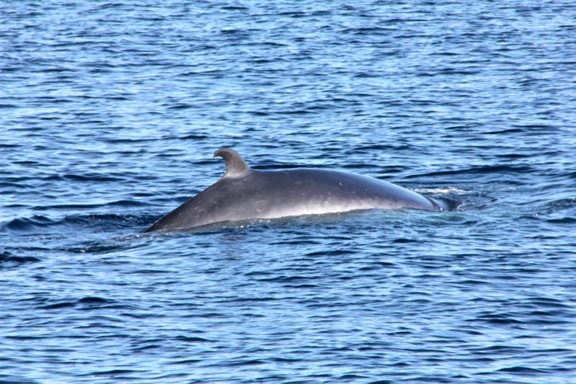 The next morning started off with a rush of excitement as we spotted a pod of Bryde's Whales cresting and spouting water from their blowholes as we made our way to Fernandina Island, the youngest and most pristine island in the Galapagos chain.
It quickly became one of our favorites, with a vast array of wildlife spread across the coastline's recent lava flows.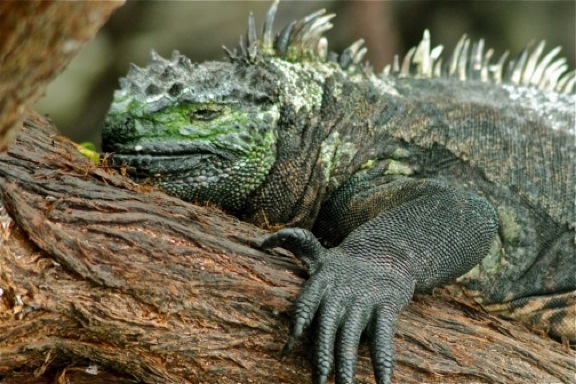 We hadn't even gotten out of our boats at the shore of Punta Espinoza when we spotted this colorful Marine Iguana resting in the mangroves just above the water.
Little did we realize he was merely the first of thousands we would see on our morning hike.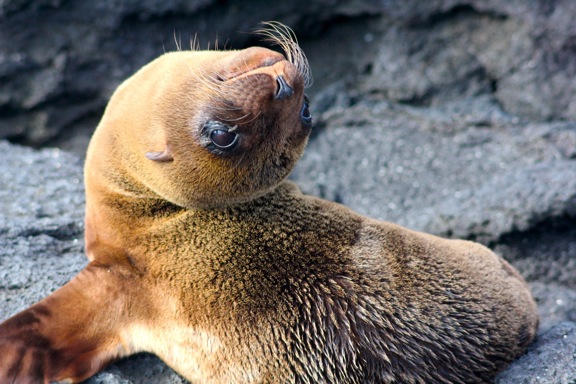 "Hey, look at me! Do you see me?! Hi!!" Words cannot describe how much I loved this little Galapagos Sea Lion.
I must have taken at least 50 photos, and in each one he's got a different body language and facial expression. Don't be surprised to see a full photo gallery of this adorable little pup soon.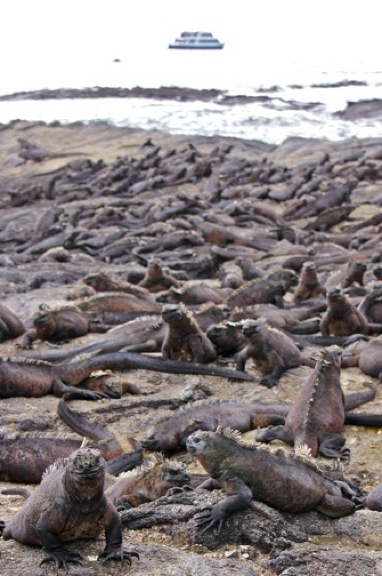 "Oh no, they say he's got to go/ Go, go Godzilla!" Did you think I was exaggerating when I said there were thousands of Marine Iguanas?
On Fernandina, there were so many that you had to watch where you walked for fear of stepping on one.
They were like spitting, hissing little dinosaurs, but I loved their funny faces and tendency to clutter en masse like kittens.
.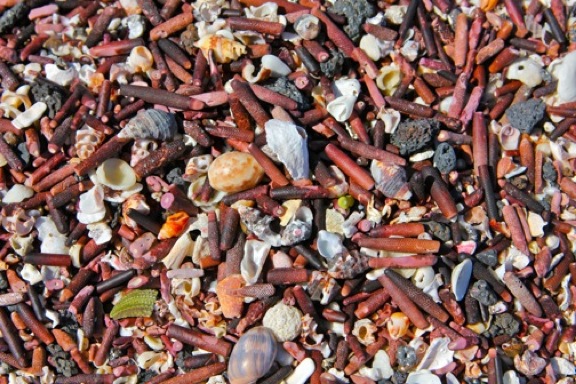 The Galapagos beaches were as different as the animal species: Some were pristine white sand, others were different varieties of lava rock.
This one was a colorful mixture of crushed coral, tiny seashells and the spines of Pencil Sea Urchins, which we saw in abundance every time we snorkeled.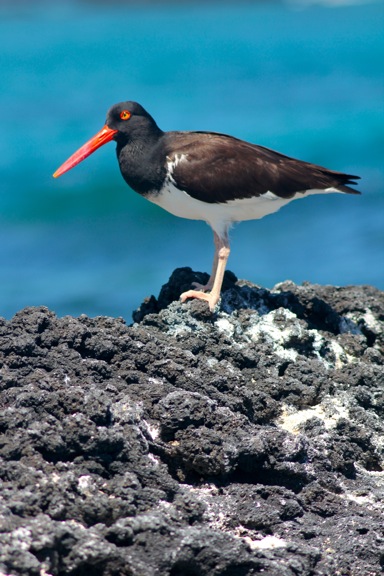 This was my first time spotting the colorful Galapagos Oystercatcher, whose red-ringed eyes and extraordinary beak formed a striking profile against the backdrop of black lava and crashing surf.
Not long after this picture was taken, this one and its mate grew concerned by the presence of a Galapagos Hawk overhead, and immediately went to protect their eggs nearby.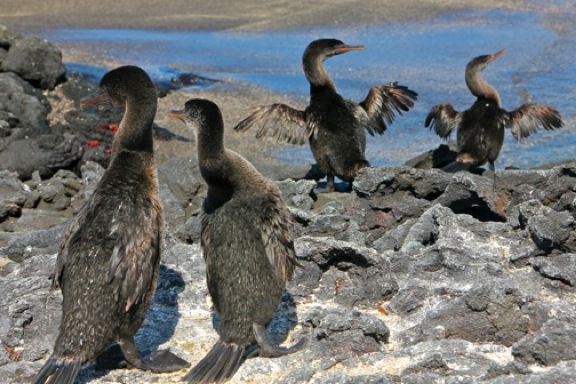 One of the most amazing scenes we got to witness on Fernandina was a Flightless Cormorant Mating Dance, in which the two birds on the left wooed one another (both in water and on land) while the two ladies on the right tried to hone in on the action.
It reminded us of Cinderella and her ugly stepsisters at Prince Charming's ball.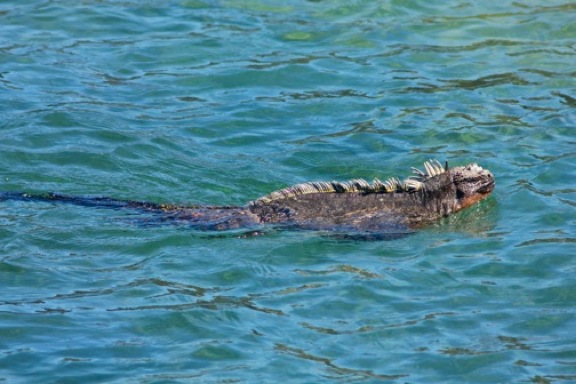 It's difficult for photos to adequately convey how insane the Galapagos Islands are in person.
You're watching a rarely-seen Flightless Cormorant Mating Dance– even your guides are excited– when all of a sudden two Galapagos Sea Turtles poke their heads out of the water.
Next thing you know, you're watching a Marine Iguana swimming for the first time. It's the closest I have ever been to Eden.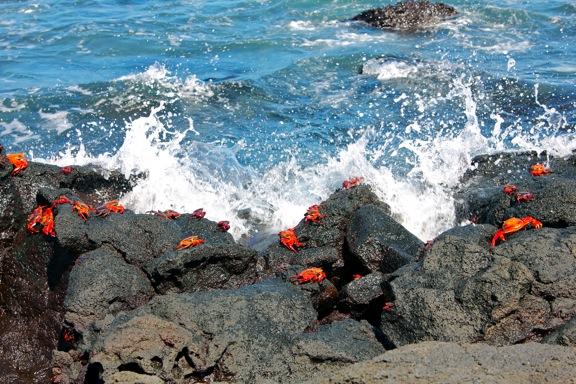 They don't get as much love as the sea lions, birds and reptiles, but the Sally Lightfoot Crabs deserve a mention.
With vivid reds and oranges on top, pinkish purple eyes and a light blue underbelly, the crabs are the most colorful thing on the Galapagos beaches.
The only problem was, by the end of our long hikes, all we could think about was how good they might taste….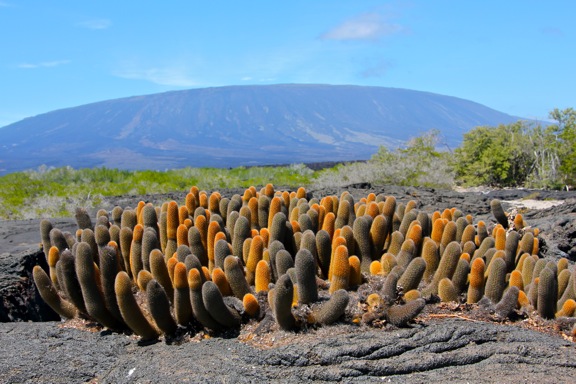 At the end of our morning hike on Fernandina, we finally turned our view away from the bustling wildlife activity of the coast and climbed rocks to get a majestic view of the La Cumbre Volcano, which erupted back in April 2009.
With the 4,842-foot volcano in the background and a mixture of lava, greenery and the multi-hued lava cactus in the foreground, it made for a stunning final shot before we returned to the Eric for our next adventure. –by Bret Love; photos by Bret Love & Mary Gabbett