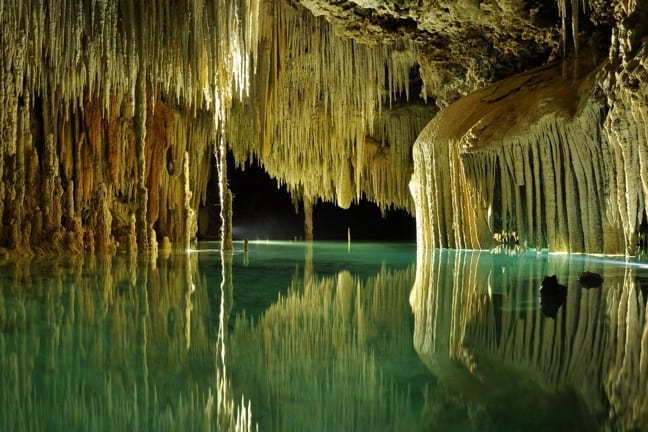 Exploring Rio Secreto
The Riviera Maya's Amazing Underground River
Caves have held a strange, primordial allure over me ever since I first read about Tom Sawyer's adventures in Mark Twain's classic novel as a boy.
From the cliffs of Petra to the Milodon Caves of Patagonia, exploring them has always made me feel like I was part-caveman, part-astronaut, venturing into places both ancient and unknown.
But never has this mixture of fascination and trepidation been more acute than it was during our tour of Rio Secreto, an incredible underground nature reserve on Mexico's Yucatan Peninsula.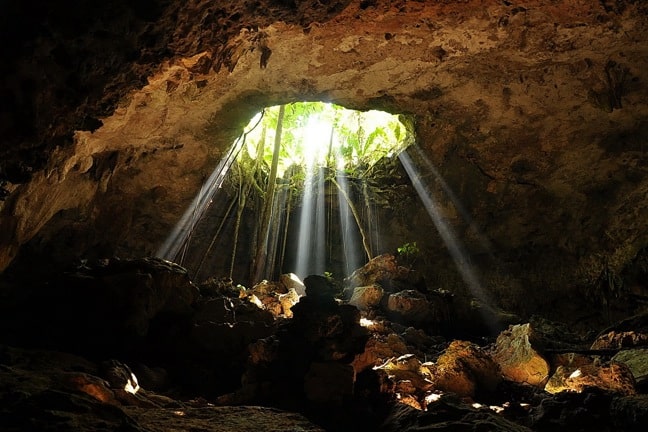 Located in the Riviera Maya 3 miles southwest of Playa del Carmen, Rio Secreto is a system of caves carved out over the course of several centuries by an underground river. Stretching approximately 8 miles, with 15 natural outlets, it's the longest partially flooded cave on Mexico's Yucatan Peninsula. But what makes Rio Secreto unique is the fact that it's semi-sunken, which means that you can hike or float through most of it.
The place was virtually unknown until 2007, when the man who discovered the natural attraction decided to allow eco-tours through 10% of the reserve in order to fund conservation of the other 90%.
Today, it's managed with a sharp eye on sustainability, meaning small guided groups, showers required before entering the water (to remove bug spray/sunscreen), and no personal cameras or jewelry allowed.
They also take different groups to different sections of the cave system, so our little group of 6 (my daughter and I, and a family from Norway) felt as if we had the entire place to ourselves.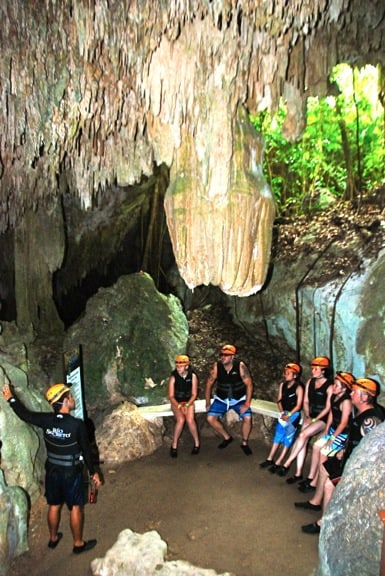 Setting off on a short hike through dense jungle, the tour began with a blessing of protection from a Mayan shaman, and then a briefing from our guide, Daniel.
He explained that the Mayans historically considered cenotes– surface connections to underground bodies of water– to be sacred, providing both a source of potable water and a gateway to the Afterlife.
Cenotes played an important role in Maya rites: Numerous expeditions in the Yucatan over the past decade have uncovered objects and human skeletons dating back more than 13,000 years, which were believed to have been sacrificed to appease the rain god, Chaac.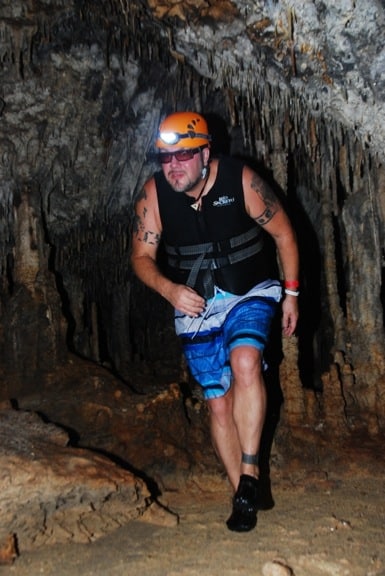 Understanding this ancient history and mythology definitely  lent an air of magical mysticism to the moment as we switched on our headlamps and descended the stairs into darkness. We gradually made our way down gentle slopes of slick stone, ducking through narrow passageways, until we were around more than 100 feet below the surface.
It took our vision some time to adjust to the low light, but the "Oohs!" and "Aahs!" began almost the moment we laid eyes on what seemed to be millions of stalactites and stalagmites, which seemed almost like fingertips stretching from ceiling to floor (and vice versa) in a desperate attempt to connect.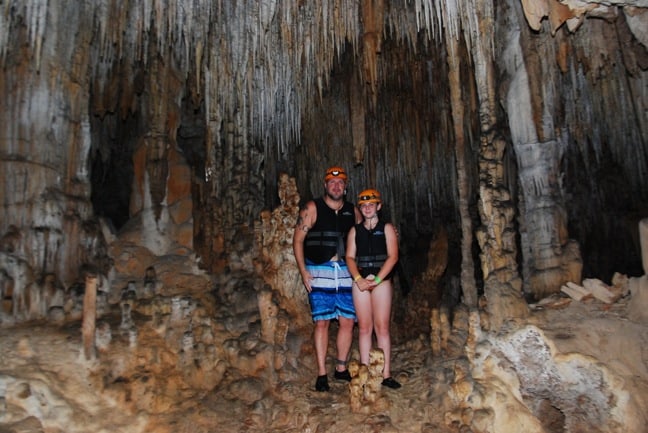 Stalactites are formed in limestone caves when the calcium carbonate contained within the rock is dissolved by water containing carbon dioxide, which creates a calcium bicarbonate solution.
As this solution drips down from the roof of the cave and comes into contact with the air, the chemical reaction is reversed and creates a calcium carbonate deposit, which grows at an average rate of .13 mm to 3 mm per year. Stalactites can have different shapes, from the thin, hollow tubes known as "soda straws" to more familiar cone shape.
When the mineral-laden water drips down from the cave ceiling, it deposits calcite on the floor below, eventually resulting in a thicker rounded or cone-shaped stalagmite. Over time– thousands of years– these formations grow towards each other, meet and fuse to create giant columns of calcium carbonate. Though the process may be slower than a snail crawling uphill through a winter's frost, the visual impact of being in a cave full of these geological wonders is immediate. I've never said the word "Wow!" more times in my entire life.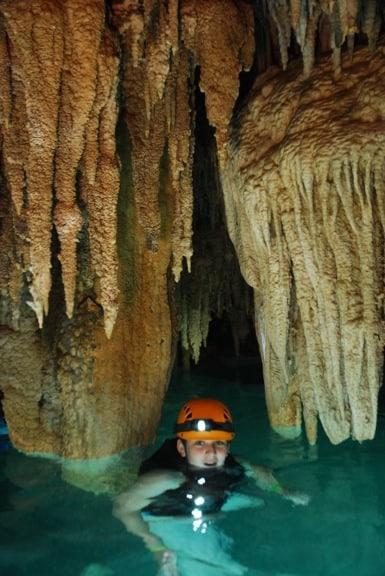 As we descended further into the cave system, the air grew cooler, the light grew even darker, and my glasses fogged up so badly I had to remove them. We went from wading in shallow streams to swimming in waters that glowed a beautifully brilliant blue as we shined our headlamps upon them.
The water was clear and cold (or, as we winkingly call it, "refreshing"), and we were amazed to see tiny catfish swimming in the shallows on occasion. Occasionally we'd have to work our way through narrow gaps between stalactites– easier said than done when you're 6'2″ and built like a linebacker. But then you'd emerge into an expansive cavern, with crystal blue waters surrounded by an astounding array of geological formations, and it felt SO surreal… like we were characters in an adventure novel of our own.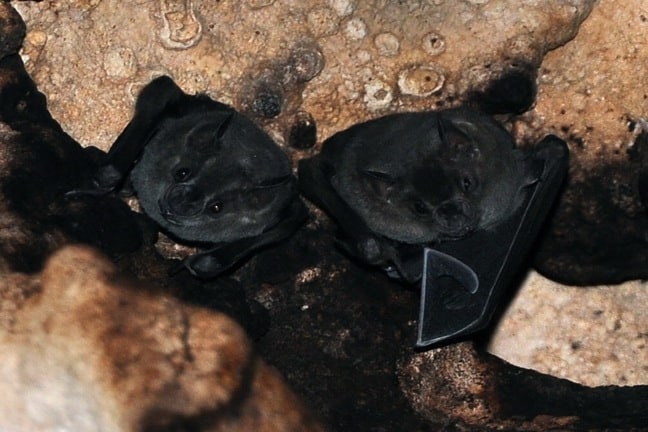 My favorite moment of the entire tour came when we swam to the middle of the biggest cavern of the day. Daniel asked us all to use our lifejackets to float, turn off our headlamps, and LISTEN.
Even with your eyes open, it was absolutely pitch black. You couldn't even see your hand waving in front of your face. But, denied our sense of sight, all of our other senses gradually came alive.
You could smell the earthen moistness within the cave. You could feel the striking contrast between the humid air on your face and the chilly water on your body. You could hear the sounds of water dripping from stalactites, and of bats squeaking somewhere in the distance. The serenity was almost overwhelming, and I didn't want it to end.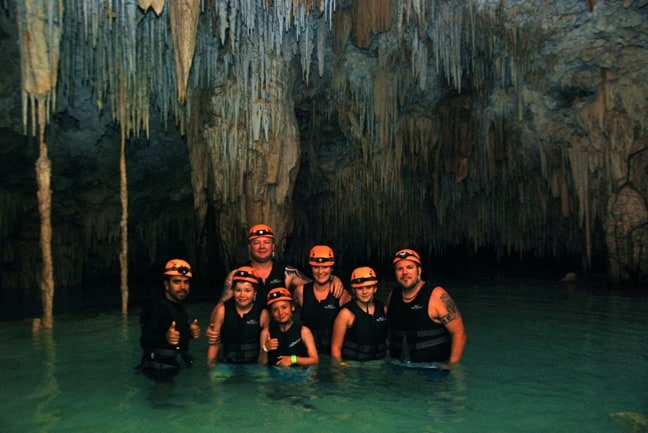 Of course, eventually we had to make our way out of the caves. There was a weird mixture of regret and relief when we got our first glimpse of sun streaming through the skylight of our exit, emerging back into the hot, humid glare of the late afternoon. We were mostly silent on the 10-minute walk back to the main camp, except for when we suddenly spotted a pair of beautiful blue-crowned motmots in the trees above the path.
After changing clothes and wolfing down some typical Mayan food at the buffet (which is included in the cost of your ticket), we climbed into the van for the 2-hour ride back to Cancun. As my daughter slept, I couldn't get Rio Secreto out of my head, remembering the cool air, the darkness, the alien, almost otherworldly landscape…
I'm 45 years old now, no longer a boy reading The Adventures of Tom Sawyer and dreaming of the day when I will be able to have adventures of my own. But I still have a child-like sense of wonder every time one of those childhood dreams come true, because I realize that the reality is so much cooler than the fantasy could ever hope to be.  –by Bret Love; all photos provided courtesy of Rio Secreto
If you enjoyed reading about Rio Secreto, you might also like: 
RIVIERA MAYA: Tulum & Coba Photo Gallery
RIVIERA MAYA- Monkeys, Pyramids & Pottery
VIDEO: Snorkeling Cenotes in Riviera Maya, Mexico 
VIDEO: Preserving Mayan Pottery 
VIDEO: Snorkeling with Stingrays in Riviera Maya
VIDEO: Traditional Mayan Music