Florida Eco Hotels
We all want to do our part to help Mother Earth look and feel her best. It's just that some of us choose to show our love in more subtle fashions. Frankly, tree planting and solar panel installing aren't for everybody. Some folks would rather do their parts by simply working LED light bulbs, eating sustainable seafood and using in-room recycling bins. The decidedly green hotels featured here know all of this. They also know that nowhere is it written we can't stay in one of their exquisite rooms while saving the Earth.
The Breakers (Palm Beach)
This posh address is the Erin Burnett of resorts. She's a looker that knows exactly what she's talking about. The iconic, 540-room estate's manicured grounds and magnificent back story give the impression of staunch wealth, but little else. However, when you get to know the facility and its people, you gather something much deeper. The Breakers may wear only the finest in Ralph Lauren and Burberry, yet the place has never had a problem with getting its clothes dirty for the environment.
One of the luxury hotel industry's pioneers in earth initiatives, this Palm Beach palace has promoted ecological responsibility for well over 12 years. Only now, proud employees like Geoffrey Sagrans and Rick Hawkins have stretched out the green carpet to include programs like an organic herb and vegetable garden, the employee-focused Green Market and Localecopia, a wonderful non-profit organization matching local farmers with area restaurants to promote food-sourcing. Said highlights may not be obvious when you're playing croquet or enjoying the Mediterranean-style Beach Club, but trust that they're there. In fact, the towels sprinkled about the pools are cleaned using an energy-conserving Ozone washing system.
Hyatt Regency Bonaventure (Ft. Lauderdale)
Upon opening in September 2006 after a $100 million renovation, the 23-acre property began showing an affinity for green. For starters, the place is lushly designed to ensure patrons are engrossed in flora without feeling like they've fallen in the middle of a jungle. A centralized pool area offers fountains, fauna and a pond full of Koi and swans. Also on the property is the Spa, 48,000 square feet of magic where you can relieve any earthly stresses.
Still, the area where the Bonaventure most leaves its carbon footprint is with its food. Not only do executive chef Bob Axenfeld and chef Jeremy Miller take pride in organically growing many of their own ingredients on site, but they have a similar compassion for the seafood served with it. "Farmed salmon is doing more harm than good," begins Chef Miller, speaking of the questionable conditions in the huge pins the fish are raised. "That's why the [Monterey Bay Aquarium's] Seafood Watch guide is my bible." What this means is that the menu at Ireland's Steakhouse, the hotel's AAA Four Diamond Award-winning restaurant, only offers seafood that doesn't pose a threat to the ecosystem.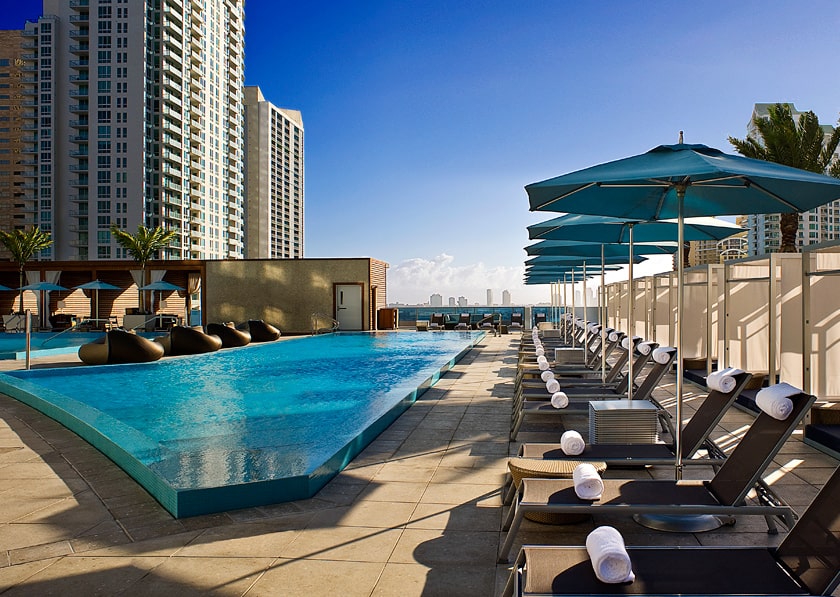 The Epic (Miami)

As a part of the Kimpton family of conscious hotels, this downtown Miami gem is almost thrust into a sustainable role by association. Rather than grudgingly accept its earthly awareness badge though, the award-winning Epic proudly boasts over 80 eco-friendly products and services to its guests. With cool options ranging from in-room recycling bins to the environmentally preferable Wines that Care program, there's simply no reason to feel guilty about enjoying a stay here.

The 411 rooms and suites are smartly orchestrated to have a South Beach modernism with a flowing sense of clean. (And no, this truth has nothing to do with the Natura in-house purified water system either.) There's also an out-of-this-world dining experience called Area 31 and an outstanding full-body spa called Exhale on site. It goes without saying that both apply methods that align with the planet's well being. The Epic stands out amongst South Florida's hotel selection because it balances them with your own requirements so well. -DEMARCO WILLIAMS

If you liked Florida Eco Hotels, then you might also like:

The World's Most Unique Hotels For Your World Travel Bucket List

Sanibel Island, Florida Attractions- Top 7 Eco Activities

Swimming With Manatees In Crystal River, Florida

Greensboro, North Carolina Travel Guide- Going Green in Greensboro

The Breakers…in all its breathtaking splendor.