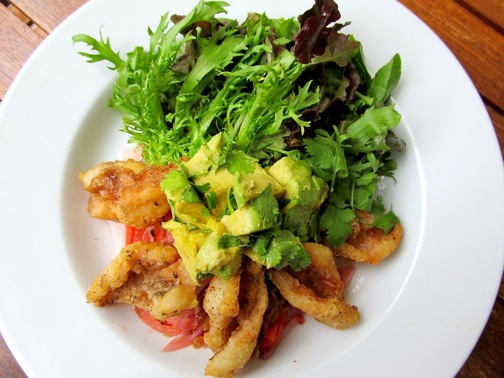 In certain parts of the world (including Florida and the Cayman Islands), lionfish is emerging as an invasive species threatening the ecological balance of life on the coral reef.
Chef Michael Schwartz, owner of Michael's Genuine Food & Drink, is addressing this growing issue by teaming up with the Cayman-based Ambassador Divers to introduce a Lionfish Safari package. The excursion takes guests out for a day out on the water culling lionfish from local reefs, then returns to the Camana Bay restaurant for a lionfish-centered dinner by executive chef Thomas Tennant.
This lionfish recipe works equally well with mackerel or kingfish. Escabeche is a classic Spanish preparation in which you sear fish, then marinate it in a vinegar sauce until it's pickled. Unlike ceviche, which is raw fish "cooked" in citrus juice, escabeche is cooked first. The bracing and acidic vinegar cuts through oily fish just perfectly. This super simple dish makes a light, flavorful starter that wakes up the taste buds and hits the spot on a hot day.
INGREDIENTS: 1/2 cup all-purpose flour • Kosher salt and freshly ground black pepper • Four 3-ounce skin-on fish fillets, cut 1-inch thick • 2 tablespoons canola oil • 1 carrot, thinly sliced • 1/2 small red onion, thinly sliced • 1/2 red bell pepper, thinly sliced • 1/2 cup sherry vinegar • 1 tablespoon agave nectar • 2 teaspoons mustard seeds, toasted • 1 bay leaf • 1 fresh thyme sprig • 2 cups diced ripe avocado • 2 tablespoons extra-virgin olive oil • Fresh cilantro leaves
DIRECTIONS: Combine the flour, 1 teaspoon salt, and 1/2 teaspoon pepper on a plate. • Dredge the fish fillets in the seasoned flour, tapping off the excess. • Place a large skillet over high heat and coat with the vegetable oil. • When the oil is shimmering, lay the fish fillets in the pan and cook for 5 to 6 minutes. You want a good sear, so don't move the fish around, just let it do its thing. • Turn the fillets over and sear the other side for another 2 minutes until just about cooked through. • Remove the fillets to an 8 by 8-inch baking dish. • Scatter the carrot, onion, and pepper on top of the fish and set aside. • Place a small pot over medium heat and add the vinegar, 1/4 cup of water, agave, mustard seed, bay leaf, thyme, and remaining teaspoon of salt. • When it reaches a boil, pour the marinade over the fish and cover with plastic wrap. • Marinate at room temperature for at least 1 hour or up to overnight in the refrigerator. (If chilling, bring to room temperature before serving.) • To serve, discard the thyme sprig and bay leaf; divide the fish among 4 small plates and spoon the vegetables and their marinade on top; scatter some chunks of avocado on top; and drizzle with olive oil and garnish with cilantro leaves.