HOW WE INCREASED TRAVEL BLOG TRAFFIC
"How did you do it?!"
It's a question we've heard a lot lately (asked not only of us, but of veteran bloggers we respect), and it's clear people want specific details.
We believe that helping other bloggers to grow can only help the entire community to grow, so what follows is a fairly exhaustive explanation of the steps we've taken to increase Green Global Travel's traffic, improve Google Page Rank, and radically build up our social media following over the past 6 months. It's not necessarily how YOU should do it– every site is different– but these tactics have worked for us.
Though we launched the website in November 2010, for the first year I was freelancing full-time and we were also running a profitable improv comedy company on the side. But once we folded that company and landed a major press trip to the Galapagos Islands last October, we began focusing all our spare time on building our dream.
How much have we grown in that time? In November 2011, when we switched the site from Joomla over to WordPress, we were averaging 5000 page views a month, ranked #877,000 on Alexa, with a Google PR 3 and a Klout score of 37.
Now, we're averaging 20,000+ page views a month, rank #62,000 on Alexa, with a Google PR 4 and a Klout score of 57. Slowly, steadily, those numbers keep climbing, with a 3-month growth rate of 160%. Here's how we did it:
READ MORE: How to Start a Travel Blog & Build a Successful Travel Blogging Business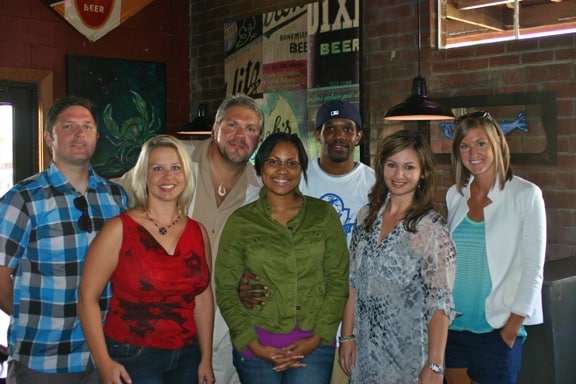 BLAZE YOUR OWN TRAIL
There are 10 gazillion people launching blogs, with seemingly half of those focused on travel. For months, we had discussions of what we wanted the site to be and how it should be structured.
We had a well-defined mission statement and a distinctive brand identity very different from anything else we'd seen, and we never veered from that vision in search of traffic. Even though our numbers weren't high, in the first year we had companies such as World Wildlife Fund, Sustainable Travel International, Ecoventura and International Galapagos Tour Operators Association seeking us out to work with us.
Build a brand you're proud of, and protect its integrity with everything you have. It's your single most valuable asset, so make it YOURS, not what you think others want it to be.
CONTENT IS KING
OK, I know bloggers say this all the time, but it's especially true for us. In the four months it took for us to get the site exactly the way we wanted it, design-wise, we uploaded nearly 100 stories so that there would be depth and quality to our archives from the very first day we launched.
In the last few months, we've begun posting a story every single day. While each one may not initially garner much traffic, over time our SEO work and social media marketing gradually gained traction.
Now, our best new posts may get a 100 or more views a day, but many of our archived posts are getting 3-5 hits per day from organic search traffic… which adds up quicker than you think.
INVEST IN YOURSELF
If you're serious about blogging as a business, you need to invest in your business. We spent $1000 in the design stages, because we wanted our site to look more like a magazine than a typical blog, with our archives easily accessible.
We won a few blogging contests after we launched, then invested our $500 winnings in Facebook ads to draw attention to our page, which built our numbers up quickly in the early stages. We spent $400 last November to move the site to WordPress and upgrade our SEO (we use All-In-One-SEO), which was the single best move we ever made.
Even now, we're considering investing in an SEO audit to help us improve our site's performance and increase search traffic.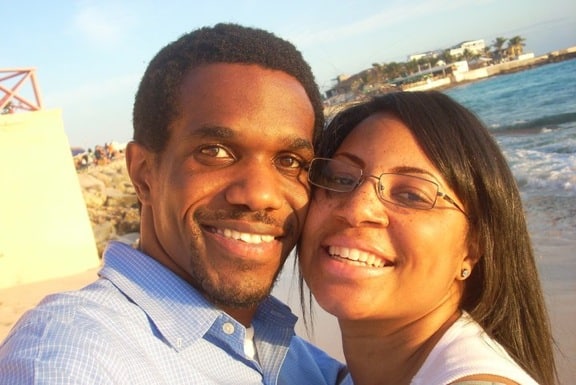 INTERNS ARE YOUR FRIENDS
Due to our lack of spare time, our social media efforts were always lacking until January, when we started enlisting interns to help out with simple tasks.
It's easy to sign up with local colleges and place ads, and many college students are eager to get experience in social media marketing.
We have folks who help with following new people on Twitter, posting to Tumblr, stumbling on SU, submitting GGT to blog directories, and researching info for our PR/marketing press lists.
As a result, our social media statistics have grown by leaps and bounds and had a MAJOR impact on our traffic, and our interns have gotten great work experience and recommendations for helping our business grow.
SET CONCRETE GOALS
This one holds true for us as well as the interns, as we like to quantify everything we do. Mary and I work together to Stumble/RT everything our friends send us on SU. I comment on new sites (i.e. non-travel blogs) every day to get more links.
We have one person who follows new niche-targeted people on Twitter every day. We have another who Stumbles non-travel blog pages on SU every day, RTing only the best stuff. We have another who finds ways to link our stories to Wikipedia entries.
Mary gets reports from each of these people once a week in order to chart their progress, and the numbers don't lie: In the last 6 months we've increased Twitter followers by nearly 2500, incoming links by over 300, and our SU traffic has gone from 20-30 hits a day to over 100 hits a day. Mary works very hands-on with the interns, constantly tweaking our system based on the results of these efforts.
TAKE ADVICE WITH A PINCH OF SALT
Blogging as a profession is like the wild, wild West, and anybody who tells you there are "rules" you must follow to be successful has their own agenda. What worked for them 3-5 years ago when they first started out may not apply in today's blog-crazy climate, and what works for GGT may not work for a different kind of website.
Veteran bloggers have told us "Readers won't follow a blog with multiple writers," "The blog needs to focus on your personality to be successful," "You need to narrow your editorial focus," etc. You want my advice? Work your butt off, write constantly, and follow your passion wherever it may lead you. Nobody else knows your path as well as you.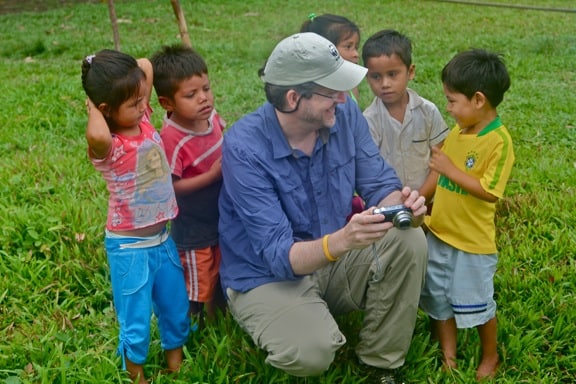 MAKE NEW FRIENDS (BUT KEEP THE OLD)
The blogging community is great, but it's very incestuous and can be clique-ish at times. Though we've made a point of reading/commenting on hundreds of blogs in recent months, very few veteran bloggers reciprocate (and we treasure the ones that do!).
We're VERY loyal to the people who frequent our site, but we also constantly seeking out new connections. We share our Global Cuisine recipes with cooking sites, our Eco News stories with environmental sites, our Going Green Tips with sustainable living sites, and our Ecotourism stories with nature/wildlife conservation sites. And we share their stories with our readers as well.
SHARING IS CARING
Because GGT isn't all about us, we strive to create AND curate the best content for our readers. If our friends write a post on StumbleUpon that we think our readers will enjoy, we'll like it, comment on it and share it on Facebook/Twitter simultaneously.
It costs us nothing, takes literally 2 minutes and helps them grow. When we see people who reciprocate for us, we take note of it, and gradually we're building a supportive community of people whose work we admire and whose sites we hope to see grow right alongside ours, for everyone's mutual benefit.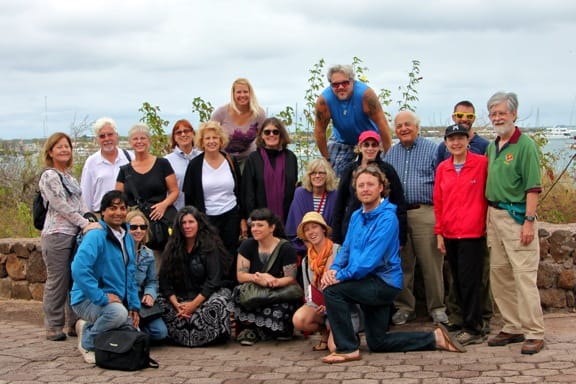 BE A GIVER, NOT A TAKER
For every helpful veteran blogger (see: Dave & Deb of The Planet D, Melvin of Traveldudes, Caz & Craig of yTravel Blog and Barbara of Hole In The Donut), there are many others who've ignored us completely. It's like they're trying to protect their piece of some imaginary blogging pie.
But we believe that the growth of the community will benefit everyone in it, and we've launched several initiatives to encourage more of it. We started the Travel Bloggers Give Back Facebook group in November to encourage bloggers to share posts on charitable initiatives.
We launched the Ecotourism & Adventure Travel Writers Association to bring together those of us who cover environmental concerns regularly. We launched a Bloggers In Residence mentorship program, to help bloggers aspiring to make it as freelance writers and the Business of Blogging Facebook group for newbie bloggers. By giving back, we hope to benefit the entire business.
DON'T GET BOGGED DOWN IN NUMBERS
This may sound counter-intuitive, but one of the best moves we ever made was to stop looking at Google Analytics data regularly. Comparing ourselves to "the big boys" left us depressed, sapping our drive and creative energy.
But as we noticed the growth building gradually, and realized the inherent peaks and valleys that come with running a website, we began to focus more on the big picture, which enabled us to fine tune strategies instead of worrying about the day to day minutiae.
We still have bad days– this weekend was the first time in months when we got less than 500 page views in a day– but we know that the next big traffic spike is just around the corner.
It's impossible for us to sum up everything we've done to increase GGT's profile in one post, but hopefully this has given you some ideas you can try to see if they work for you and your blog. ­–Bret Love