In conjunction with leading our Branding for Bloggers workshop at TBEX Costa Brava, Mary and I were asked to speak about the importance of journalism skills and research in establishing yourself as an expert.
It's a topic we're extremely passionate about, not only because it's the driving force behind Green Global Travel and Green Travel Media, but also because it's how I've supported my family for the last 20 years.
Even now, Mary and I freelance for outlets like Yahoo Travel and dozens of airline, hotel and lifestyle magazines, which provides good income and great benefits for our sites.
We were paired with Natalie Holmes of Context Travel, which offers small-group, in-depth walking tours in 30 destinations across the world. Like us, Natalie has an extensive background in the travel industry and journalism, and she's responsible for product development, marketing and storytelling at Context.
Together, the three of us co-wrote this 45-minute session, which was billed by TBEX as "Think Like An Expert: Using Research to Stand Out From The Crowd." We've edited the presentation slightly, to read more like a story told in one voice…
READ MORE: How to Start a Travel Blog & Build a Successful Travel Blogging Business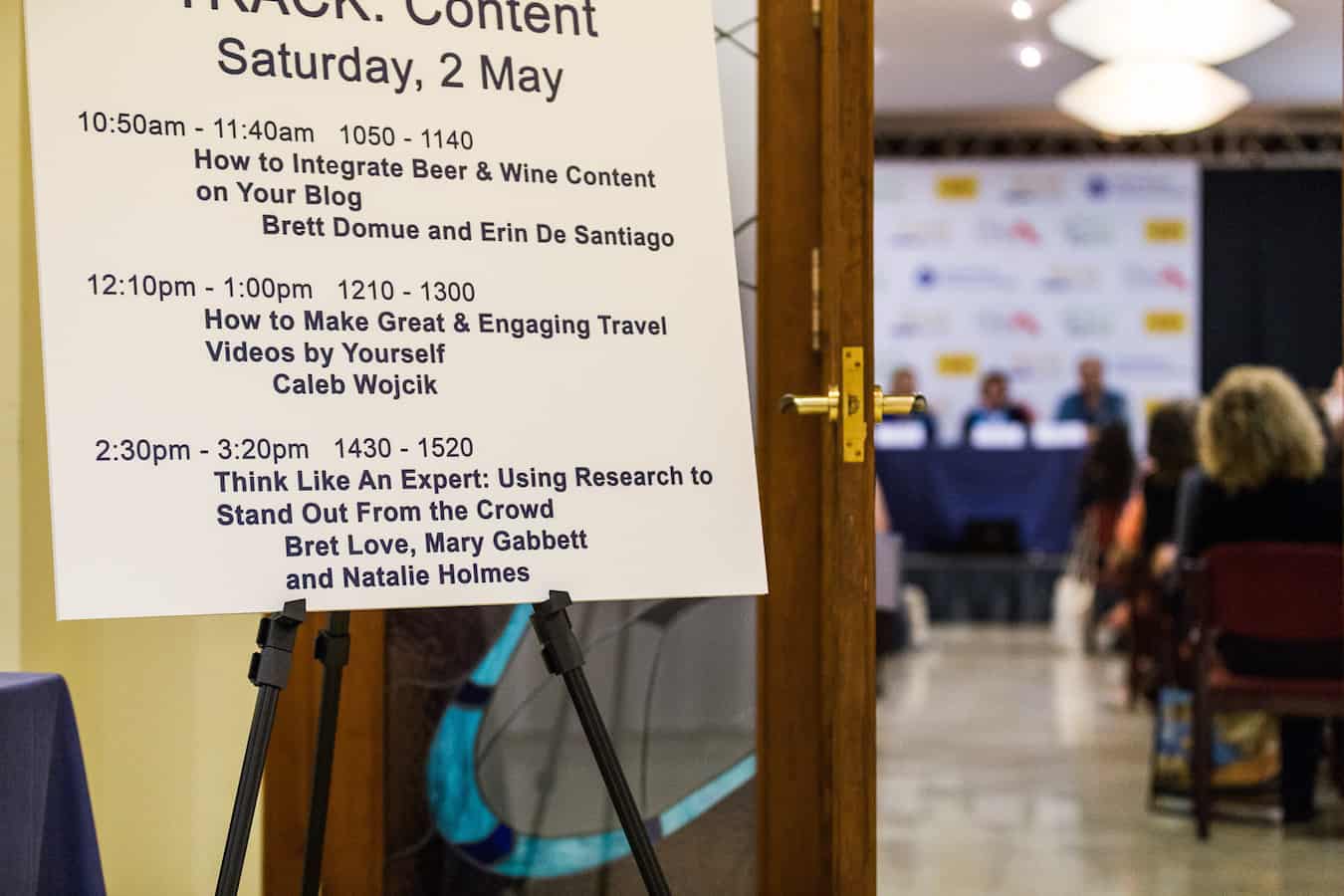 JOURNALISM SKILLS & EXPERT CONTENT
Today we're going to talk about the role of research, and how it can enrich both your travel experiences and the stories you create. We'll also discuss how to use research to add texture to your content and establish yourself as an authority on a topic.
We'll explain how journalism skills and research can help to not only enhance your storytelling ability, but also establish you as an expert, which helps create freelance opportunities and attracts brands that want to work with you.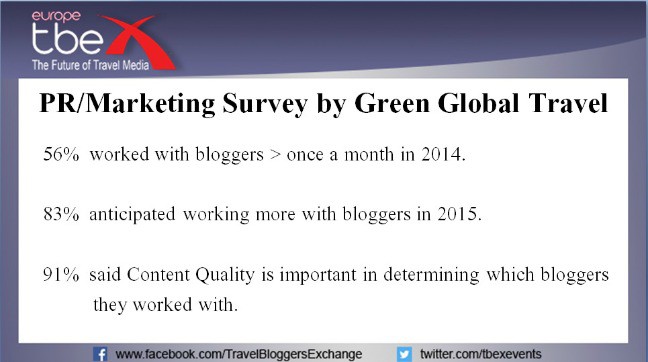 WHY RESEARCH MATTERS IN YOUR TRAVEL BLOG POSTS
Last year, in preparation for our Branding talk at TBEX Athens, we conducted a survey of 2000 PR and marketing reps from major travel industry brands, with a response rate of over 10%. We wanted to find out how these brands were working with bloggers, how they selected the bloggers they work with, and how those relationships could be improved.
About 56% of our respondents said they'd worked with bloggers more than once a month in 2014, while 83% said they anticipated working with bloggers even more in 2015. And 91% said Content Quality was an important factor in determining which bloggers they worked with.
So if you're trying to get press trips, brand partnerships and other opportunities, the quality of your work is crucial. Research before, during and after your trip can make all the difference between a good story and a great story.
We asked one of Context Travel's docents to explain the role of research in expertise and storytelling. This quote from an art historian in Prague sums it up nicely: "My research affects my stories in every single detail, and also in a more thoughtful approach to the audience. Engaging with people helps me to discover new, inner meanings to what I've learned."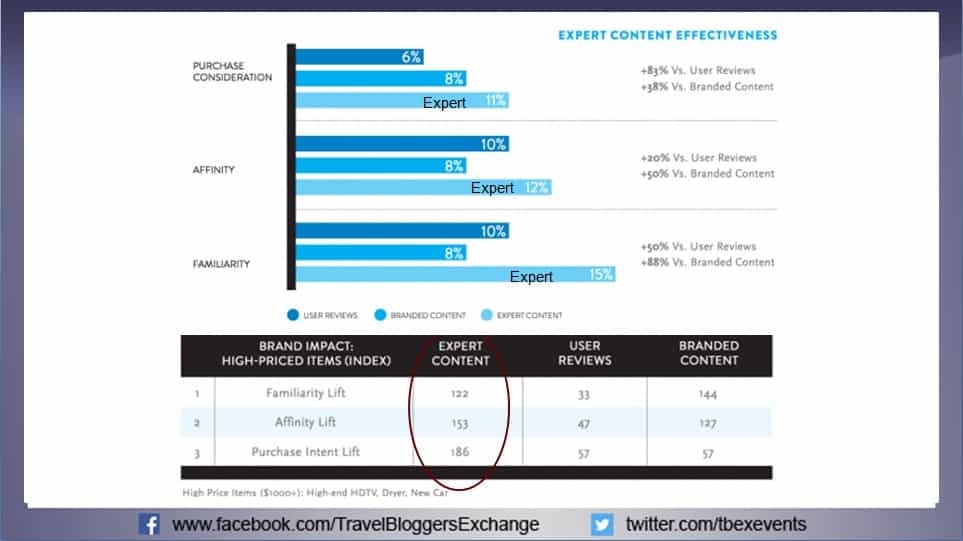 TRAVEL BLOGGER INFLUENCE & AUTHORITY
To understand the connection between authority and influence, let's take a quick look at the different kinds of content people use to inform their purchase decisions.
In a 2014 study, Nielsen found that 54% of all consumers use Social Media Content to inform their decisions, with 46% using Expert Reviews (such as blog posts, magazine articles, etc.) and 44% using official Branded Content (such as stories on a DMO or Tour Operator's site).
If you just look at those stats, it seems like working with social media influencers should be the #1 concern for brands looking to market and promote their products.
But in terms of influence over consumer purchase decisions, Expert Content proved considerably more effective in educating and persuading consumers– 50% more effective than User Reviews, and 88% more effective than Branded Content. And that influence grew even stronger for high-priced items valued over $1000, such as travel.
In other words, the more informed and authoritative your stories are, the more influence you have. And the more influence you have, the more travel industry brands will want to work with you.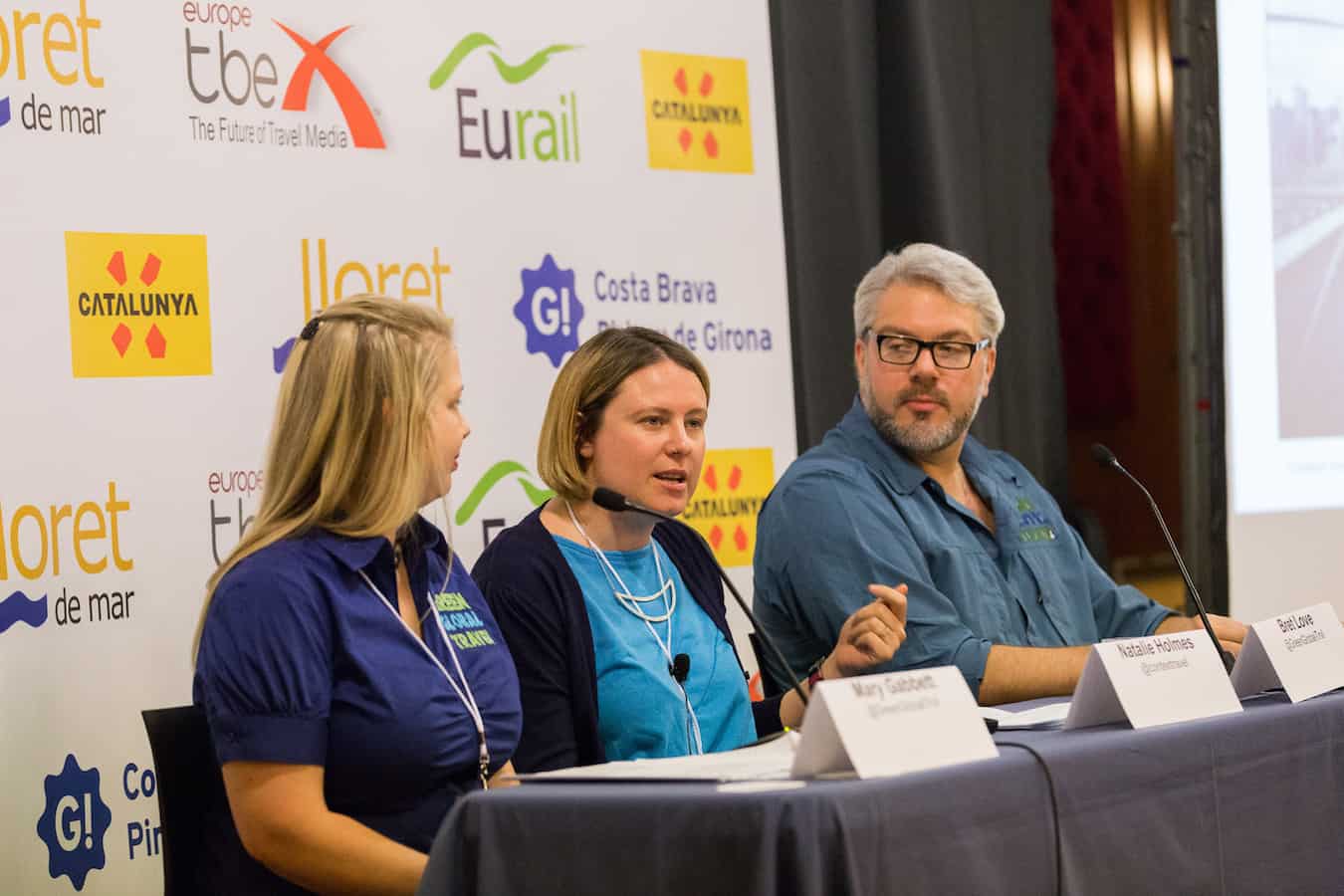 EXPERT TRAVEL BLOGGER CONTENT AND GOOGLE
One trend affecting all content creators (a.k.a. storytellers) is Google's switch to a preference for high-quality content. These changes began with Google's Panda update, which was designed to lower the rank of low-quality sites and return higher-quality sites to the top of search results.
According to Google, creating quality content will "help you build trust, credibility and authority with your audience."
Google released 23 bullet points on how to build high-quality sites, including:
Is this article written by an expert or enthusiast who knows the topic well, or is it more shallow in nature?
Does the article provide original content or information, original reporting, original research, or original analysis?
Does the article describe both sides of a story?
Does this article provide a complete or comprehensive description of the topic?
Does this article contain insightful analysis or interesting information that is beyond obvious?
Would you expect to see this article in a printed magazine, encyclopedia or book?
Are the articles short, unsubstantial, or otherwise lacking in helpful specifics?
In short, websites whose content meets these criteria now rank significantly higher in search engine results, attract more inbound links and get more social media shares. As a result, the creators are considered expert authorities on their subjects.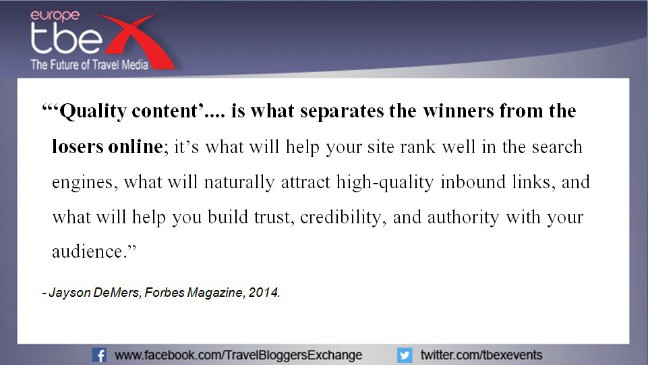 BECOMING A TRAVEL BLOGGING AUTHORITY
So how do you establish yourself as an expert? It's kind of like the old joke: A tourist lost in New York City sees a violinist walking down the street and asks her how to get to Carnegie Hall, and the violinist responds, "Practice, practice, practice."
When we first started Green Global Travel, we had a lot of curiosity about and passion for ecotourism and conservation, but we were nowhere near what you'd call experts.
It was only through pursuing our passion– constantly researching story ideas online, reading books and magazines about these subjects, asking questions, interviewing experts, and following this trail of knowledge wherever it led us– that we gradually became recognized as authorities in our field over the last five years.
People say it takes 10,000 hours to truly become a master of something, and it takes a lot of time, energy and hard work to become an expert. Even now, we learn something new every day about the business of blogging, about ecotourism and conservation, and about the world we travel.
The good news is that you don't have to wait until you've put in your thousands of hours to start writing deep and informative articles. Connecting with experts on the ground, and using them to help craft your narrative, can lend added authority to your stories, too.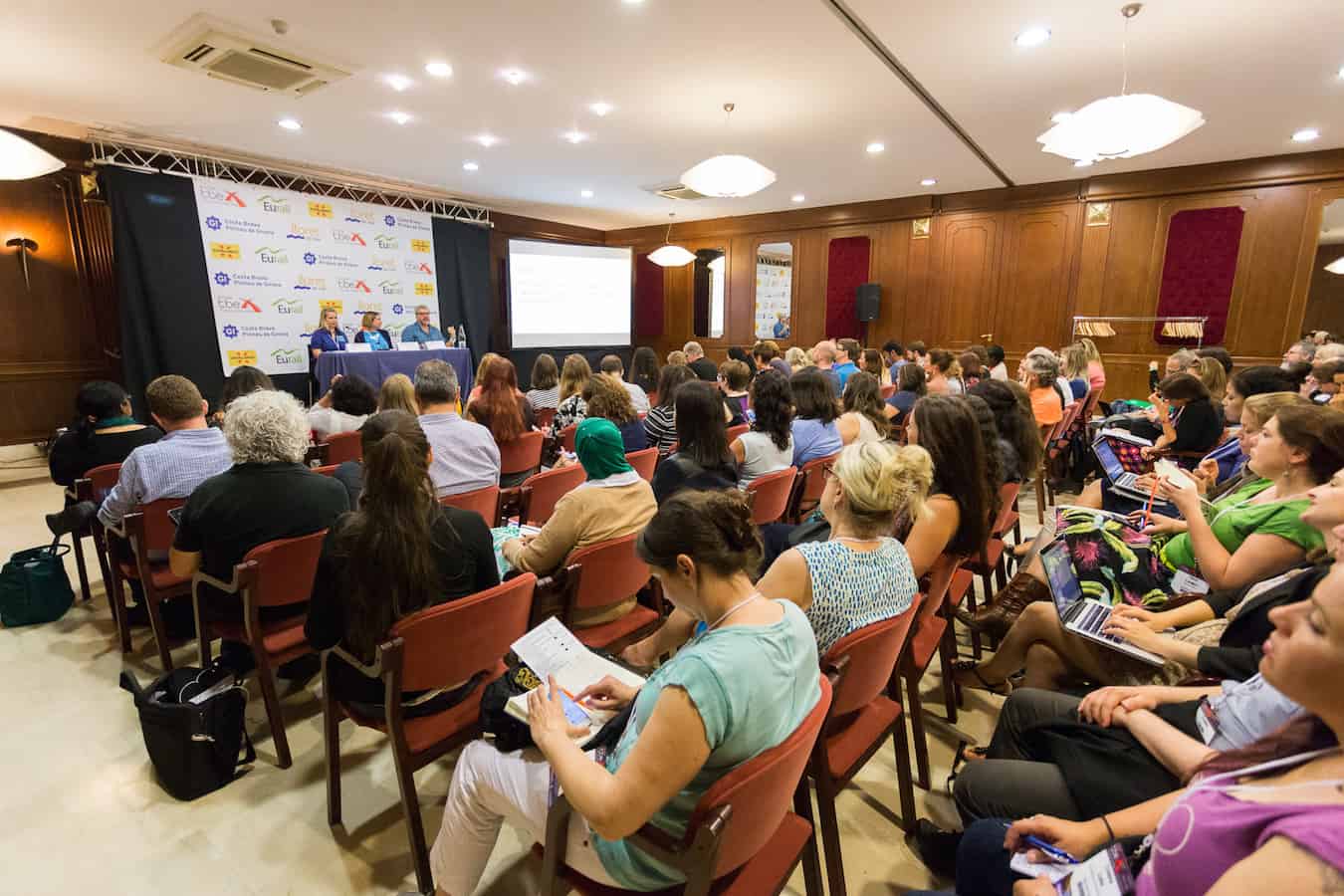 DOING RESEARCH BEFORE YOU TRAVEL
You've probably noticed an increased emphasis on local, unique experiences, which are crucial to travelers in 2015. People are craving authenticity, and good research can mean the difference between hitting the mark and missing it completely.
Travel is no longer about escape, but about experiencing the world as it truly is and giving something back to a destination. Acknowledging environmental, social, political and other issues that affect a place is the responsibility of the 21st century traveler.
We believe that it's also the responsibility of professional bloggers who want to be taken seriously to use journalism skills to address these issues in their work.
According to the ITB World Travel Trends Report, the future of travel is all about "Authenticity, wellbeing, community and engagement." Engaging with a destination's people, history and culture in a meaningful way is what Context calls "Deep Travel." And through advance research we can ensure that our stories reflect these deeper experiences that more and more travelers yearn for.
One key to a successful trip lies in the planning: Set out the primary goals you'd like to achieve, plan how you want to go about it and schedule your time accordingly. Whenever possible, speak with local experts in advance and allocate time to visit the places they recommend. It's also really important to be open to spontaneous opportunities, as they sometimes end up being the most insightful.
The sharing economy is essential when it comes to finding unique experiences. You can network with locals via platforms such as AirBnB or CouchSurfing to craft an experience that fits in with your individual trip goals long before you ever set foot on the ground.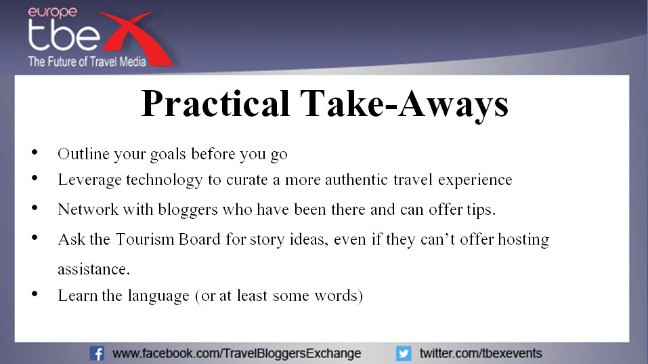 Facebook groups such as the Business of Blogging, Research Links for Travel Blog Posts and Travel Bloggers offer a way to directly connect with thousands of other bloggers who live or have traveled to the destination you're visiting, and can offer personal experiences or blog posts that may help with your pre-trip research.
North American bloggers with a solid audience can also join the Society of American Travel Writers, where you can connect with other journalists and industry insiders.
Even if you've never worked with a Tourism Board, reaching out to them can be another great source of information. We recently visited the Garifuna people of Hopkins Village, Belize for a story about their drumming traditions, which trace back to West Africa.
Not only did the tourism board connect us with a local school where we could take drumming lessons, they also set up an interview with a man who'd been making Garifuna drums since before Hopkins Village was founded. He gave us an oral history of the tradition and the village we never would've learned on our own. These are the kinds of details that make a story sing, and you can't find them on Wikipedia.
Lastly, learning some of the language can mean the difference between a superficial and a deep travel experience. Even the odd word here and there can show you've gone to the effort of finding out about a culture, and that can lead to more meaningful encounters with locals on the ground.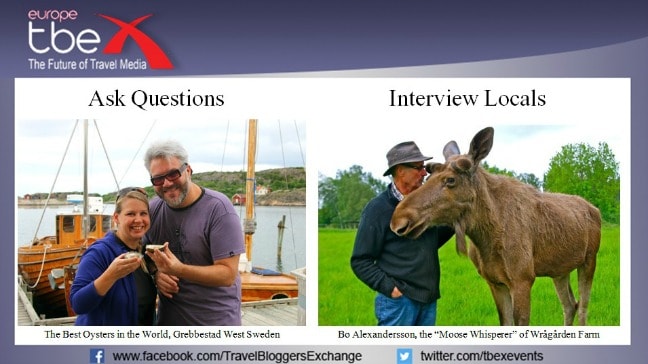 USING JOURNALISM SKILLS ON THE GROUND
When we travel to a destination, having a connection with local experts is the single most useful and important part of our research. But once we're there, we need to ask the right questions, speak to the right person, follow the trail of the destination's stories and work out how we will tell them. Sometimes the person you're talking to may not be the authority on a topic, but they know someone who is.
In Melbourne (where Context Travel is currently developing a program), for example, Natalie was connected through her network to the director of the Coffee Academy. She's written books about the subject, and has developed a story for Context that traces the evolution of coffee on the continent, from its introduction to Australia by the US during WWII to its status as the epicenter of the barista craft today.
When talking to such experts, think about really good interviewers you've seen, such as Jon Stewart or Oprah. They never begin an interview with a question. They start with observations and chitchat, and get to know the person. Then they ask contextual questions about their topic of interest, gradually leading towards the thing they really want to know. It's not a science, it's an art.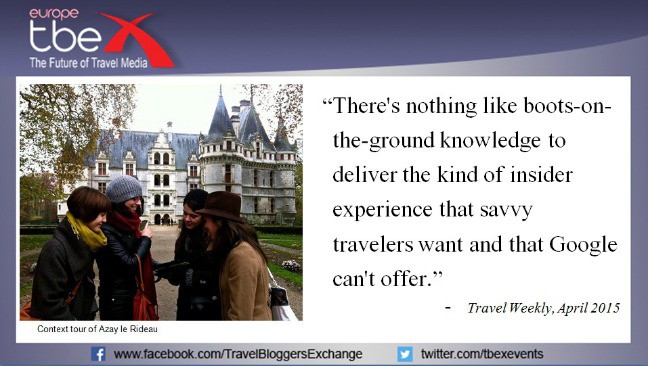 Long before I became a blogger, I was known for interviews of celebrities, politicians and other public figures. One trick I've developed over my last 20 years is to reveal something deeply personal about myself to create a safe space in which the other person can open up emotionally.
For example, when I interviewed "Crocodile Hunter" Steve Irwin back in 2002, my daughter was turning one and his daughter was four, and his wife Terri was pregnant with their son. I revealed that I'd cut back on traveling, because I didn't want to miss important stages in my daughter's growth. So I asked him if fatherhood might move him to take fewer chances in his work, to ensure he'd be there to see his children grow up?
His response– that his passion and commitment to wildlife education was too important for him to hold back, and that he knew the inherent dangers involved in his job– moved us both to tears. It also led into some very interesting conversation topics I've never seen in another Irwin interview.
It's all about taking risks, making yourself vulnerable, and connecting with your interview subjects on a deeper level.
It's also important to remain open to new ideas, and following leads as far as you can. Last year we deviated from our West Sweden plans because we heard from a local friend about two brothers in Grebbestad who'd recently opened a B&B.
They'd been fishermen for many generations, and right off their back deck were oysters that had been called The Best in the World by two European magazines. We spent a morning learning how to shuck oysters fresh from the water, slurping them down with locally made Schnapps. It was a great story that's never been written about in the US!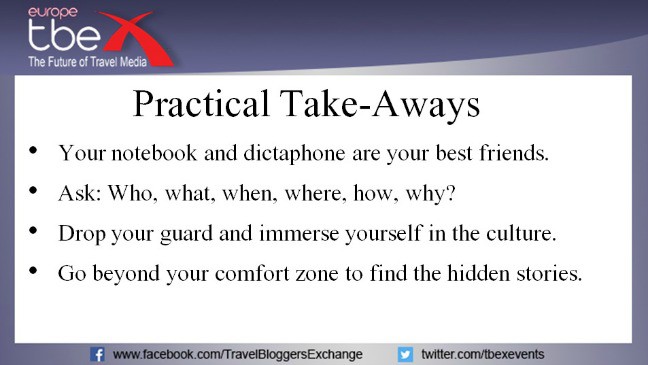 I can't stress enough the importance of interviewing people (and traveling with a recording device of some sort) to take your story beyond the typical "How I spent my summer vacation" recap. We went to a tourist attraction in Sweden called Wragarden Farm, which was interesting mostly because they raised bison.
But we interviewed Bo Alexanderson, the father of the owner, a rugged, crusty, quiet cowboy type. The farm had been in his family for 5 generations. His backstory was that he'd gone to Canada to work in the rodeo in his youth, fell in love with bison there, and brought them over to Sweden to farm them.
He also hand-raised a moose named Oskar from the minute he was born, and called him his "puppy dog." We got to spend a whole afternoon with Bo, Oskar and Oskar's twin babies, so the story became about "The Moose Whisperer of West Sweden" rather than just a write-up of our a day on the farm.
Lastly, we recommend taking copious notes whenever you travel. I'll often write detail-rich paragraphs to capture the moment in a way I might not be able to recall later. Here's an example from our trip to Chile:
"Rolling hills of multi-hued tundra dappled with subtle earth tones pass by just outside our window: It feels like traveling through an impressionist's artful dream. The clouds are rich with an almost surreal depth of texture, mirroring vast herds of fluffy sheep that rest in the midday sun. Endless miles go by without a single sign of human habitation, save for the ubiquitous wood and barbed wire fences that section off wide expanses of unspoiled acreage. There's a stark sense of isolation here, yet the fabled Chilean Patagonia region offers plenty of earthy comfort, color and light."
Allowing the reader to see what you see, to feel what you feel by using these rich details, you transport them to a different place. But that all starts with the work you do while you're on the ground in the destination.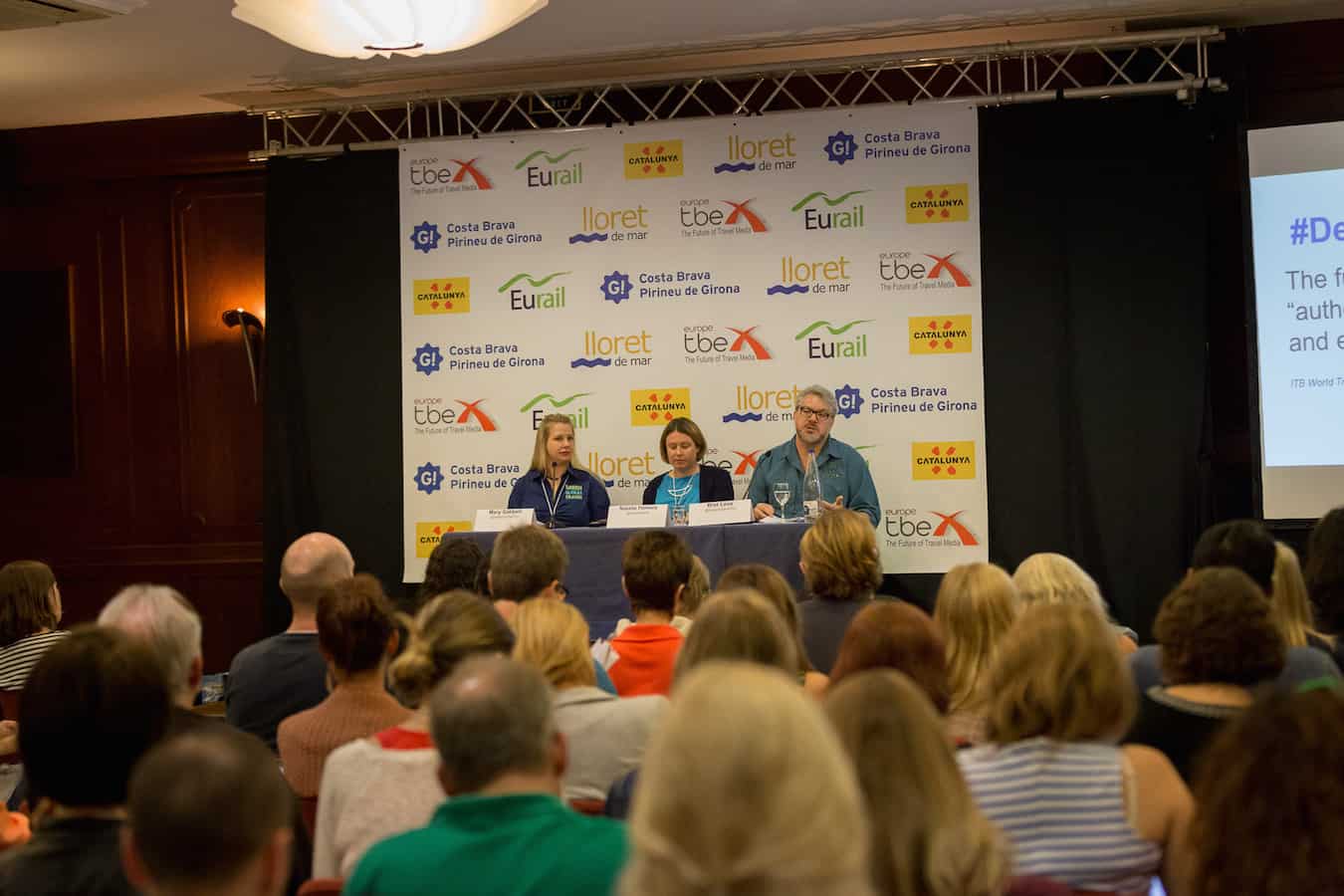 CRAFTING DEEP & TEXTURED STORIES FOR YOUR TRAVEL BLOG POSTS
Once we've had these sorts of deep travel experiences, how can we convey it to others in an inspiring and engaging way? There are few undiscovered places left on Earth, so when you write about a place, you need an original perspective.
Everyone uses first person narratives, so one way to stand out from the crowd is to think about different perspectives you could use when composing your narrative.
Your story could come from the point of view of a child growing up in the destination: What do they see, and what might their future look like? Or an elderly lady living alone: How have her surroundings and her life changed over the years? It could even be an animal, tracking a camel's journey through the desert or a cat roaming the streets of Istanbul.
When we started Green Global Travel, we approached it like an online magazine, with different storytelling styles to appeal to different types of readers. Some people like long-form narratives, others prefer quick-and-easy How To guides, while others love "listicles."
Don't be afraid to experiment with different types of stories to find out what resonates most strongly with your audience. But it's also important to tell the stories that matter most to you, and to tell them in the ways that speak to your creative instincts.
For us, the research doesn't end when we get home. In some ways it's only beginning. Fact-checking is important, because you need to verify that the information you're given on the ground is correct. For instance, we did a story on the Flowers of Torres Del Paine National Park, and our guide was relatively new.
In fact-checking, we realized he had misidentified several species, so we spent hours scouring the internet to match our flower photos with the right species. These kinds of details may not seem important, but they do make a difference in how people perceive you and your expertise.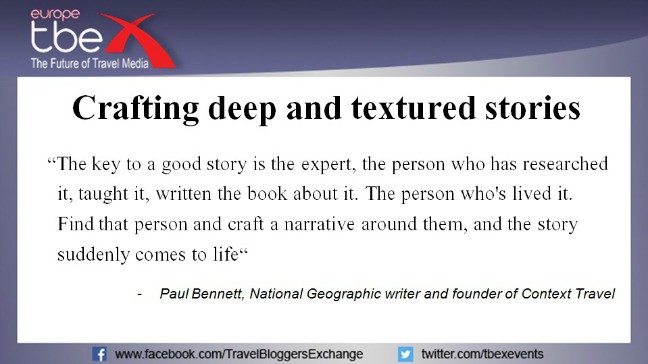 I love history, so I'm always researching historical details I can sprinkle in with my own insights to provide a more rich experience for our readers. I usually start with Wikipedia and then dive down the rabbit hole, checking out the source references and academic papers to get a deeper understanding of a place.
My personal insight into an ancient archaeological or architectural site might be mildly interesting on its own, but the historical context gives it depth and perspective than can make the reader's and traveler's experience more meaningful.
When telling a story, remember that what you leave out is just as essential as what stays in. Writing with restraint is one of the hardest parts of the whole process, but it's also crucial if you want to keep your audience's attention. As your own editor, what will you leave on the cutting room floor? Be prepared to, as Stephen King said in his book On Writing, "kill your darlings."
It's also really important to edit yourself mercilessly. Strip yourself of any ego attachment to your work and focus on storytelling and providing value to the reader. You've got to know the universal truths you're trying to get to in your story– the points that everyone can relate to. And then you have to constantly ask yourself, how does this word, this sentence, this paragraph help us get to those truths? And if it doesn't, IT MUST GO.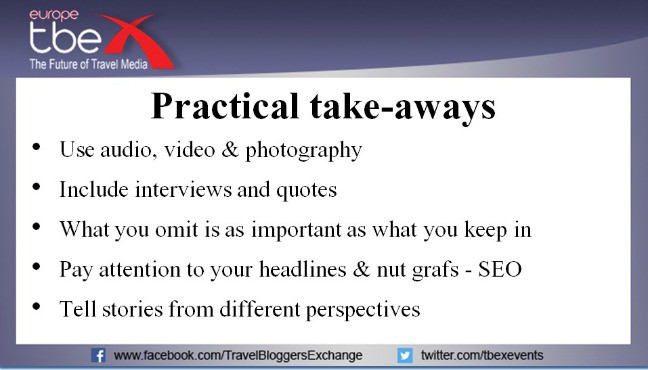 USING AUDIOVISUAL ELEMENTS IN YOUR TRAVEL BLOG POSTS
Writing is only one form of storytelling. Different people absorb information in different ways. Some love to listen, others to talk, others to engage with video. To reach as many people as possible, make sure you use different media.
Photography, videography and audio recordings can all be used instead of, or in addition to, words to help tell the story and establish your expertise. We also use photos and videos to take notes at museums and historic sites.
As we discussed earlier, interviews with people can be highly engaging, and there's no reason why you can't record the interaction (whether it be verbal, musical, etc.), edit it and post snippets as an audio file. Soundcloud, for example, allows you to easily embed these into your blog posts.
If you have a wordy piece, don't forget to intersperse it with photos and/or video. Some people are put off by huge blocks of uninterrupted text, but drawn in by eye-catching images. The more tools we can use to help tell our story, the greater the chance our stories will resonate with a broad variety of readers.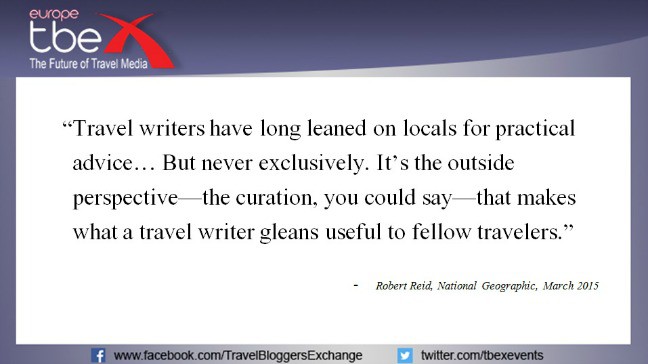 CLOSING STATEMENT
I realize that content quality and journalism skills are not as sexy or quantifiable as things like traffic, social media followers or monetization strategy, so I truly appreciate each of you who took the time to attend our session today.
There's this long-held belief in the blogging world that huge numbers are the key to success. But we started getting $10,000-$20,000 press trips offered to us when we averaged just 10,000-15,000 monthly page views. Last year our Green Travel Media agency signed a content creation contract with one of those tour operators we worked with back in early 2012, and it was worth more than I made in all of 2013.
As we said earlier, 91% of the major travel industry brands we surveyed consider content quality a key factor in determining which bloggers they want to work with. They're actively looking for expert storytellers with solid journalism skills, and they're willing to pay for it.
I promise you that creating expert content and establishing yourself as an authority is ultimately worth all the hard work you put into it. Just do your research, immerse yourself in local cultures, focus on delivering high-quality expert content and use sound branding strategies to promote your work, and gradually all the pieces will start to fall into place. –by Mary Gabbett, Natalie Holmes & Bret Love
If you enjoyed our post on Journalism Skills & Expert Content, you might also like:
How To Build a Better Blogging Brand: Our TBEX Athens Presentation
How To Be A Better Blogger: GGT's Blogging Mentorship Program
How We Quadrupled Our Traffic in 6 Months
How to Find & Work With Interns
How I Became A Professional Writer