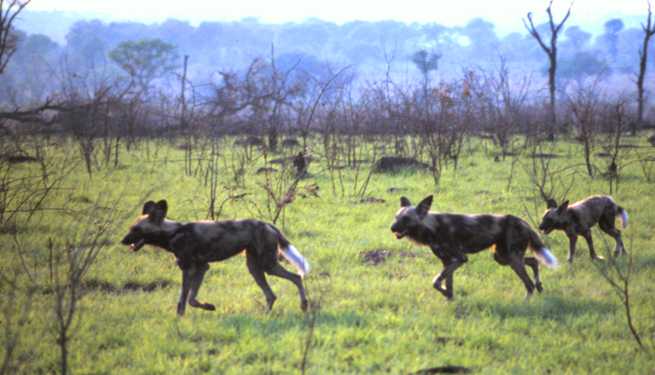 On our last day at Londolozi Private Game Reserve, we were off to explore the unfamiliar territory of Singita Lodge, which was formerly part of the same corporate family and with whom Londolozi still had a working relationship.
Before we even got there, word came over the radio that critically endangered wild dogs had been sighted just outside the gates dividing the private game reserve from farmland, on which their presence could result in death (farmers don't like dogs killing their cattle). The park's head ranger had been contracted, but meanwhile the Londolozi rangers were asked to keep track of the animals' whereabouts.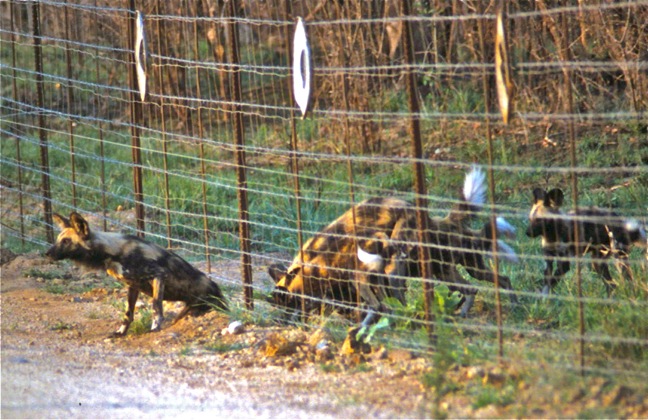 When we arrived, one Range Rover was already in place, tracking the pack's position as they roamed along the outside of the electric gate. We followed along as scouts ran in front (the adorable pups were kept in the middle of the pack for safety), looking for some way back into the park. Soon the lead dog seemed to find a spot he liked, and began digging like crazy at the base of the fence.
We watched in amazement as the dog gradually dug its way under and squeezed through the hole like Steve McQueen in The Great Escape, and I could barely suppress a shout of joyous exultation as, one by one, the pack found its way back into the park. We took dozens of pictures as the pack set a frantic pace back into the heart of Singita, smiling so broadly I thought my face would crack as they ran free. Eventually, as the blistering heat of the day began to settle in early, we left them there, resting in the shade as the scouts contemplated their next move.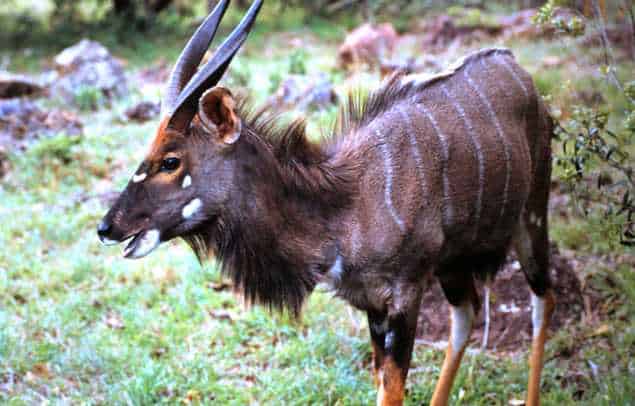 Later we took a puddle jumper back to Skukuza Airport for the ride into Kruger National Park proper. The A/C and my quick mastery of left-side driving made the two-hour ride to Satara Camp more bearable. Contrary to what we'd been told, the blistering sun proved not to be too big a deterrent on wildlife, with impala, zebras, wildebeests, a massive family of baboons and a strikingly large baobab tree making the ride consistently interesting. Upon arrival, we rested up, conserving our energy for our first self-drive in Kruger the next day.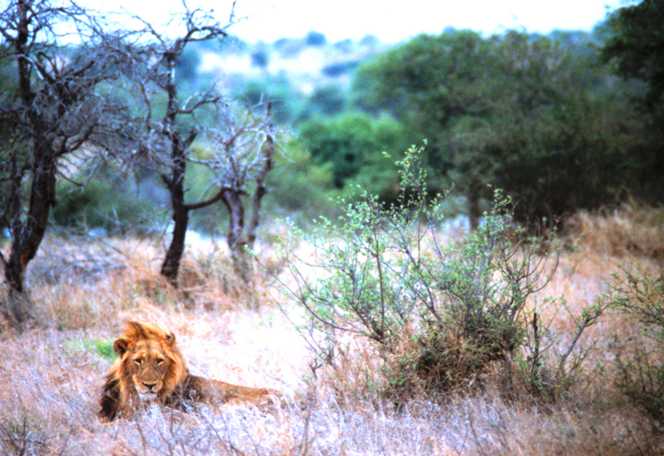 When we walked out at 5:30 am, the overcast skies lent a slightly gloomy (but, given the miserable heat of the last two days, entirely welcome) chill to the air. We decided to head west from Satara, and almost immediately began spotting game like Noah before the flood. We passed as passé two lions resting in the tall, dry grass, then turned a corner to find a huge hyena running hell-bent for leather, smack dab in the middle of the road.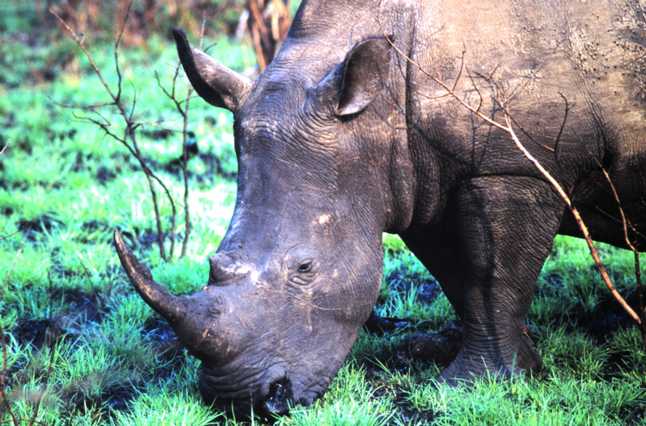 The wildlife sightings, though not quite as high quality as our guided drives in Londolozi, were quite frequent. There were numerous herds of impala, waterbucks, zebras and wildebeests, not to mention the typically colorful spectrum of birds. There was an elephant feeding close enough to the road to make us nervous, a black rhino whom my camera made nervous, a giraffe running down the road for no apparent reason, enough sleeping lions to make us wonder if they ever did anything else, and oodles of hungry hungry hippos making like bovine submarines whenever humans happened into their general direction.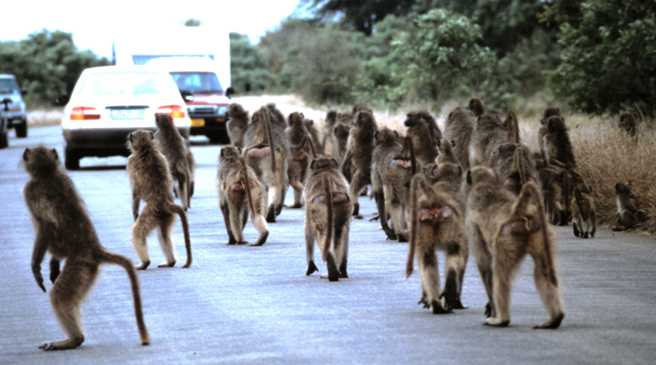 There were also a number of new sightings, including two secretary birds prancing on the horizon, a goofy ostrich whose odd gait made it look like the world's biggest chicken, a Nile crocodile sunning itself on a rock by the river, and a slew of baboons (including ridiculously cute babies) who stopped traffic with an impromptu midday parade. We saw our first saddening sight as well– a haggard-looking old hyena strolling beside and into the road, walking right up to open car windows to aggressively beg for handouts. It was obvious he had been fed by humans in the past, and he honestly appeared to be knocking on heaven's door.
We continued the drive up to the camp at Olifants, and by the time we arrived it was 11am, so we began the long, slow trek back to Satara. But our day was not yet done: Still desperate for our first cheetah sighting, we went back out at around 4pm, hoping against hope that the skies would clear enough for a radiant, multi-hued sunset. Unfortunately, we had bad luck on both counts, but we did get some great close-ups of impala and the old hyena we'd seen earlier in the day, now dozing serenely by the roadside.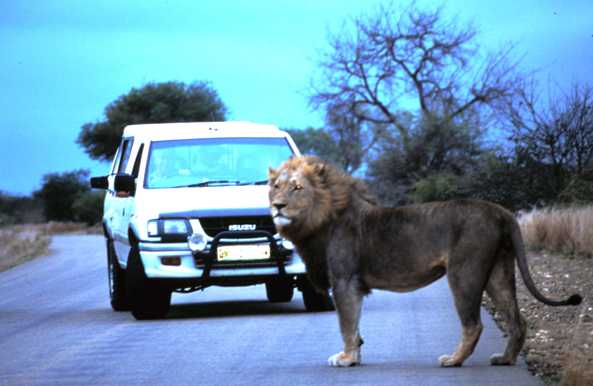 Still, we were feeling a bit disappointed, bemoaning the fact that every lion we'd seen had been sleeping. Lo and behold, we caught a glimpse of a massive male lion, apparently not sure whether he wanted to cross the road or join the rest of his kind in an evening nap. Suddenly he came walking down the side of the road, passing less than a foot from the window. He was obviously the pride's alpha, and eventually stood directly behind our car, his gorgeous mane blowing in the breeze. After he laid down next to a female lion who happened to be dozing 7 feet to my right, we made it back to camp just before closing time, excited and exhausted by the day's many events.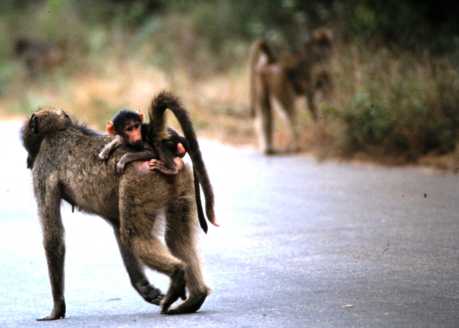 What can you say about a country where your least interesting day includes viewing three species you've never seen before? Up a little later than usual–it was 6 am when we hit the road– we were on a serious cheetah mission, hoping to spot the one major mammal we hadn't seen. Instead, it seemed to be a big herd-crossing day, with zebras, baboons & water buffalo crossing the road in front of us. The baboon babies once again proved a favorite, so adorable as they watched, wrestled and clung to their mothers for safety.
We caught three different sightings of mongooses, one of which was amusing himself by playing cat-and-mouse with a gigantic beetle. We saw a honey badger playing hide-and-seek in the tall grass along the roadside, plus a family of warthogs right by the road. But all in all, the morning was all about the search for cheetahs, and I accumulated over 300km of driving. After a chilled-to-the-bone guided night drive in which we spotted one new species (the cat-like genet) and two hippos springing across the road, we made our way back to the room for sweet, sweet sleep… –text & photos by Bret Love
If you enjoyed reading South Africa- Kruger National Park Safari, you might also like:
South Africa- Londolozi Game Reserve Safari
South Africa- South Africa- Zulu Memories
Tanzania- Climbing Mt. Kilimanjaro
Global Culture: The West African Griot