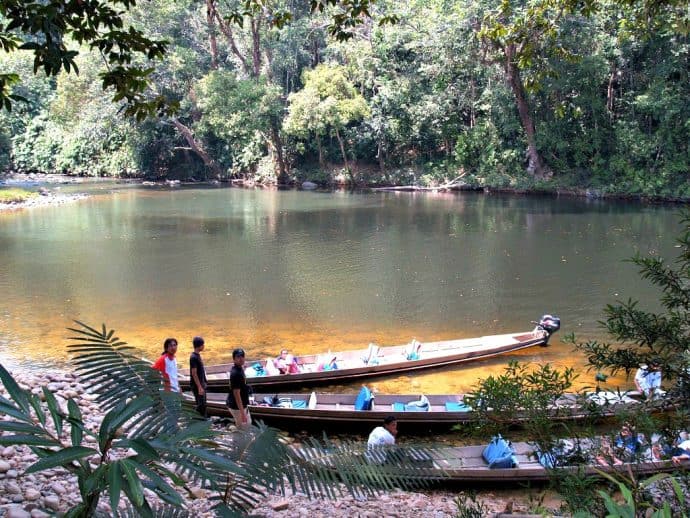 The shuttle dropped us off. We were an unassuming group of tourists– a scientist couple, two EFL teachers (Emma and I), and one braggadocios female backpacker with a distaste for guidebooks and other travelers.
We were in the transit town of Kuala Tembeling at the edge of the National Park of Peninsular Malaysia, more commonly referred to as Taman Negara.
Taman Negara, which literally translates as "national park," is Malaysia's oldest (est. 1939) and largest. It spans more than a million acres, much of which is primary jungle dating back over 130 million years. Our mission was to get into a wooden skiff and travel several hours to Kuala Tahar, a village established at the park's border.
For travelers of a different pay grade, the trip usually ends with a comfortable stay in Mutiara Resort. As budget travelers, we were showing up with no reservation. We'd be dropped off across the river from the resort, where we were told cheaper rooms would be available. But once we arrived,there was no boat back until the next day…
READ MORE: Top 7 Things to Do in Malaysia for Nature Lovers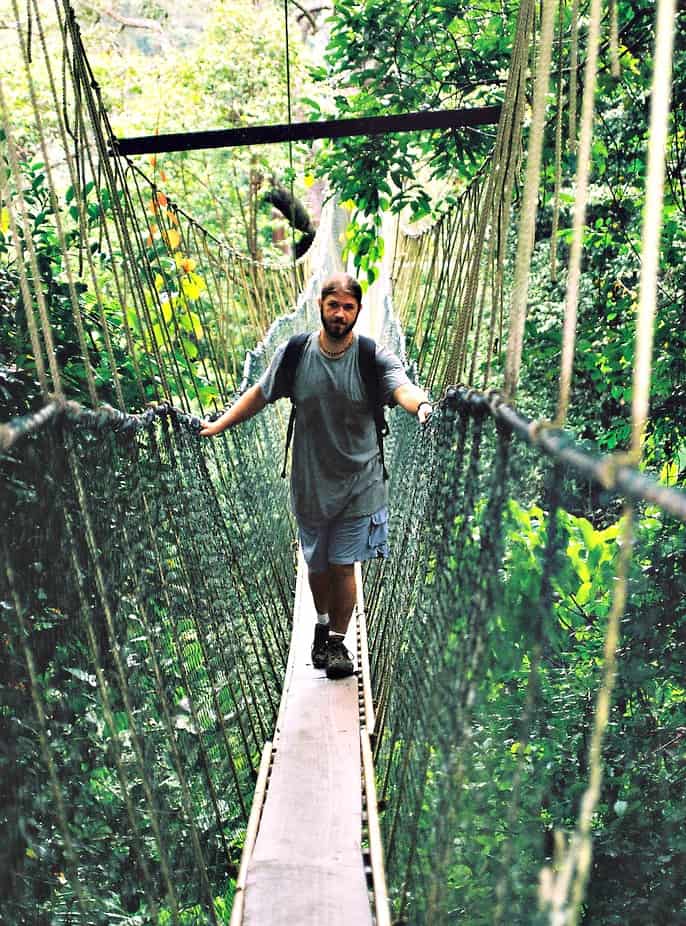 Taman Negara, the World's Oldest Jungle
Local guides claim that Taman Negara is the oldest jungle in the world. It's home to 3000 species of plants, many of which are endangered and endemic.
It also houses over 150 different types of mammals, including Asian Elephants, Tigers, Leopards and Water Buffalo. There are 67 species of snakes, some of which are venomous. Amongst its giant insects and arachnids is a massive Tarantula known as the Tahar Bird-Eating Spider.
The rivers of the park are also home to over 50 species of fresh water fish. And there are nearly 500 bird species flittering through the jungle canopy and dipping and diving along the banks of the Tembeling (the very river our boat was skipping across).
READ MORE: Saving Endangered Asian Animals: The 10 Best Wildlife Conservation Programs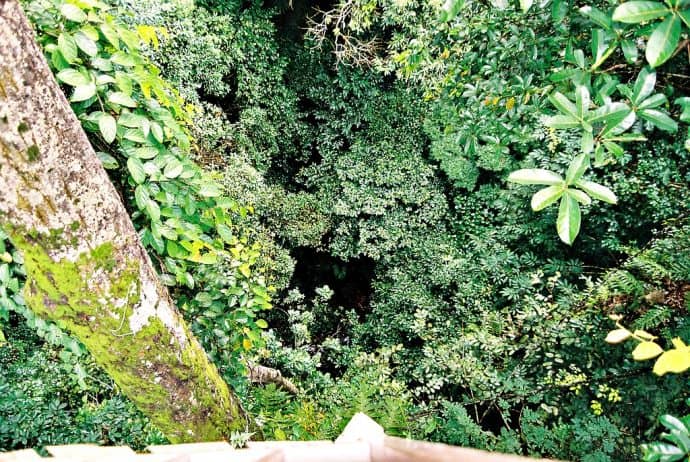 We were all hoping to find a room when we arrived. Whatever fears we might have had, the draws of the jungle were too alluring to resist.
It has animal hides, from which people spot Elephants and other jungle creatures (we saw deer and a Slow Loris). There are nighttime safaris to spot creepy crawlies, rafting river rapids, a canopy walk with the longest suspension bridge in the world, and hundreds of miles of hiking trails.
Taman Negara is currently on the tentative list for UNESCO World Heritage Sites, meaning Malaysia has proposed it for UNESCO preservation. Considering the aforementioned stats and the sheer beauty of the ancient jungle, it's difficult to imagine Teman Negra not getting the recognition.
READ MORE: 20 Biggest Forests in the World (For Your World Travel Bucket List)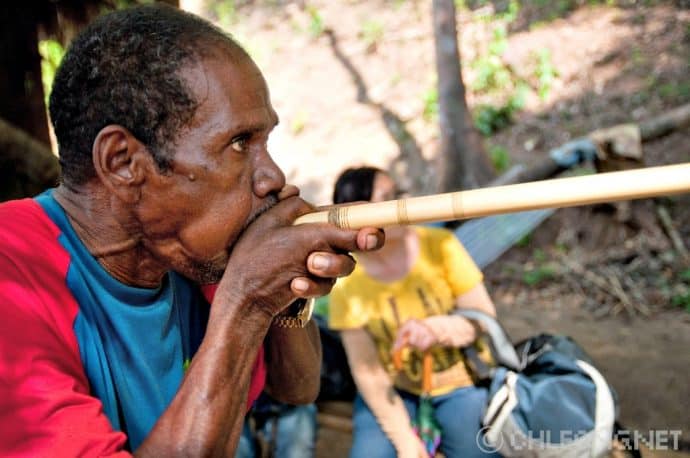 The Original People of Taman Negara
Perhaps the most notable aspect of visiting Taman Negara is visiting the Orang Asli, or "original people." The indigenous people of this area actually refer to themselves as the Batek. Although their population numbers are low– just a few thousand– they are very much present along the banks of Tremeling River. On our way in, the boat driver pointed out a recently abandoned village.
The Batek are a nomadic tribe who still largely survive by hunting and gathering. Their diet consists of fruits from the jungle, yams, fish and small animals such as monkeys and squirrels, which they hunt with blowpipes and poison darts.
This despite efforts by the Malaysian government in the 1980s to discourage their "primitive" lifestyle. Although tourism and government-sponsored food rations (including mass-produced crops like sugar and rice) are now part of their lives, the Batek have remained close to their roots.
The Batek have been in the Kuala Tahar area (just outside Taman Negara park) for over three decades. But the area they live in was actually once considered sacred– a land of their ancestors. Nevertheless, they were relocated here along the Tembeling River, where many still remain. They now struggle to maintain their traditional cultural identity while being pushed towards a more economy-based means of living.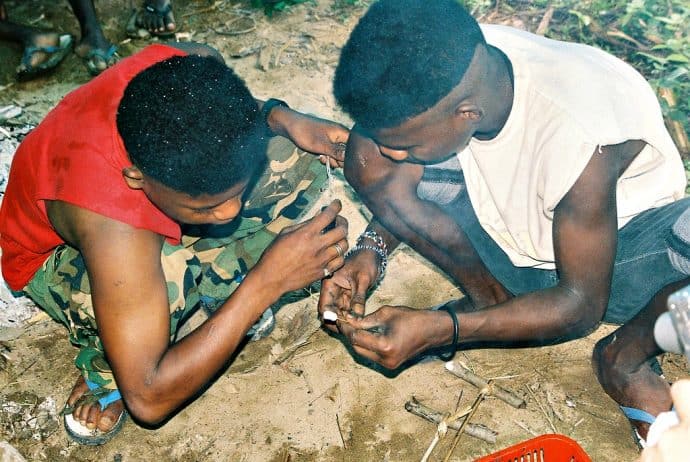 Visiting A Batek Village
The Batek are a peaceful people. Their palm-thatch hut villages are arranged both roughshod (reflecting their nomadic nature) and communally (with a shelter and table to share whatever food is foraged). Food is distributed equally, with portions reflecting the numbers of each household.
The Batek value each individual in the community: The abandoned village we passed en route to the park was vacated to honor the passing of a member. When one person dies, the entire settlement relocates.
As our boat pulled onto the shores of a village, the Batek people welcomed us with smiles. We were taken on a tour, with the guide explaining their traditional customs. For instance, the Batek marry young (boys at 17, girls at 13) and do not go to school. Instead, children are taught by their parents how to survive. There's a continuing reliance on traditional hunting tools, and an agreement with the Malaysian government which allows the Batek to continue using the park area as they have for centuries.
The highlight of the tour came when we were allowed to attempt using the blowpipe, which they use to hunt monkeys and other small animals. The Batek are skilled enough to take down moving animals from 50 yards away. But of course everyone in our group struggled to get a dart to stick into a stationary target just a few feet away.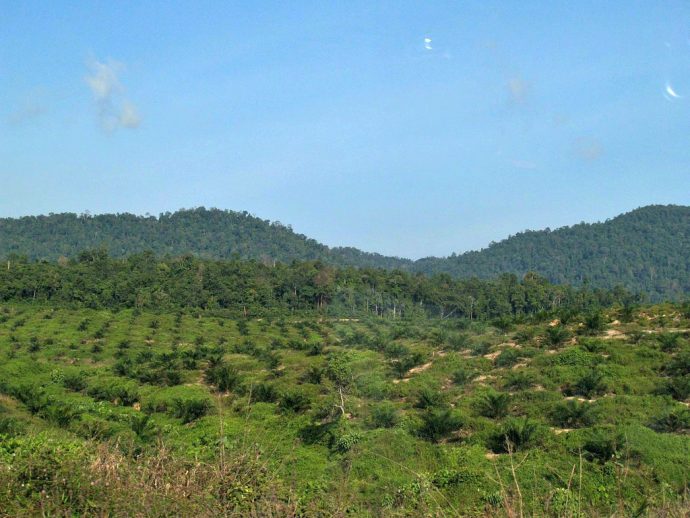 Our Planet & People
For the most part, the lives of the Batek people are centered around surviving the way they always have. But ever-increasing encroachment from modern industries such as tourism and agriculture are providing challenges to that survival for which the Batek simply aren't prepared. It has become the duty of responsible travel, conservation and indigenous rights organizations to fight on behalf of people like the Batek.
Like much of the Southeast Asian rainforest, the jungles around Taman Negara are giving way to palm oil production. Under the guise of reforestation initiatives, logging companies are slaying 130 million-year-old jungles.
They erect mono-cropped palm oil plantations that systemically fail, leaving behind a decrepit ecosystem unfit to support the nomadic lifestyle. There are problems with wildlife poaching, which the Batek actually help to prevent by acting as guides for conservation projects.
But palm oil isn't just threatening the Batek and the other Orang Asli tribes in Malaysia (the world's second largest producer of palm oil). It's also destroying treasured rainforests, which provide habitat for endangered animals, absorb carbon and produce oxygen. Palm oil plantations pollute the environment with agricultural chemicals and by-products from factories. They're irresponsible and unsustainable.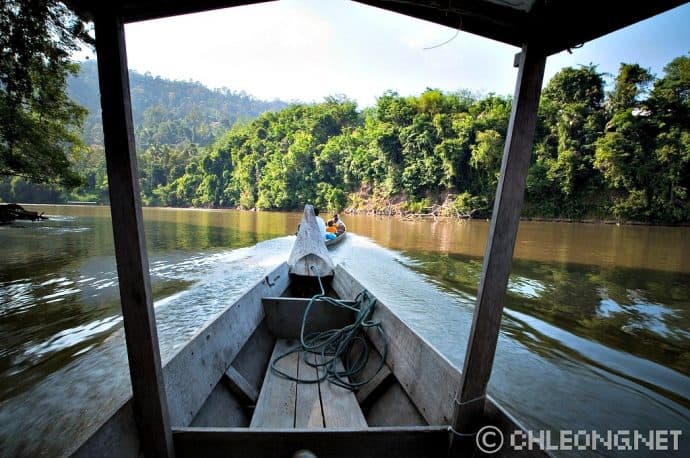 A Different World
Herein lies a distinct difference between our educational systems and ways of living, and the traditional ways of the Batek. It is our modern industries that are causing the downfall of the Batek and other indigenous cultures. And that needs to change now, before it's too late.
We, as individual travelers and consumers, have the power to help. And it's not actually all that difficult. Simply avoid products with palm oil in the supermarket, petition manufacturers to stop using unsustainable agricultural methods, and join rainforest conservation efforts.
When the Batek have food, they share it amongst the tribe, with a belief that the jungle belongs to them all. Unfortunately, this seems to be a lesson our modern civilization needs to better understand and implement ourselves. -by Jonathon Engels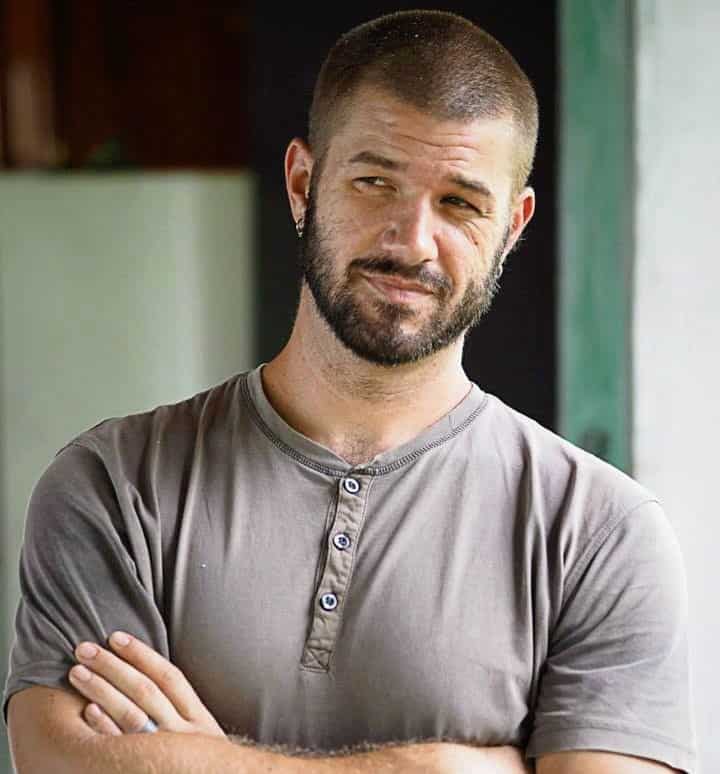 Jonathon Engels is a traveler, writer & teacher who's been living abroad as an expat since 2005. He's worked in nearly a dozen countries and visited many others. He's currently on a slow travel trip from Central America to Patagonia, volunteering his way throughout the journey. He's a regular contributor to One Green Planet as well as Permaculture News, which focus on helping to keep the world green and clean. He's also the founder of The NGO List, a compilation of grassroots NGOs seeking international volunteers. His work can be found at Jonathon Engels: A Life Abroad.
If you enjoyed our story on Taman Negara, you might also like:
Top 7 Things To Do in Malaysia
Top 5 Ecotourism Attractions In Sabah
MALAYSIA: Bornean Orangutan Conservation at Sepilok Rehab Centre
MALAYSIA: The Borneo Sun Bear Conservation Centre
ENDANGERED SPECIES SPOTLIGHT: Bornean Orangutan
ENDANGERED SPECIES SPOTLIGHT: Slow Loris
GO GREEN TIP #112: How to Avoid Products With Palm Oil