Located in the eastern Himalayas, bordered by China to the north and India to the South you'll find Bhutan, the happiest country in the world.
In Bhutan happiness is considered more important than wealth. The country's 2008 constitution says that "the State shall strive to promote those conditions that will enable the pursuit of Gross National Happiness."
Coined in the early '70s by Bhutan's King Jigme Singye Wangchuck, this concept of "gross national happiness" prizes a country's collective happiness as a primary goal of government.
Bhutan's happiness index is built on four pillars: economic self-reliance, environmental conservation, cultural preservation, and good governance.
Bhutan might be small in size (14,824 sq miles), but the sparsely populated country offers an incredible array of activities.
From rare, weird animals roaming natural sanctuaries to secluded monasteries tucked among emerald slopes and rocky cliffs, there's a magic to Bhutan that can make visitors feel like they're exploring a mythical place untouched by time.
Here we present our travel guide including 10 nature attractions that help make Bhutan the Happiest Country in the World:
Bhutan Happiest Country Travel Guide
Visit the Paro Taktsang Monastery
Take a Bhutan Birdwatching Tour
Soak up Breathtaking Views of the Bhutan Himalayas
Shop at the Weekend Market in Thimphu
Trek to see Animals in Bhutan
Explore Royal Manas National Park
Chase Butterflies at the Bumdeling Wildlife Sanctuary
Attend a Tshechu Festival in Bhutan
Visit Bhutan's Dzongs and Goembas
Honor the Bhutan Happiness Index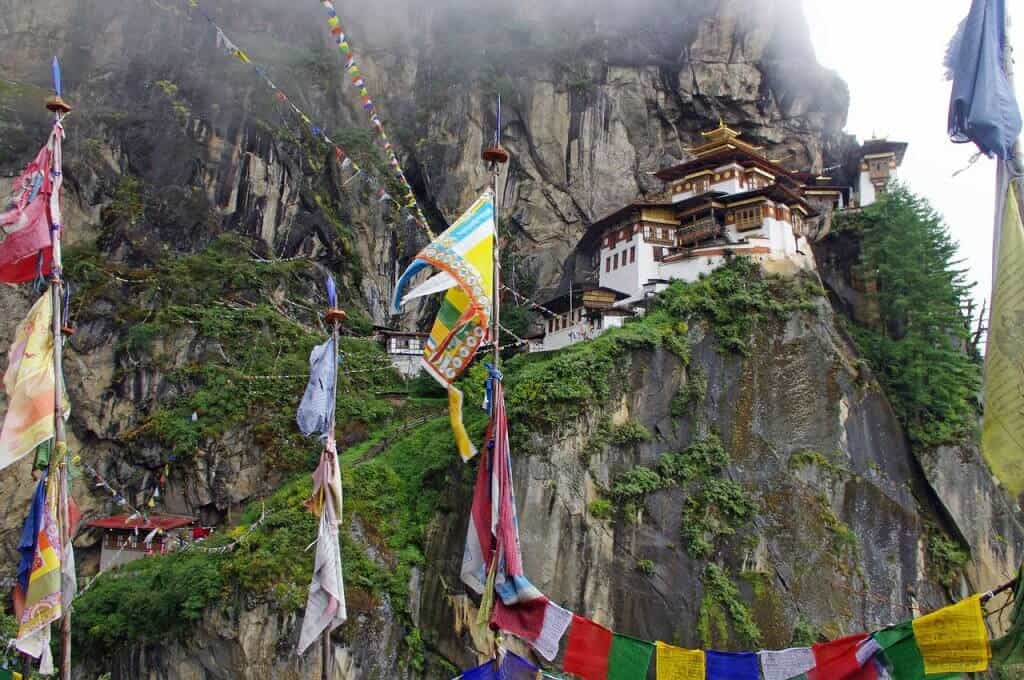 1. Visit the Paro Taktsang Monastery
This stunning Buddhist temple complex, also known as Tiger's Nest, clings to the side of a cliff like something out of a storybook.
In the heart of the mountainous Paro Valley, the golden roofs of Paro Taktsang monastery sparkle in the sunlight. It's one of the most famous and visited sites in Bhutan, despite its isolated location.
The traditional Buddhist architecture of the monastery was guided by the rocks on which it rests. Visitors will find gold-plated domes, intricate carvings, and secluded caves within this expansive compound.
It's advisable to take some time to acclimate to the altitude of Bhutan prior to trekking to Tiger's Nest, which is located at 3,120 meters above sea level. But the challenge is well worth it, for the legendary scenery and stories that surround this sacred place.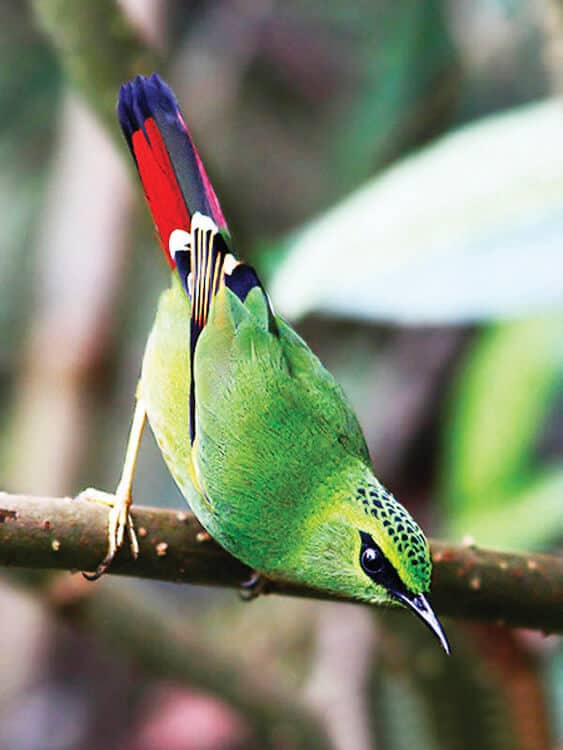 2. Take a Bhutan Birdwatching Tour
Birds are abundant in Bhutan: Over 670 different species have been recorded in this premiere birdwatching destination. Many of these species are endangered, including the Imperial Heron and the Black-necked Crane.
The biodiversity of the Eastern Himalayas makes Bhutan a rich and welcoming environment for many birds. Thanks in part to the environmental conservation efforts of the Bhutanese government, visitors can catch glimpses of a unique range and abundance.
The birds of Bhutan are best observed with the accompaniment of a well-informed guide, who can help you spot and identify the various species and offer plenty of background info on the birds you encounter.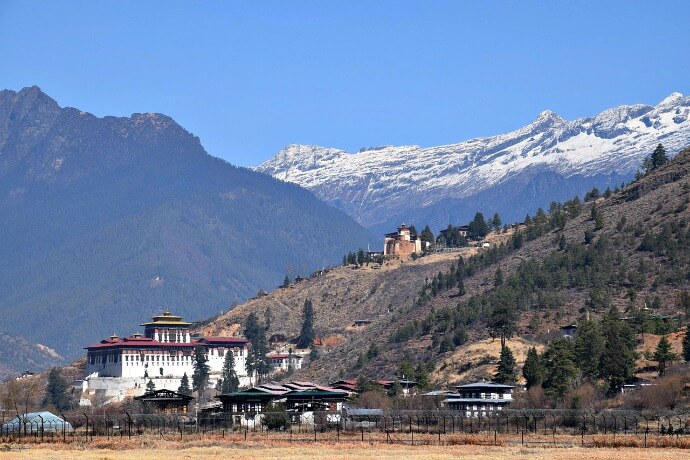 3. Soak up Breathtaking Views of the Bhutan Himalayas
Bhutan's location on the slopes of the Himalayas means you'll never be wanting for breathtaking scenery (especially with the high altitude making it slightly more difficult to breathe).
Whether you're looking for a short hike or a longer trek, getting out on foot is the best way to view the surrounding mountain peaks. You can also drive to high vistas, such as Dochula Pass and the Chele La Pass, which bring you even closer to those jaw-dropping views.
The Chele La Pass is the highest pass accessible by car, and offers panoramic access to the holy peaks, Jomolhari and Jichu Drake. Prayer flags lead the way up this pass, reminding visitors of the sacredness of nature here in Bhutan.

4. Shop at the Weekend Market in Thimphu
Every weekend, vendors crowd the west bank of the Wang Chhu and set up their stalls for four chaotic days of weekend shoppers.
The weekend market in Bhutan's capital, Thimphu, is an aromatic extravaganza of local ingredients, from fish and fatty pork to bottled honey from the south. You'll also find non-edible items such as hand-woven silks and singing bowls.
A trip to the weekend market can easily be combined with a trip to the nearby Handicrafts Market. Cross the Kundeyling Baazam cantilever footbridge to haggle your way to some great deals on souvenirs, including wooden bowls, mala beads, printing blocks, and more.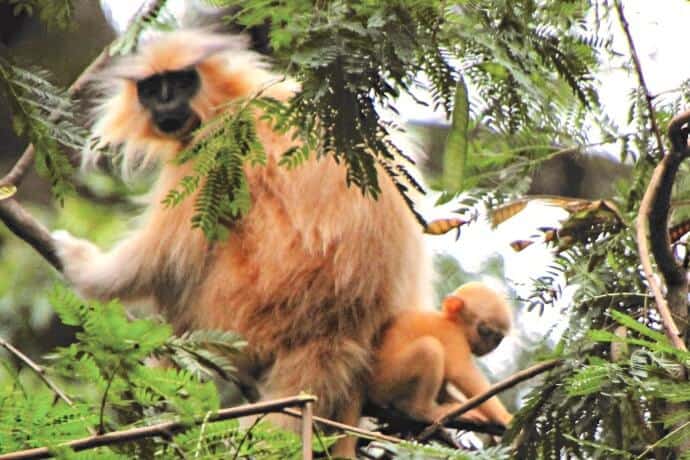 5. Trek to see Animals in Bhutan
Bhutan's location in the Himalayas makes it crucial territory for the endangered Red Panda, a small, round-faced mammal that more closely resembles a Raccoon than a Giant Panda.
Spotting one of these adorable creatures in the wild is a feat, but trekking tours offer some of the best odds to find them.
The Nabji Korphu Trek is a one-week adventure with relatively easy hiking conditions and a mild climate. There's an impressive variety of flora and fauna to view along the way, including the Red Panda. You also might spot Himalayan Black Bears, Rhesus Monkeys, and Clouded Leopards.

6. Explore Royal Manas National Park
As mentioned above, conservation is one of the four pillars of Bhutan's Gross National Happiness philosophy. So it's no surprise that National Parks are a highly revered point of pride for the Bhutanese people.
Royal Manas National Park borders India's Manas Tiger Reserve. It covers 1,057 square kilometers and is considered one of the most biologically diverse protected areas in the world. The Bengal Tiger, Asian Elephant, Gangetic Dolphin, and the extremely rare Golden Langur all call this park home, not to mention 200 species of birds and 900 types of plants.
Bhutan boasts over 5 million acres of protected areas, and Royal Manas National Park is a gem in that treasured system of preservation. Visiting it provides an exciting of what makes this little country such a giant influence on conservation ideals around the globe.
READ MORE: Saving Endangered Asian Animals: The 10 Best Wildlife Conservation Programs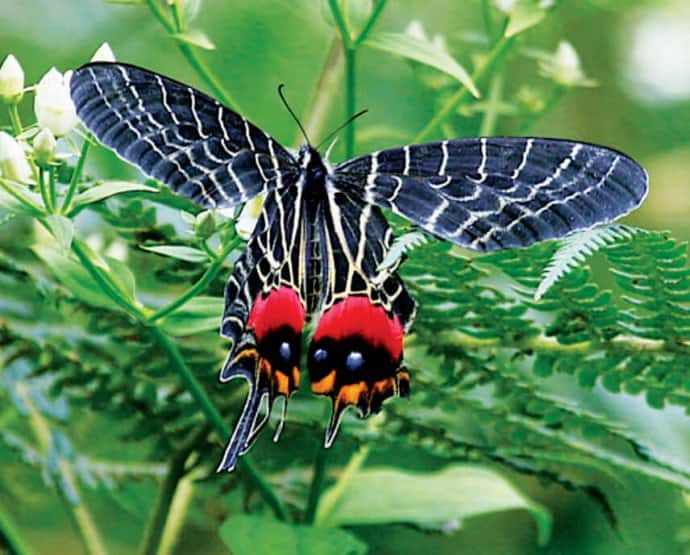 7. Chase Butterflies at the Bumdeling Wildlife Sanctuary
It's not just birds and mammals who love Bhutan: Butterflies thrive here, too! Between 800 and 900 Butterfly species flutter amongst the hills and mountains.
.The Hill Jezebel Butterfly is identifiable by its white and yellow spots, and can often be found in huge numbers, flying together.
If you're looking to identify these flitting beauties, the Butterflies of Bhutan booklet was published by the Royal Society for the Protection of Nature in 2007.
It catalogues 140 species in photographs. But the real treat lies in capturing your own photos of these colorful insects.
The Bumdeling Wildlife Sanctuary is one of the most popular hotspots for spotting Butterflies. But Bhutan's winged beauties can be found all over the country.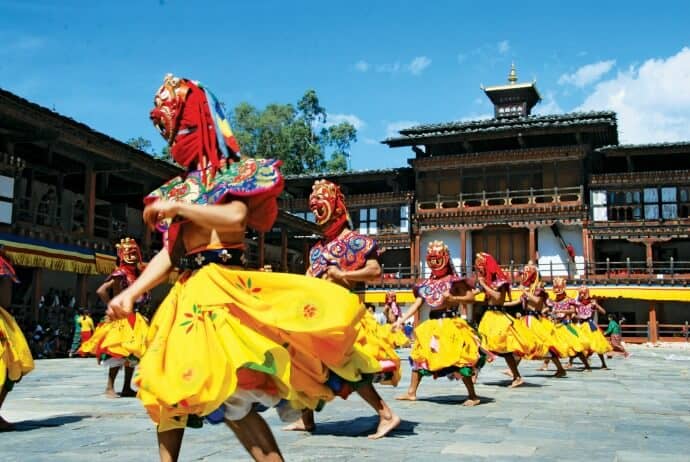 8. Attend a Tshechu Festival in Bhutan
This religious event brings together communities in Bhutan for colorful masked dances.
The Tschechu festival in bhutan is a time-honored tradition, and it is believed that everyone– even visitors– must attend one in order to wash away their sins and be blessed. The dances are based on stories, some dating as far back as the 8th Century.
These religious and social festivals also serve to unite Bhutanese villages, which are largely spread out in isolated pockets.
Visitors are encouraged to join and participate in the celebration, which include large markets selling local goods that pop up near festival locations.
These festive displays of local culture occur in monasteries, temples, and dzongs all over Bhutan. But the two most popular are the Paro and Thimphu Tshechus.
The Thimphu Tshechu runs for three days in the capital city, beginning on the 10th day of the 8th month of the lunar calendar.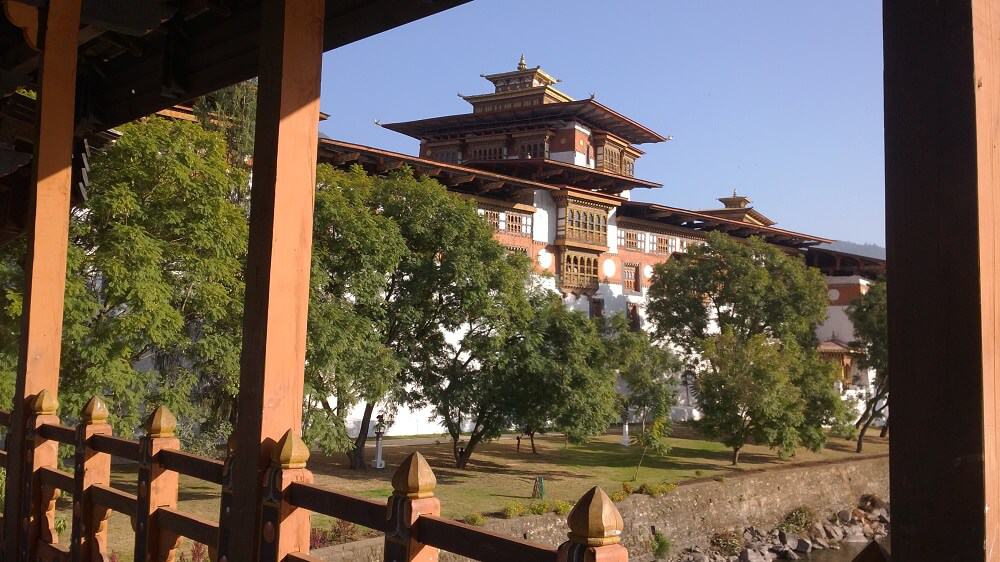 9. Visit Bhutan's Dzongs and Goembas
Your Bhutan experience would not be complete without visiting some of the many Dzongs (forts/fotresses) and Goembas (monasteries).
While Tiger's Nest is easily the most popular, there are seemingly endless Dzongs and Goembas to visit, each with their own unique story and stunning architectural attributes.
Buddhism is the state religion of Bhutan. It stems from Tibetan Buddhism, but honors liturgy and rituals that are entirely unique to the country.
The Buddhist religion is a significant part of Bhutanese culture, and a visit to various Dzongs and Goembas offers a taste of the tranquility and serenity that is integral to both local religion and culture.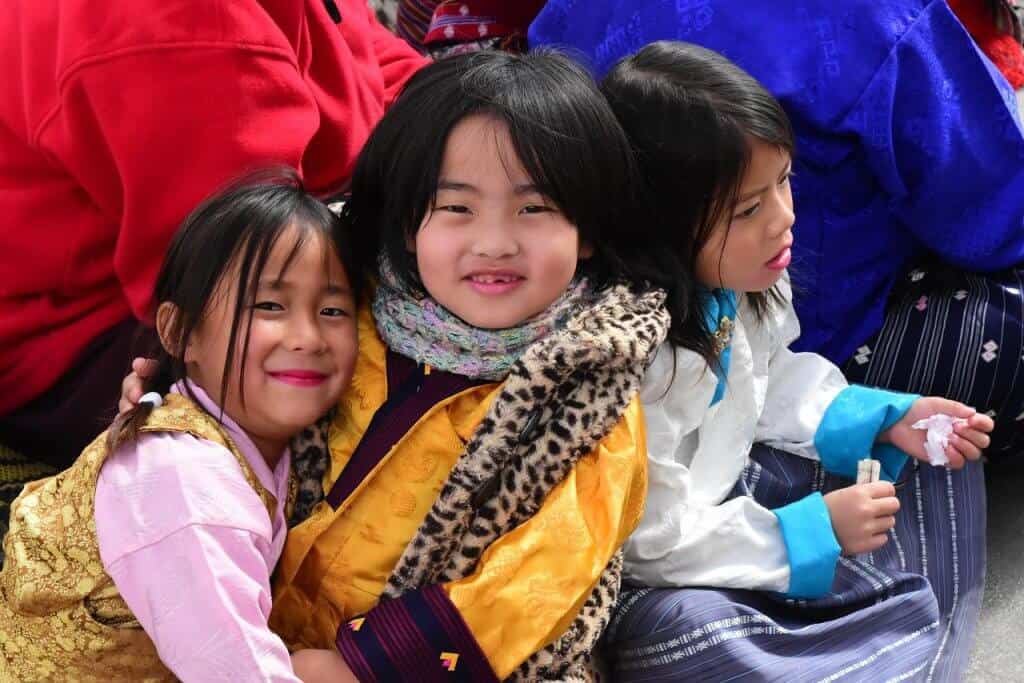 10. Honor the Bhutan Happiness Index
The Bhutan Happiness Index indicates that quality of life is more important than money. The Bhutanese government recognizes the value of happiness over Gross Domestic Product, which is how most countries measure their success.
The country's isolated Himalayan location has allowed Bhutan to hold tight to this value, and visitors are asked to uphold it, too.
So enjoy yourself! Embrace why Bhutan is the Happiest Country in the World, while showing respect to the people and environment of this beautiful country. – by Britany Robinson
If You Like It, Pin It!