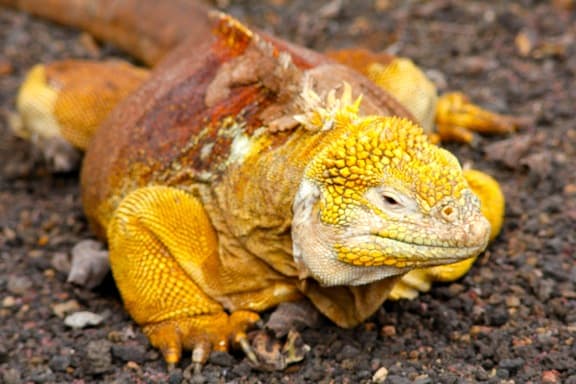 We seemingly saw a gazillion different types of iguanas and lizards in the Galapagos Islands.
But the one we were most looking forward to was the Land Iguana, which is known for its vivid yellow, red and brown shades.
Fortunately, when we reached North Seymour Island, we didn't have to wait long at all to spot one. They were everywhere!
One even came right towards us, looking like a cross between Godzilla and Pikachu.
READ MORE: Galapagos Islands Animals (Photo Essay)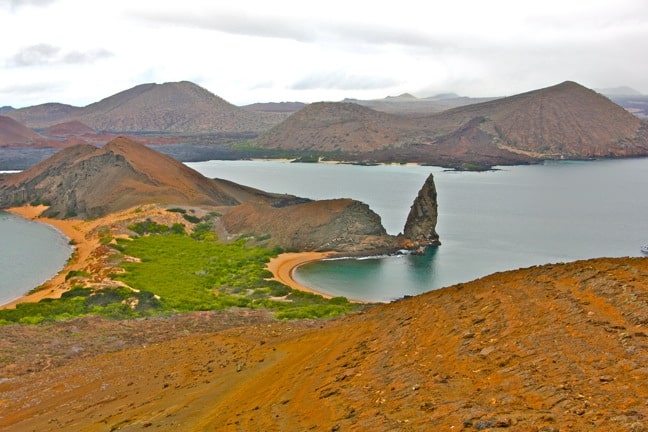 We'd spent our morning hiking up to the summit of Bartolome Island, which was once an active volcano and now looks like walking on Mars. It was the one island on which we saw virtually no plants or animals, although there was a beautiful cricket we'll talk about later. Instead, there were crazy lava formations (including cinder cones, spatter cones and lava bombs) and this gorgeous view of the famous Pinnacle Rock, an eroded tuff cone.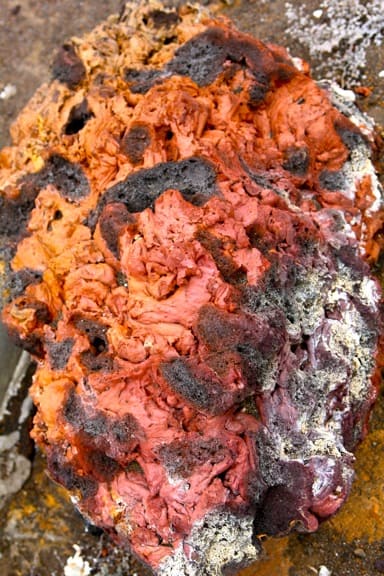 This is a Lava Rock. Not really much to say about it, I just thought it was purty…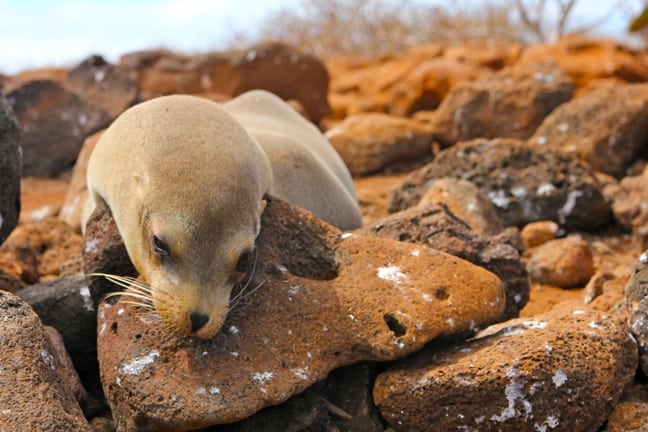 Thankfully, North Seymour more than made up for the lack of wildlife on Bartolome. In fact, this gorgeous Galapagos Sea Lion was waiting on the rocks right where we disembarked from our Zodiacs, as if she were the island's official welcoming committee.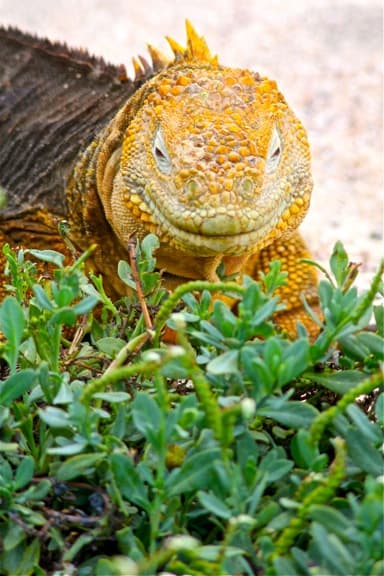 Our guides had warned us that the Land Iguanas were one of the more shy species in the Galapagos Islands, and they had nearly gone extinct after several populations were attacked by wild dogs and cats in the 1970s. Thanks in part to a rescue operations coordinated by the Charles Darwin Research Station and the Galapagos National Park Service, they're now making a comeback. Don't you think this friendly fella looks happy about that?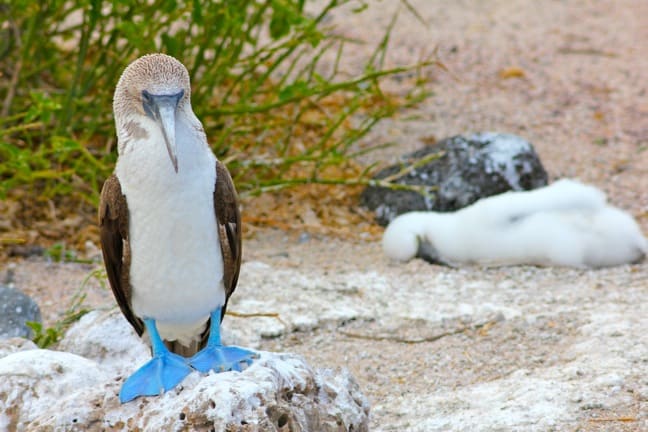 I believe I've written before about how much I love boobys, but the Blue-Footed Booby was definitely my favorite. This mama and baby booby were actually the first Blues we saw, and our group was concerned (after seeing several carcasses on other islands) that the baby was dead or dying. Suddenly, it raised its head and looked around to see what all the fuss was about, while mama went right on taking her midday siesta.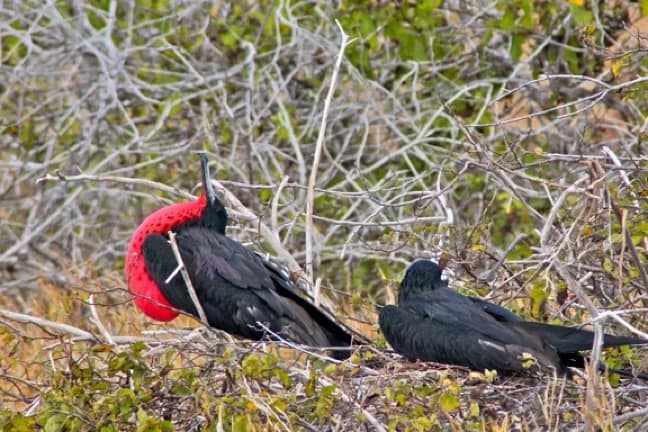 This was not our first time seeing Magnificent Frigates (we spotted a male sitting atop his chick on our first day in the Galapagos), but it was the first time we saw a male with his signature pouches extended in full glory. It was an amazing sight, but fortunately not a rare one: North Seymour has the largest Magnificent Frigate colony in the Galapagos.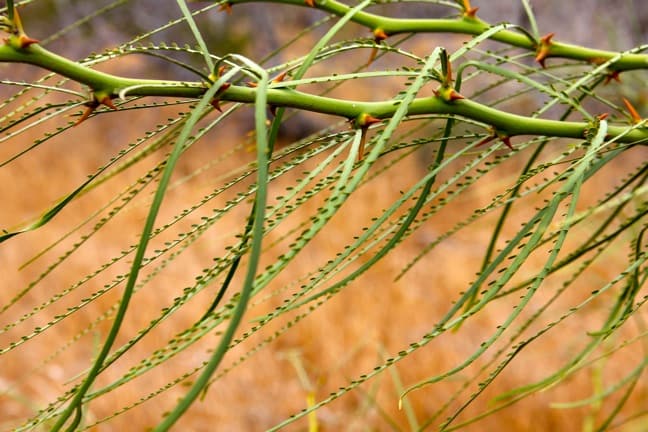 I'll be honest: Quite a few times when our guides were telling us about the remarkable flora and fauna of the Galapagos Islands, I was too busy shooting photos or video to give them my full attention. As a result, I have no clue what this tree is called. But doesn't it look cool, with the spiky thorns and the delicate leaves blowing in the wind?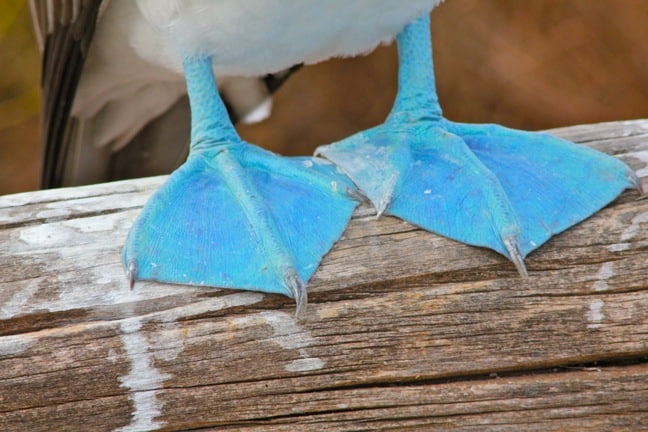 If I told you how much time I spent trying to get the perfect shot of Blue-Footed Booby feet, you wouldn't believe it. I was simply fascinated by them– the purplish streaks, texture of the webbing, the huge claws. Just me? OK, fine…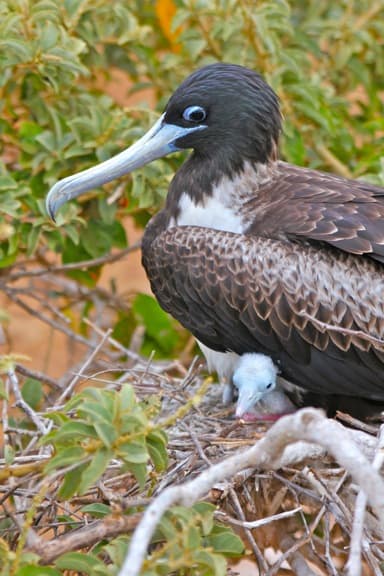 This baby Magnificent Frigate couldn't have been more than a day or two old at most, and his mother kept an extremely watchful eye out as it poked its little head out from the protective warmth of the nest. Love how you can see the blue eyes and beak of the mama matched by the baby, which made me think maybe we should've passed out candy "It's A Girl!" cigars.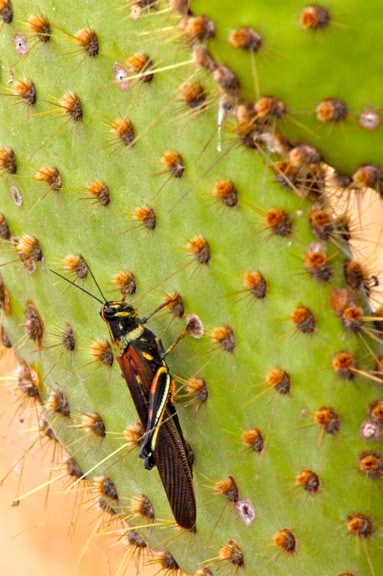 I wasn't able to get a good shot of the Galapagos Cricket we saw near the summit of Bartolome, but fortunately we saw his cousin later that day, hanging out on a cactus on North Seymour. The red, orange, yellow and green colors were remarkably vibrant, and the cactus provided a cool background for the shot.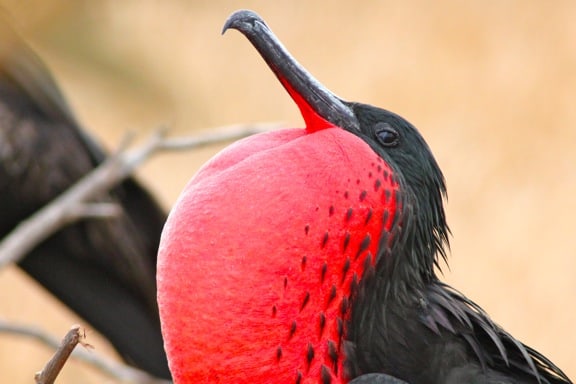 This close-up shot provides a great view of the Magnificent Frigate's throat pouch inflated to its full glory, so you can actually see the tiny feathers coming out around the edges of it. What you can't see is all the other males who were on the same bush doing the same thing, clearly vying for the females' attention.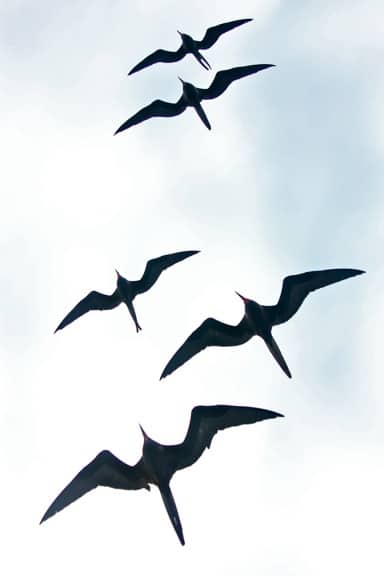 After we made our way back to our ship, Ecoventura's M/Y Eric, Mary and I canoodled quietly on the sun deck with some drinks, savoring the quiet serenity of the views all around us. More than a dozen frigates flew in formation, catching the updraft of our ship as we made our way to our next Galapagos destination… –all photos (c) 2011 by Bret Love & Mary Gabbett
GALAPAGOS ISLANDS DAY 1- Photo Gallery: San Cristobal, Kicker Rock & Genovesa
GALAPAGOS ISLANDS DAY 2- Photo Gallery: Genovesa & Fernandina
GALAPAGOS ISLANDS DAY 3- Photo Gallery: Isabela & Santiago
GALAPAGOS ISLANDS DAY 5- Photo Gallery:  Santa Cruz & Espanola
Wildlife of the Galapagos video series: Part I,  Sea Lions
Wildlife of the Galapagos video series: Part 2,  Flightless Cormorants
Wildlife of the Galapagos video series: Part 3,  Tortoises
Wildlife of the Galapagos video series: Part 4,  Iguanas