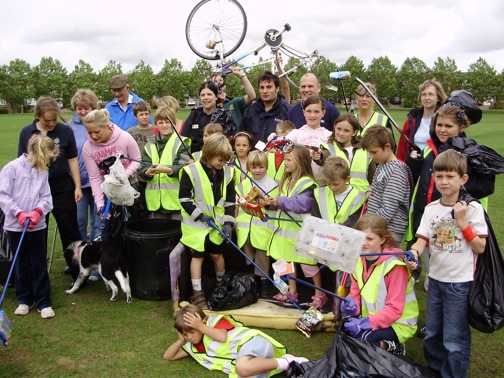 How To Go Green In Your Neighborhood
Other than reading or meditating, few things are more fun without a group of friends or family… especially when that group is working towards a greater good together. That's the idea the folks at Organic Soul promote, encouraging communities to get together to go green. And we don't mean just organizing an organic tea party with your pals, either. We're talking about how to go green in your neighborhood and get everyone together to change their way of thinking (and living). Here are a few ideas for getting you out of the house and into your local ecosystem, whether you've got a green thumb or just good intentions.
• Buy Local/Organic- Not only does this support the local community's economy, but also when done on a large enough scale, it sends a pretty big message to the big-name producers (at your grocer's) who aren't practicing organic growing.
• Grow A Garden–  Don't have enough time to prune your tomato plants on your own? Those intentions might make a bigger difference if the garden belonged to the neighborhood and everyone did their part. And just think of the potluck dinner all those fresh veggies would produce!
• Raise Awareness- You throw block parties every weekend. Party with a purpose next time by sharing information on local green efforts, or ways your community can play a more active role in the neighborhood's eco vitality. Celebrate nation eco-based holidays and set goals for your community to meet once their thinking goes green!
• Create A Community Cleanup Day- Whether you live on the beach, near the park or along a main road, you know one stray paper cup is just the beginning of a trash pile-up. And even though picking up that one cup to do your part is a good start, imagine what you the whole neighborhood could? "Adopt" a section of your community and dedicate days to get everyone together for cleaning/upkeep.  –Jenni Williams
If you like How To Go Green In Your Neighborhood, then you may also like:
INTERVIEW: Sustainable Living Expert Laura Turner Seydel's Simple Steps To Go Green
INTERVIEW: The Wilderness Society's Alan Rowsome On The Economics Of Conservation
GO GREEN TIP #12: Host A Farm To Table Dinner Party
GO GREEN TIP #15: Don't Shop: Clothes SWAP!