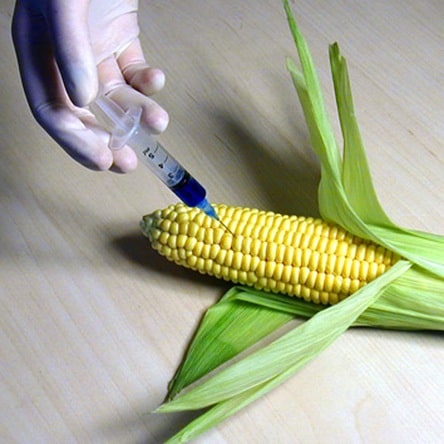 Monsanto's Grip On U.S. Agriculture Grows Stronger
Back in February, the bully of American agriculture, Monsanto, breathed a sigh of relief when a federal class-action lawsuit against the agricultural and chemical company was dismissed. The Missouri-based gene giant flexed its muscles even more on March 15 when the U.S. Government approved a large-scale experiment with genetically modified crops that Monsanto insists will thrive in the most arid of conditions.
On the surface, the move sounds like a godsend for Middle America crops. But once all the cornhusks are counted, not a single organic farmer would be shocked if Monsanto's profits end up being the thing that grows must abundantly. Rather than continue pouting about the agribusiness' questionable ways, the group striving to slow the company down, Occupy Monsanto, donned biohazard suits on March 16 and told Congress again about the brand's harmful actions.
Monsanto's volatile relationship with organic farmers was first introduced to the masses with the 2008 documentary Food Inc. Monsanto brings patent-enforcement lawsuits against organic farmers at an average rate of 13 lawsuits per year. The farmers who don't use Monsanto products are charged with infringing on Monsanto's seed patent. Often, pollen from a genetically modified seed originating at a Monsanto farm can crossbreed with the organic seeds of neighboring farms. When this happens, and the company finds traces of their patented seed and sues for patent infringement.
Hundreds of farmers and advocates, led by the Organic Seed Growers and Trade Association, ascended on Lower Manhattan to put a serious dent in Monsanto's patent policy with a lawsuit of their own. They were hoping that the New York Federal District Court that oversaw the class-action suit against the company would sympathize with the organic farmers and prevent Monsanto from enforcing their patent.
The ruling judge, Naomi Reice Buchwald, was not so sympathetic. She said that the plaintiffs had "overstated the magnitude of [Monsanto's] patent enforcement" and that Monsanto's average of annual lawsuits "is hardly significant when compared to the number of farms in the United States, approximately two million."
The greater significance of the lawsuit is that it points to troubles in organic agriculture. The dismissed Monsanto suit highlights the increasing burden and barrier to success of organic farms and produce. With most organic farms already containing anywhere from one-half to two percent genetically modified seed, it's not hard to imagine American farms where nothing is left completely organic anymore, especially with companies like Monsanto spreading their seed over the organic agricultural community.
But if OSGATA and others just look to South America for inspiration, they'd realize all hope wasn't lost against the menacing Monsanto. Thanks to the unrelenting pressure of a farming community of about 6,000, Peru officially banned genetically modified ingredients anywhere in its borders for the next decade. A few more punches like that to Monsanto's gut should at least make the behemoth stagger a bit. -Raffi Simel
If you enjoyed reading about Monsanto's Grip On US Agriculture, you might also like:
DIY Aquaponics: The Future of Green Gardening
Is White Oak Pastures the Future of Sustainable Agriculture?
When To Buy Organic (& When It's Not Necessary)