Forget the damn shoes! If I could offer you one piece of advice before embarking upon Iguana Mama's 27 Falls of Damajagua Tours in the hills surrounding the Dominican Republic town of Puerto Plata, this would be it.
"If you have any concern at all about your shoes being wet," our guide tells us, "they have water shoes you can rent."
I look at my hiking boots, imagine their weight as they become engorged with water, hiking uphill through dense tropical jungle to reach the climactic moment at which we can begin our descent, and ask the cost of water shoe rental.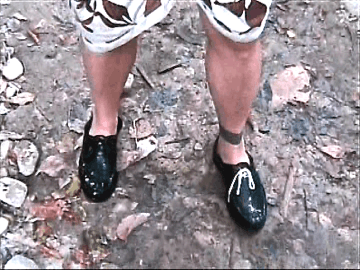 "One U.S. dollar," he tells me, and, just like that– like a mark bamboozled by a snake oil hawker at a county fair– I'm sold to the lowest bidder. Seriously, people, FORGET THE DAMN SHOES!
Describing the discomfort of that day could not possibly do it justice. The shoes, such as they were, felt like strapping a recycled tire inner tube to my feet with a binding about two sizes too small.
At first it was a mere nuisance. But, as the day wore on, climbing uphill over an uneven path lined with tiny rocks that seemed to have an incredible knack for getting all up in my foot business, it became quite literally a pain.
I cursed the shoes. I cursed the man who recommended the shoes. I cursed myself for worrying about my New Balance boots instead of my own comfort, and choosing to wear the damn shoes.
I even considered hurling those godforsaken Croc wannabes into the river. But instead I kept going, up and up and up…
READ MORE: The Best Travel Clothing For 7 Travel Styles (An Epic Guide)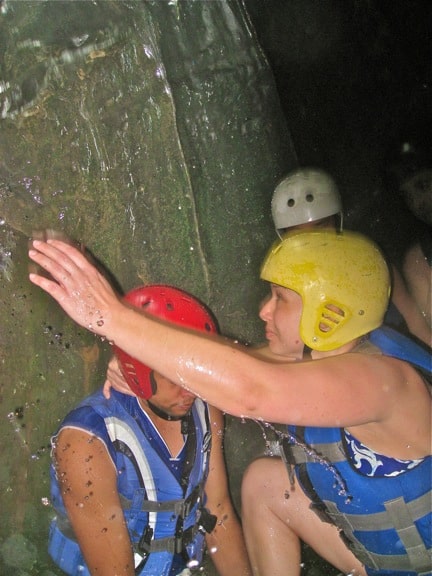 How did we go up, you ask? Well, sometimes we hiked (cue aforementioned scene of tiny rocks, add incipient blisters). Sometimes we climbed rickety ladders that looked as if they'd been there since the dawn of mankind. Sometimes we scrambled over small inclines like amateur rock climbers.
Then there were the times when we had to pull ourselves up knotted ropes, climbing up slick rock surfaces as the weight of the waterfall gushed into our faces, with guides on the top level pulling us up and guides on the bottom level pushing our butts like Dominican sherpas. (Note: I'm built like a linebacker, so we're talking 250 pounds of man-meat here.)
If you ever think of yourself as graceful and elegant, watch a video of yourself doing THAT! Luckily for you, dear readers, there was a guide there with camera in hand, documenting our masochistic mission for the world to see.
Finally, after hours of blisters, blood, sweat and perhaps even a few tears, we reached the top… and I was decidedly underwhelmed. After the rain, we were told, the 27th waterfall was a powerful and majestic reminder of nature's beauty.
Unfortunately it hadn't rained in a while, so #27 was a mere trickle. I'd be lying if I said I didn't wish for a minute or two that we'd stayed at our hotel's gorgeous Serenity Beach for the day.
READ MORE: The 10 Best Waterfalls (For Your World Travel Bucket List)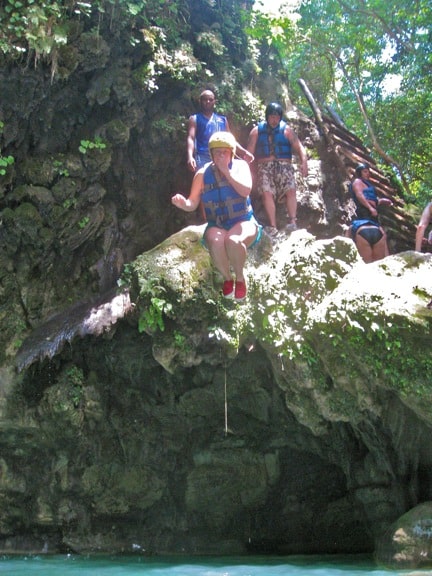 But then we began our descent, and my mood improved considerably. For starters, instead of hiking trails, on the way down we were actually walking through the cool waters of the riverbed (which made it a lot easier to keep detritus out of the damn shoes).
Also, though we started off slowly, with waterfalls that were a short step or hop down, things quickly got a LOT more interesting.
Soon, we were jumping off ledges into pools of water, some just a few feet down but others 6 to 12 feet below.
In some cases, because the water was lower than usual, the guides would point out very specific spots we needed to jump into out of depth concerns, which upped the intensity factor considerably.
Having swapped my fear of heights for a love of adrenaline rushes years ago, I was loving every minute of it.
But it was endearing to see Mary gradually getting more and more nervous as the jumps got bigger, yet finding the chutzpa to do it anyway (holding her nose every time).
Then there were the rock slides—the good kind. In certain places, years of water rushing between the rocks had created smooth chutes you could slide down to splash into the pools below.
Although everyone got a bit bumped and bruised along the way, these were major fun, but just barely wide enough to accommodate my broad-shouldered butt.
READ MORE: How Mary Conquered Her Fear Of Water & Learned To Love Scuba!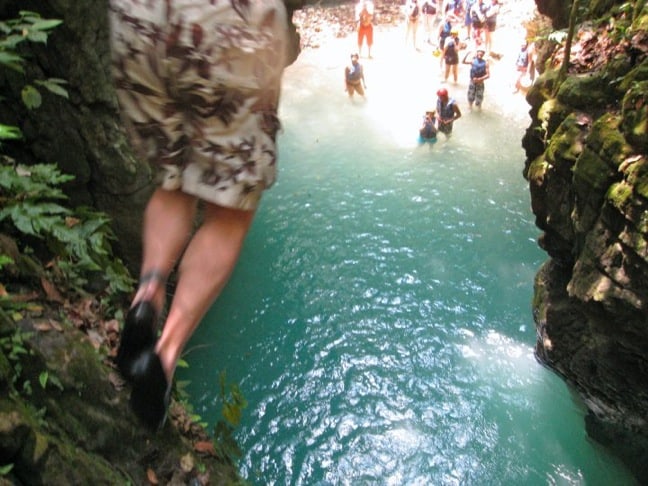 Finally, we made it to the grand finale. We cautiously made our way along a narrow ridge, holding onto ropes as we made our way to the ledge for our biggest leap yet.
We were over 25 feet above the water, with sheer rock cliffs on either side, jumping into pools that seemed about as wide as the kiddie pools those carnival trick-divers leap into. To make matters worse, there was a VERY specific spot we had to aim for, as it was the only place deep enough for a leap from that height.
Mary had had enough, and opted out, but I knew I'd never be able to live myself if I didn't conquer my fear.
People were shouting, "Cannonball! Cannonball!" egging me on. I made sure our friend was ready with his still camera above, and our guide was ready with his video camera below, and then I took a deep breath and jumped… only to rotate in mid-air and land on my back at a 45-degree angle.
It hurt like the dickens, but I did my best not to let it show, instead focusing on the exhilaration of the experience. There were high-fives and fist-bumps all around, then we made our way down to the bottom of the trail, battered but not broken.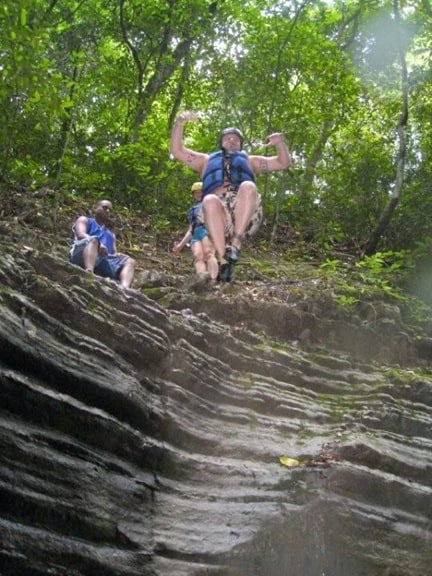 Later that night, we ran into our new friends from the tour at dinner. The family of four, ranging in age from spry teenagers to athletic 30-somethings, looked just as worn out as we were, but we all laughed and smiled as we recounted what proved to be one of the most memorable and challenging travel experiences of our lives.
If I ever make it back to the Dominican Republic, I'd definitely do it again in a heartbeat. Only this time, I'd forget the damn shoes. –Bret Love
If you enjoyed reading Conquering 27 Waterfalls of Damajagua in the Dominican Republic, you might also like:
20 Best Caribbean Islands To Visit (If You Love Nature & Hate Crowds)
20 Best Things to Do in Aruba (For Nature & History Lovers)
The 20 Best Things to Do in Barbados (For Nature & History Lovers)
The 20 Best Things to Do in Curacao (For Nature & History Lovers)
Top 20 Things to Do in Cancun (For Nature Lovers)
The 20 Best Things to Do in Jamaica (For Nature & History Lovers)
St Thomas Islands: Outdoor Adventures on Cas Cay
St. George, Bermuda: Oldest Town in the New World
St Kitts Travel Tips (A St. Kitts Travel Guide)