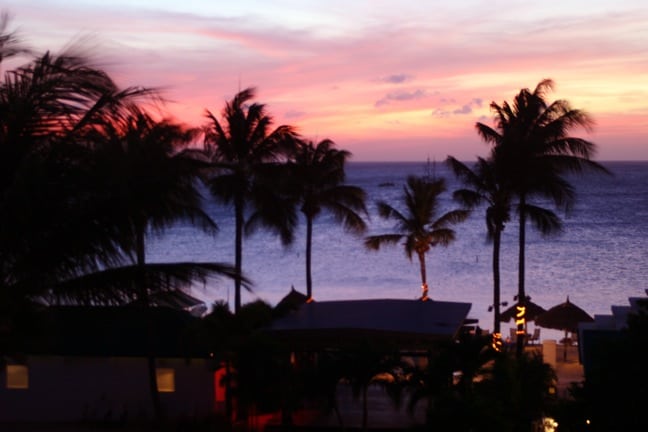 Our Favorite Aruba Eco Attractions
Like its sister island, Curaçao, Aruba is not what you expect from the Caribbean. Located just 15 miles north of Venezuela, the island's extremely dry climate produces striking scenery, from the windswept trees and rugged shoreline of the northeast coast to the dramatic rock formations and desert-like landscape of the interior. Yet it also boasts some of the world's most beautiful beaches, and a rich blend of Arawak, Venezuelan, Spanish and Dutch cultural influences. While it may be best known in the U.S. as a honeymoon destination, there are also a diverse array of Aruba eco attractions well worth discovering. Here are a few of our favorites…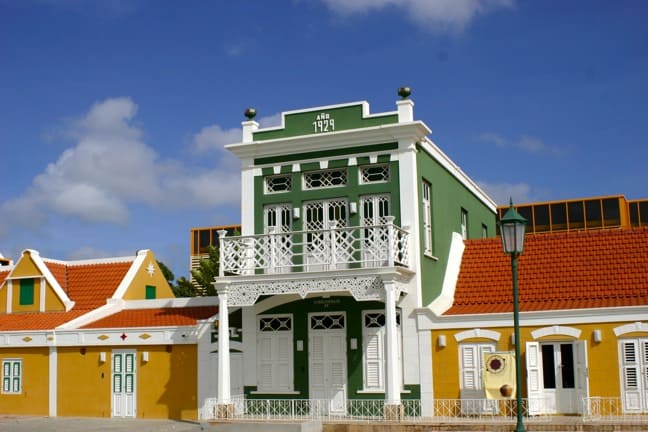 For an overview of the island's history, start at the National Archaeological Museum of Aruba, which is located inside a renovated historic home in downtown Oranjestad and houses artifacts dating back over 4000 years. Three periods of Amerindian habitation of Aruba are documented in the impressive collection– the Pre-Ceramic period (2500 BC– 1000 AD), the Ceramic Period of the Caquetio Indians  (900–1515), and the Historic Period (1515–1880). My daughter especially loved the life-sized reproduction of an Arawak indian hut.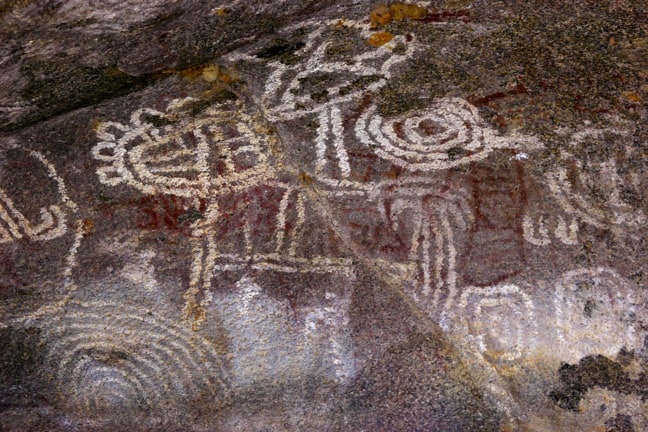 Covering 18% of Aruba's total area, Arikok National Park is a hiking hotspot that features lava formations, abandoned gold mines, and indigenous wildlife species such as the Baker's cat-eyed snake, Aruban whiptail lizard, Aruban burrowing owl and the prikichi (or Aruban parakeet).  It also features numerous caves, including Quadirikiri Cave (which features an impressive bat colony) and Fontein Cave (which features ancient Arawak cave paintings).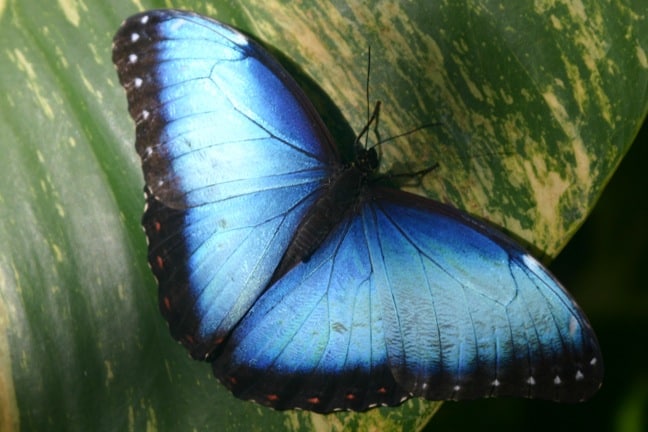 Animal lovers will find plenty to do in Aruba. The Bubali Bird Sanctuary features man-made ponds that have become breeding grounds for more than 80 species of migratory birds, including herons, egrets, cormorants, and more. The Aruba Ostrich Farm is one of the island's more unusual attractions, offering educational tours that include up-close encounters with around 80 of the world's largest bird species. And the Aruba Butterfly Farm offers exceptional views of smaller winged wonders, with educational exhibits on the miracle of metamorphosis and great photo ops.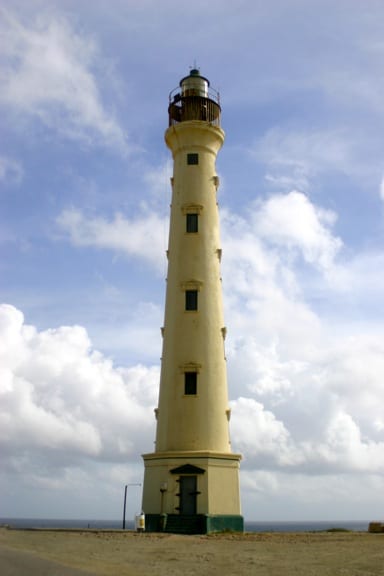 Located in the northernmost tip of Aruba, the California Lighthouse is among the island's most popular landmarks. It's also the embarkation point for guided 4×4 safaris, which allow you to explore northern Aruba's backcountry, whose eco attractions include natural bridges, Andicuri Beach (a popular spot for surfers) and Natural Pool, where you can soak in crystal clear waters while taking in stunning views of the rugged coastline.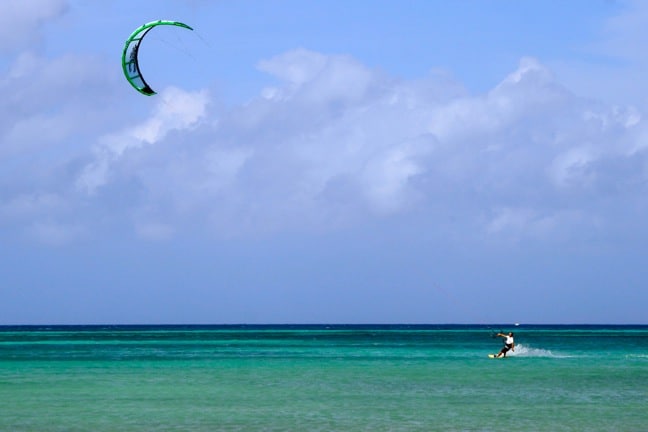 With its relatively constant tradewinds, Aruba offers some of the world's best conditions for learning to ride the waves. Whether you're interested in traditional surfing, stand up paddleboarding, windsurfing or catching some air via kitesurfing, there are numerous schools in Aruba that offer short or multi-day lessons. Many of them can be found on Hadicurari Beach at the Fisherman's Huts, where the Aruba Hi Winds Tournament attracts the world's best windsurfers and kiteboarders every July.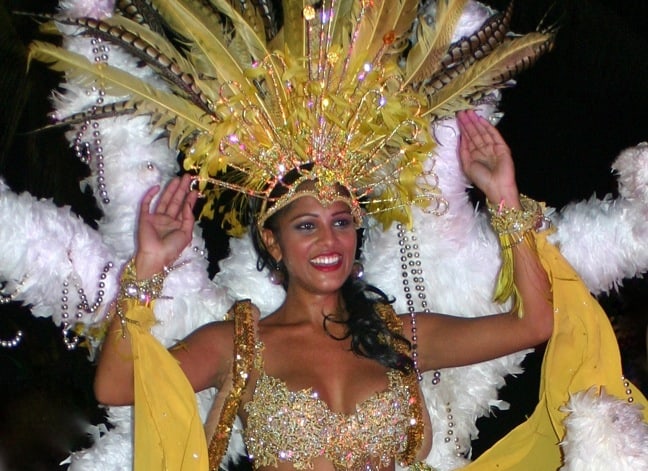 Aruba's biggest annual cultural event is its Carnival, a month-long celebration filled with jubilant street parties (also known as "Jump-ups) and lively parades, winding down the night before Lent begins. The Grand Parades hosted in San Nicolas and Orajestad literally shut down the cities, with spectacularly colored costumes, lively music and an infectious community atmosphere that rivals the more famous celebrations in New Orleans and Rio.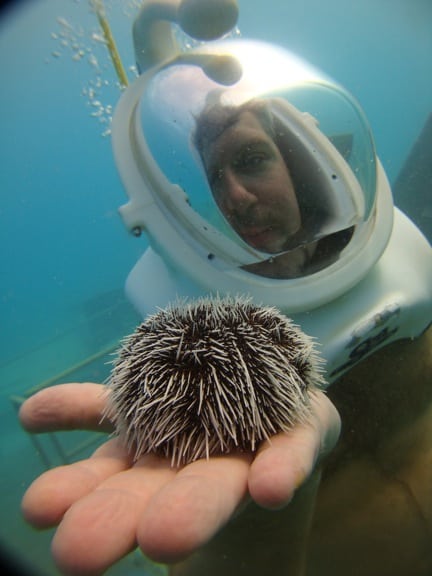 Located less than 10 minutes off the coast of Aruba, De Palm Island is a family-friendly attraction complete with a colorful water park, beaches, banana boat rides, volleyball courts and more. You can snorkel right off the beach on one of Aruba's coolest coral reefs, where massive parrot fish come in swarms of brilliant blue. For an extra charge, you can also don a specially designed diving helmet for their Sea Trek Tour, which allows people who haven't been Scuba certified to walk the sea floor on a 375-foot walkway that takes you past a sunken Cessna 414 airplane to take hilariously cheesy photos at the underwater "Sea Trek Cafe." It's a tourist trap, but a ridiculously fun one.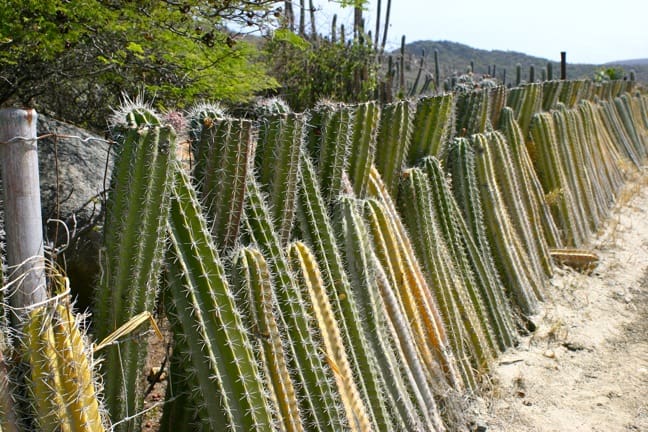 For a view of the island that looks more like a desert than a tropical Caribbean paradise, try climbing the Casibari Rock Formation, which seems to rise up out of nowhere in the middle of a harsh, barren landscape surrounded by cacti. Or, for a more expansive panorama, visit the Hooiberg. Commonly known as Haystack Mountain, or simply "the Haystack," this volcanic formation in the center of the island requires climbing 561 steps up to reach breathtaking views of Aruba and, in the distance, Venezuela.
Aruba boasts some of the best snorkeling and Scuba opportunities in the Caribbean. The Antilla Shipwreck is an absolute must-see: This 400-foot cargo boat, which was anchored off the coast of Aruba during World War II, was believed to be supplying German U-Boats in the Caribbean. After Germany invaded the Netherlands in 1940, the Dutch Marines ordered the captain to surrender the ship, but he intentionally sank it instead by blowing up the boat's boilers. Now, it's home to thousands of colorful tropical fish and, when the water's calm, the views from above are spectacular.
Of course, the most popular Aruba eco attraction is its world-class beaches. From the plush, deep sands of Eagle Beach (the longest on the island), to the tranquil 5-foot-deep waters and man-made reef of Baby Beach, to the colorful people watching of Palm Beach, there are dozens of different spots to choose from. But, for those of us who prefer a bit more action and adventure in our vacations, Aruba offers plenty of unique off-the-beaten-path pleasures. –text & photos by Bret Love
If you enjoyed our photo gallery of Our Favorite Aruba Eco Attractions, you might also like:
CURACAO– Top 5 Eco Attractions
DOMINICA– Cabrits National Park/Indian River
DOMINICAN REPUBLIC– Outdoor Adventures
JAMAICA– Top 5 Eco Attractions