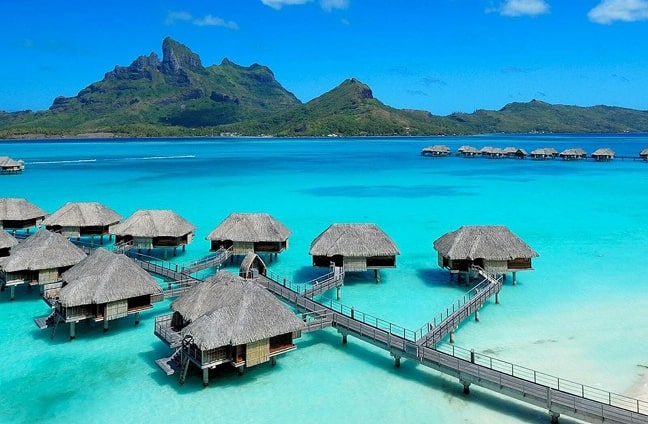 Adventures in Tahiti Tourism!
Details About Our Next Amazing Trip
If anyone ever doubts our ability to keep a secret, Exhibit A in our defense will be how long we kept our forthcoming adventures with Tahiti Tourism under wraps. We actually started planning for our next trip back in April of 2012!
We were honestly a little shocked last year when the PR rep for the Four Seasons Bora Bora reached out to us out of the blue, mentioned that he was coming to Atlanta in May, and asked if we'd like to get together for a chat. I've been a fan of the Four Seasons brand for decades– I stayed at their Beverly Hills location at least 50 times when interviewing Hollywood celebrities was the focus of my professional writing career.
So there was never any question of IF we would go to Tahiti to visit their property, but WHEN. And now we have the answer, as we fly out next Saturday for 10 days in this Polynesian tropical paradise!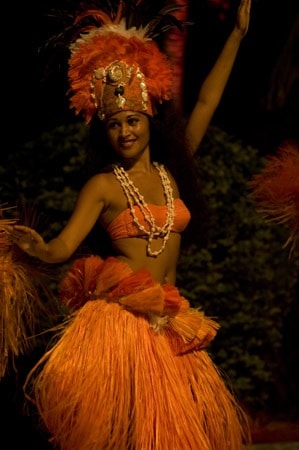 This trip really could not come at a better time for us. Like a lot of our travel blogger friends, we found 2012 to be both incredible and incredibly exhausting. Ending the year with back-to-back adventures exploring the ecotourism of Jordan, seeing Polar Bears in Churchill, hiking in Torres Del Paine and taking a dream cruise to Antarctica was truly a once-in-a-lifetime opportunity we will never forget. But traveling 40 days in 3 months took its toll on our bodies and bank accounts. So we've enjoyed having a brief break that allowed us to catch up on work and life.
It's been a while since we've taken a trip that was more centered on romance and relaxation than outdoor adventure (seems hard to believe that our heavenly week on private islands in Panama was last April). And when you're constantly on the go-go-go, trying to juggle a freelance career and parenting and building an independent business, sometimes your personal labor of love begins to feel an awful lot like hard work.
But, with four days each on the islands of Moorea and Bora Bora, we're hoping our trip to Tahiti will give us a chance to rest, relax and rejuvenate so we can tackle the rest of 2013 with renewed energy and passion.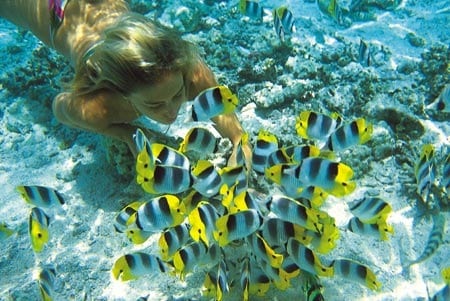 Of course, if you've been reading Green Global Travel for any length of time, you know that we're not ones to spend our entire days lazing about in the lap of luxury. And this trip will be no different… OK, maybe just a LITTLE different, in that we only have one scheduled activity per day instead of the usual 3-4! 
In Moorea, we'll be putting our brand spankin' new Scuba School International certifications to use for the first time, going Scuba Diving in some of the world's most beautiful marine life habitats. We'll also be taking a 4 x 4  Safari to see some of the island's coolest sights, including ancient temples, pineapple plantations and the scenic Belvedere Lookout. On our final night, we'll visit the Tiki Village to learn about the island's traditional arts, crafts and other cultural traditions.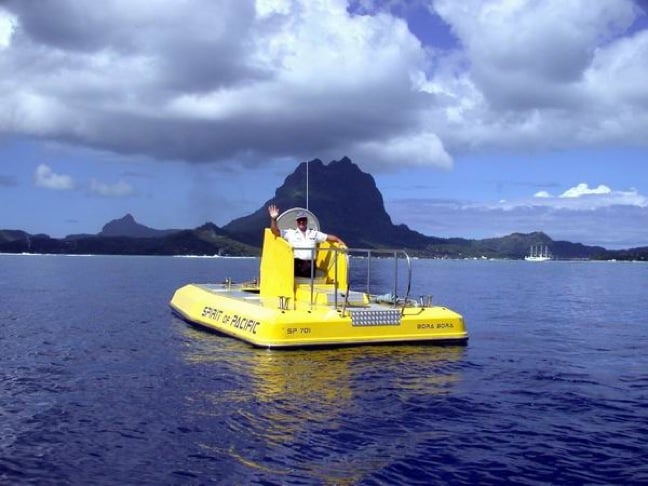 On Bora Bora, we'll Snorkel with Sharks and Rays in a shallow lagoon, Dive for Black Pearls and learn how they're cultivated, and go 100 feet under the sea in a Yellow Submarine! I hope that one's a private tour, because I would hate to annoy other passengers with my 30-minute rendition of the classic Beatles tune.
But we'll also have plenty of downtime at the Four Seasons, including snorkeling their Lagoon Sanctuary, interviewing resident marine biologist Oliver Martin, savoring a luxurious Couples Spa Experience, and having a Romantic Dinner for Two right on the beach. After a solid year of seemingly endless 12-hour workdays, it should be just what the Love Doctor ordered…
It seems somehow appropriate that Tahiti will be our first trip of 2013, because it was another visit to Polynesia– the
Big Island of Hawaii
– that marked our first-ever trip together in March of 2009. In many ways, that trip (which came during a similarly difficult time in our respective lives) sealed our romantic bonds and gave us the confidence that we would live and work together 24/7/365. And while we always look at our trips as exciting adventures, we're intent on making sure this one also feels like a vacation. We look forward to sharing it with our friends, family and fans!  
–Bret Love
If you enjoyed this story about our forthcoming Adventures in Tahiti Tourism, you might also like: 
10 Eco-Friendly European Islands For Your World Travel Bucket List
10 Exotic Islands For Your World Travel Bucket List