10 Australian National Parks
for Your World Travel Bucket List
Australian National Parks rank among the most diverse in the world. Their protected landscapes are so varied, you could dedicate years of your life to exploring them. The country's 500 National Parks span over 28 million hectares of pristine land, protecting delicate ecosystems ranging from alpine regions to lush green forests, red sandy deserts and the purest of white sand beaches.
While these are highly sensitive environments, the parks are remarkably accessible, having been set up to accommodate ecotourism. Most Australian National Parks offer educational programs and adventurous pursuits, such as meeting Aboriginal elders at Uluru, snorkeling the Great Barrier Reef, hiking through the wilderness in Tasmania, or taking a 4WD across sand dunes on islands off the Queensland coast.
In addition to those 500 national parks, there are also 14 World Heritage sites in Australia (most of which are classified as natural wonders) and 13 stunning marine parks. In fact, a full one-third of the world's protected marine areas are located on the continent. So you can imagine the difficulty in narrowing down your must-see list down to just a few.
With the main mission of "protecting significant sections of landscape, delicate ecosystems and precious cultural heritage for future generations," the following are my Top 10 Australian National Parks for your World Travel Bucket List.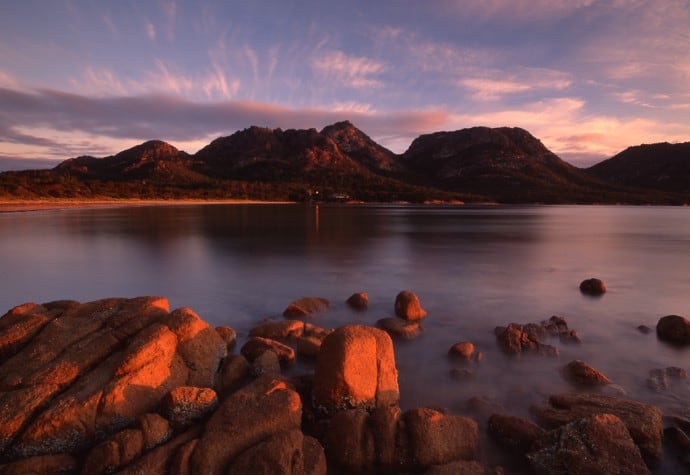 Freycinet National Park is set against a peninsula of pink granite mountains, pure white beaches, and a turquoise Tasmanian sea. This is arguably the best place to discover the rich natural beauty of Tasmania, and is home to Wineglass Bay, named one of the top 10 beaches in the world.
A hike over the Hazard Ranges will offer a spectacular panorama of Wineglass Bay, a flawless curve of pristine white sand backed by sparkling sapphire waters and pink and grey granite peaks. It is one of the most beautiful natural environments in the world, though there are also beautiful secluded beaches on the Western side of the peninsula facing Great Oyster Bat.
Popular activities in Freycinet National Park include surfing, sea kayaking, rock climbing, bushwalking, swimming with dolphins, taking a 4WD to a historic lighthouse, and enjoying fresh oysters overlooking Great Oyster Bay. There are plenty of scenic trails packed with wildlife, such as white-bellied sea eagles, quolls, wallabies, wombats and, if you're lucky, the Tasmanian Devil (which is perhaps best seen on Maria Island).
Camping options are available, and there's a luxury eco lodge in the park which offers an intimate connection with the stunning scenic environment. This has become a popular honeymoon destination for couples looking for a romantic getaway. Freycinet National Park is a two-hour drive north from Hobart, or south if coming from Launceston.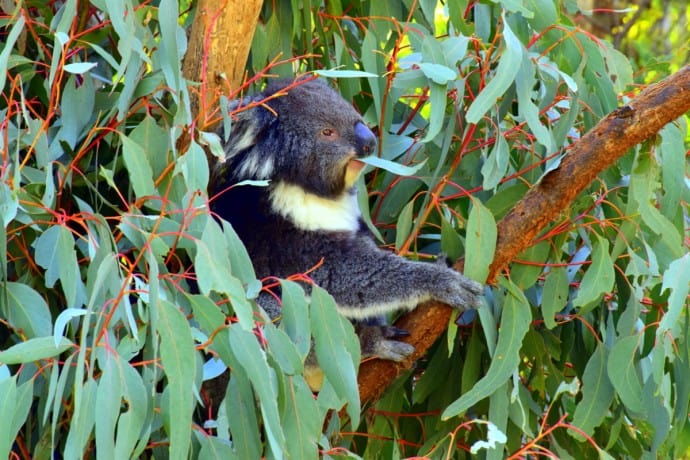 Great Otway National Park  is a popular stop along the Great Ocean Road, and provides ample opportunity to immerse yourself in nature. The park features beautiful sandy beaches, lush green hinterland, pristine rivers, and a rugged coastline with spectacular ocean views.
Hiking and mountain biking rails lead into the rainforest and wind thought tall trees, fern gullies and tranquil lakes. Head to Mait's Rest, where there's a 30-minute loop walk through lovely rainforest. Glow worms can be found in gullies here during night walks.
Great Otway National Park also includes a number of beautiful waterfalls, including Hopetoun Falls, Triplet Falls and Beauchamp Falls. Make a stop in Kennet River to see wild koalas in the eucalyptus forest along Grey River Road. If the whale migration is passing through, you can see it from various lookouts accessible along the main road.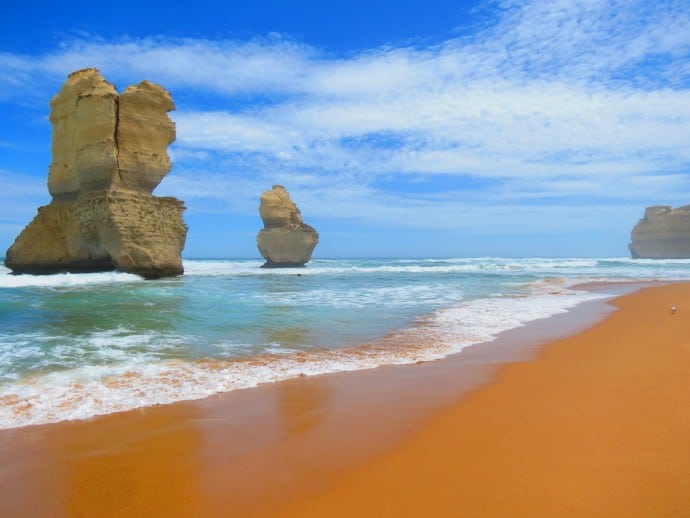 Another popular stop along the Great Ocean Road, Port Campbell National Park is the location of two of Australia's most iconic natural sites– the 12 Apostles and London Bridge. But it's also home to many other natural attractions, characterized by a variation of islands, arches, blow holes and rock formations which arise from the sea.
Make sure to leave time to stop at viewpoints as you drive along the road. The best viewpoints are signposted with information boards, boardwalks and parking for easy access. The park has pull- offs for clifftop walking tracks, as well as trails ascending to gorges and a number of beach walks.
Trivial tidbit: This part of the Australian coast has claimed more than 700 shipwrecks, as is now commonly known as the "Shipwreck Coast."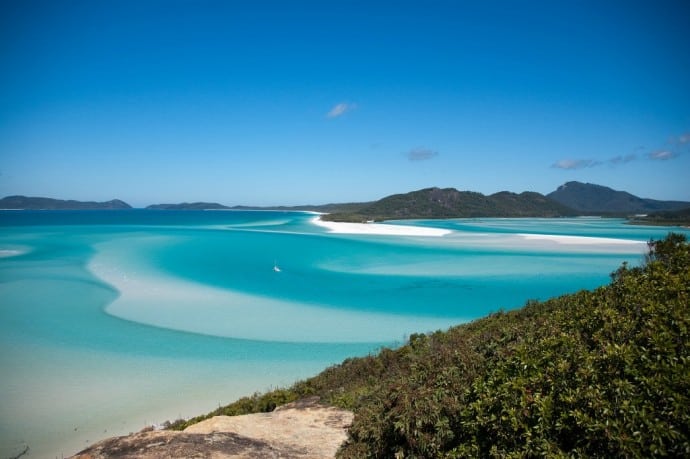 The Whitsunday Islands are 74 island wonders lining the beautiful tropical coast of Queensland. The National Park is smack dab in the middle of the Great Barrier Reef, made up of stunning natural landscapes of coast and islands dotted with secluded beaches and friendly towns.
Visitors can opt to laze out on the beautiful beaches while enjoying the clear skies and crystal clear water, go snorkeling to explore the diversity of marine life underneath the surface of the sparkling sea, or cruise through the islands and drop anchor for an incredible Scuba dive.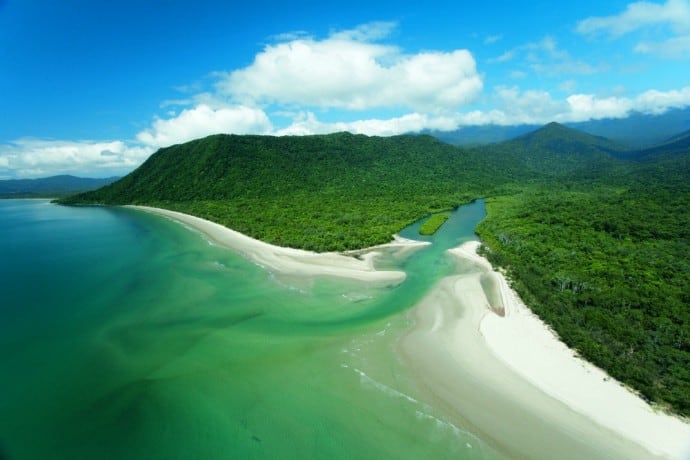 From the WhitSunday Islands, you can easily hop over to Daintree National Park, where the rainforest meets the Great Barrier Reef. At an estimated 110 million years old, Daintree's forest pre-dates both the Amazon and the dinosaurs! But don't let the area's old age fool you: The National Park has aged incredibly well.
Breathtaking rainforest spills over onto beautiful white sand beaches, and towering trees have become the home of unique jungle species. Daintree became a World Heritage Site in 1988, and boasts the unique distinction of being the only place in the entire world where two UNESCO World Heritage sites (the second being the Great Barrier Reef) meet.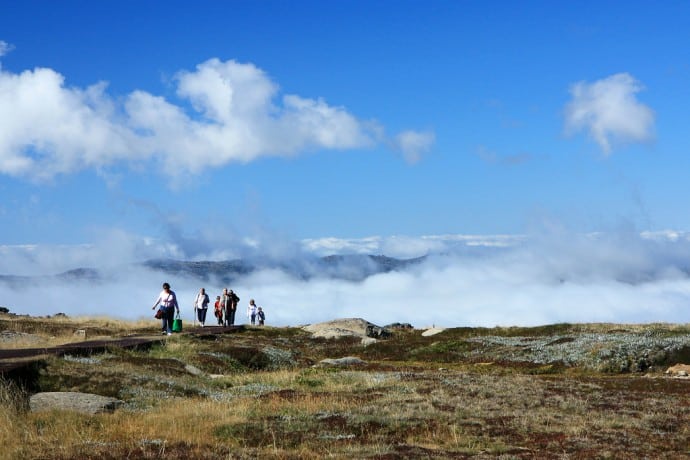 If you're looking to climb Australia's highest peak, you'll find it in Kosciuszko National Park, which is located approximately a five-hour drive away from Sydney.
One of the park's most popular activities is alpine skiing. Because it is part of the larger Snowy Mountains area, Kosciusko experiences temperatures during the winter which dip to below freezing. But in summertime the wildflowers are in full bloom and there are fantastic opportunities for hiking and mountain biking.
The trek to the top of Mount Kosciusko (which sits at 2,228 meters high) is actually more of an easy stroll, especially for those who opt to take the chairlift up the steep part from Thredbo village. But there are other much steeper mountains and hills in the area for those who are looking for a bit more of a challenge. The alpine scenery here is absolutely spectacular.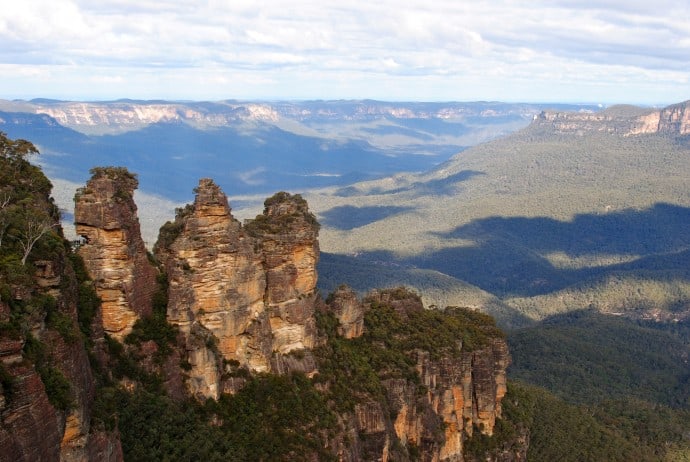 Being located so close to Sydney, Blue Mountains is one of the most popular Australian National Parks. Aptly named for the blue haze emitted by the eucalyptus forests which cover the valleys of the region, this is a true nature-lover's paradise, full of vast wilderness which can be admired from one of the many lookout points.
The park offers numerous waterfalls, rainforests and a huge range of bushwalking trails. The diverse trails cater to every ability, from those looking for a casual half-hour stroll to those seeking a full-on expedition exploring the wild terrain.
Those seeking adventure can experience the park by horseback riding or even cliff-climbing. There's also a Scenic Skyway featuring a boardwalk with a glass floor, which runs for 3km through the rainforest, looking down over the ravines.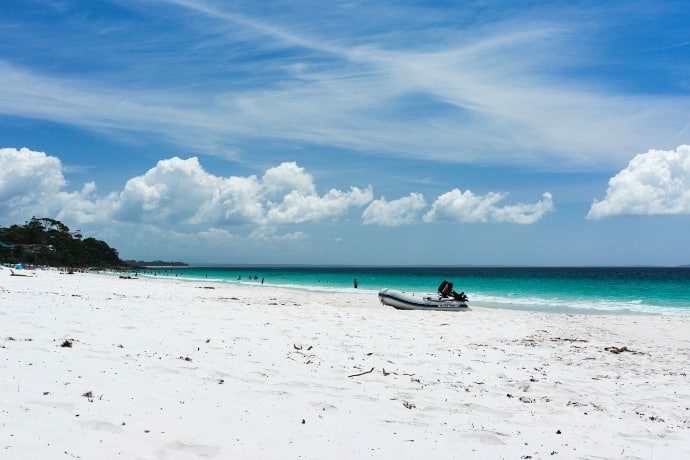 Jervis Bay is a stunning coastal park located in southern New South Wales which offers bushwalking and pretty coastal views. But perhaps the park's biggest claim to fame is world-famous Hyams Beach, which arguably among the world's most colorful beaches.
White sand typically defines most people's traditional notion of what a perfect beach should be. Hyams is arguably the whitest sand beach in the world. And that's not just an opinion: The beach is actually listed in the Guiness Book of World Records as having the whitest sands in the world.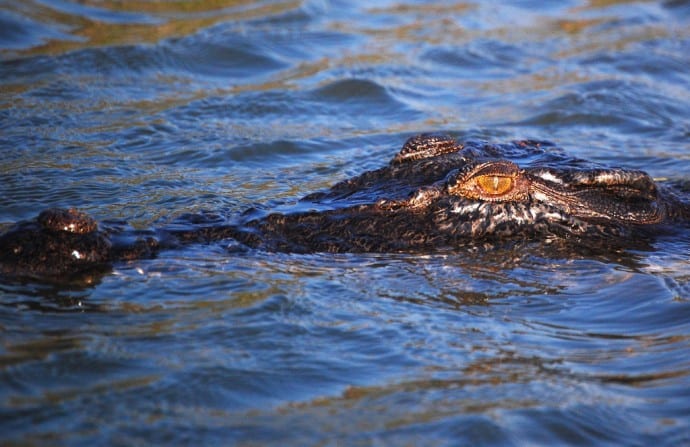 Kakadu offers a great combination of attractions: For cultural enthusiasts, there are ancient aboriginal gathering places filled with ancient rock art. It's arguably the best national park in Australia for seeing authentic aboriginal art.
For nature-lovers, there are diverse ecosystems ranging from wetlands full of wildlife to stone escarpments, swimming holes, rivers and billabongs. This extensive national park boasts an amazing array of unique fauna and flora, yet it's located just 171 km from Darwin.
While there, plan for a visit to Arnham Land, which borders the national park and is home to the oldest living culture in the world (dating back 50,000+ years). It also boasts incredible barramundi fishing, crystal clear coastal waters perfect for snorkeling and Scuba diving, and  intimidating yet majestic saltwater crocodiles.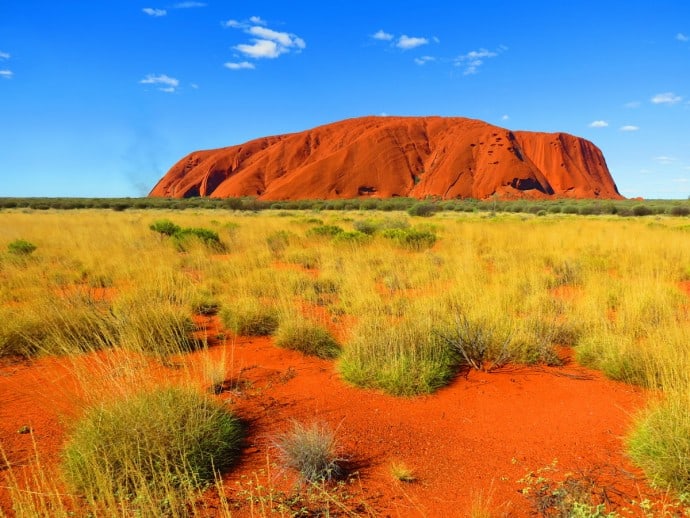 This national park is home to the most iconic natural attraction in Australia: Uluru (a.k.a. Ayers Rock), a historically cultural landmark which is internationally recognized as a symbol of the Australian outback.
Uluru ("island mountain"), a UNESCO World Heritage Site, is the sacred mountain of Australia's indigenous Aboriginals, who decorated it with myriad paintings and engravings over the course of centuries. It takes roughly 3 hours to walk around the base of Uluru. Out of respect for the aboriginal people, who view the rock as sacred, responsible travel ideals suggest that tourists do not climb Uluru.
Kata Tjuta is close by, and it's easy to include a visit there on the same day you visit Uluru. Kata Tjuta is also known as the Olgas, which is of extensive spiritual and cultural significance for the native Anangu people (who own the land). Visit this park for a taste of some of the country's most awe-inspiring outback scenery: The Northern Territory is where all of the most common Australian clichés were born! –Megan Jerrard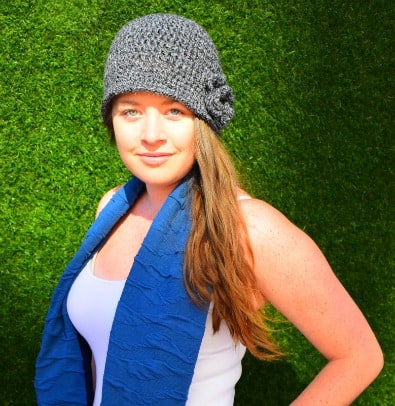 Megan Jerrard is an Australian Journalist, and the founder and Senior Editor of Mapping Megan, an award-winning travel blog bringing you the latest in adventure travel from all over the globe. With a mission to inspire others to embark on their own adventure, Megan and husband Mike believe that travel has the potential to inspire change in people, and in turn inspire change in the world. They embraced travel as a lifestyle in 2007, and are dedicated to documenting their journey and observations through entertaining, candid articles and brilliant photography. You can follow their journey on Facebook, Twitter, Google+, YouTube, Pinterest and Instagram.
If you enjoyed reading about Australian National Parks, you might also like: