No matter where you go around the globe, everybody loves a good party. It doesn't matter if you're into rhythm (the Bahamas' Junkanoo), reproduction (Japan's Kanamara Matsuri), rock 'n roll (England's Glastonbury), the rodeo (Canada's Calgary Stampede) or eternal rest (Mexico's Dia de Muertos), there's a gathering somewhere in the world with your name on it. One of the world's most colorful affairs, the Holi Festival, happens across south Asia later this week. As we prep for that vibrant annual party, we felt it was time to grant you VIP access to the top 10 coolest celebrations on Earth.
10. FEZ FESTIVAL OF WORLD SACRED MUSIC   (Fez, Morocco)
For the last 17 years, the ancient city of Fez has sat atop the must-visit list for world music-loving revelers. Each June the Moroccan destination is transformed into a global stage where the sounds of everything from French vocal ensembles to Turkish Whirling Dervishes are on display. We'd need another hour to justly describe breathtaking venues like Bab Al Makina.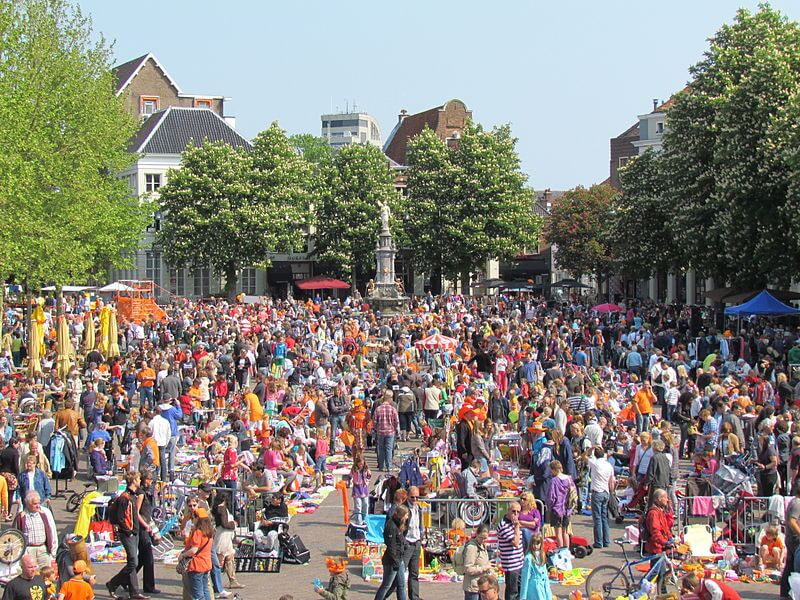 The rest of the world could learn a thing or two from The Netherlands about properly celebrating a dignitary's birthday. Officially called Koninginnedag, Queen's Day is the national holiday commemorating Queen Beatrix's birth. So what if her Royal Highness was actually born in late January?! By having the festivities in pleasant April, the proud Dutch are able to throw on their loud orange attire and toss back a few drinks without having to worry about weather. The great climate also makes for ideal conditions for a countrywide flea market you just have to see to believe.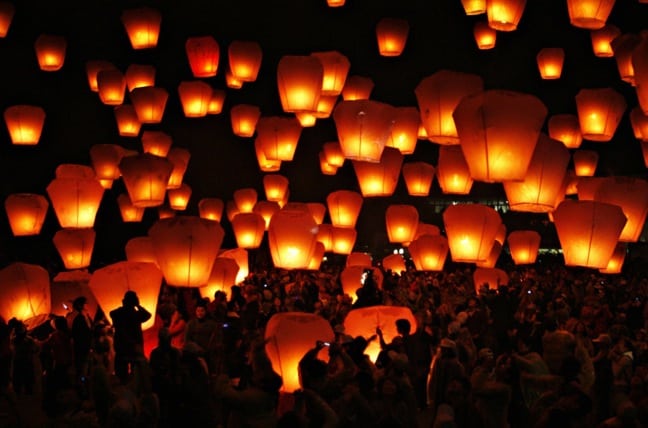 Every year thousands of people trek to the mountainous township of Pingxi for this unforgettable event. Lantern launching began as a means of communication during war, but the act has since eased into an all-out celebration where individuals buy lanterns, write their wishes inside and release them into the heavens. The magical experience, which has influenced Hollywood (Disney's Tangled) and architecture, culminates with a release of thousands of lanterns simultaneously.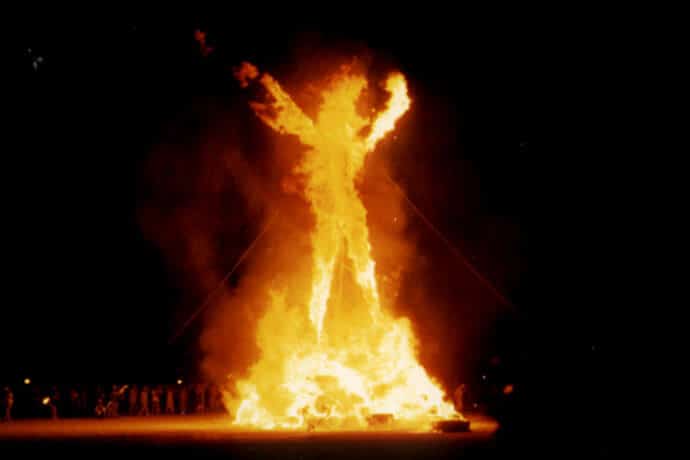 Merriam-Webster says there are roughly one million words in the English language. We're not sure any of them can fully explain what goes on at this man-made city every summer. Part art show, part experiment in self-expression, part deleted scene from Survivor, Burning Man is the celebration of life's simpler times. Present-day critics turn their noses at the flat-screen TVs in the air-conditioned RVs, but once the weekend winds down with the burning of the wooden effigy, you'll need to refer to Webster's for the right word to describe all the desert love.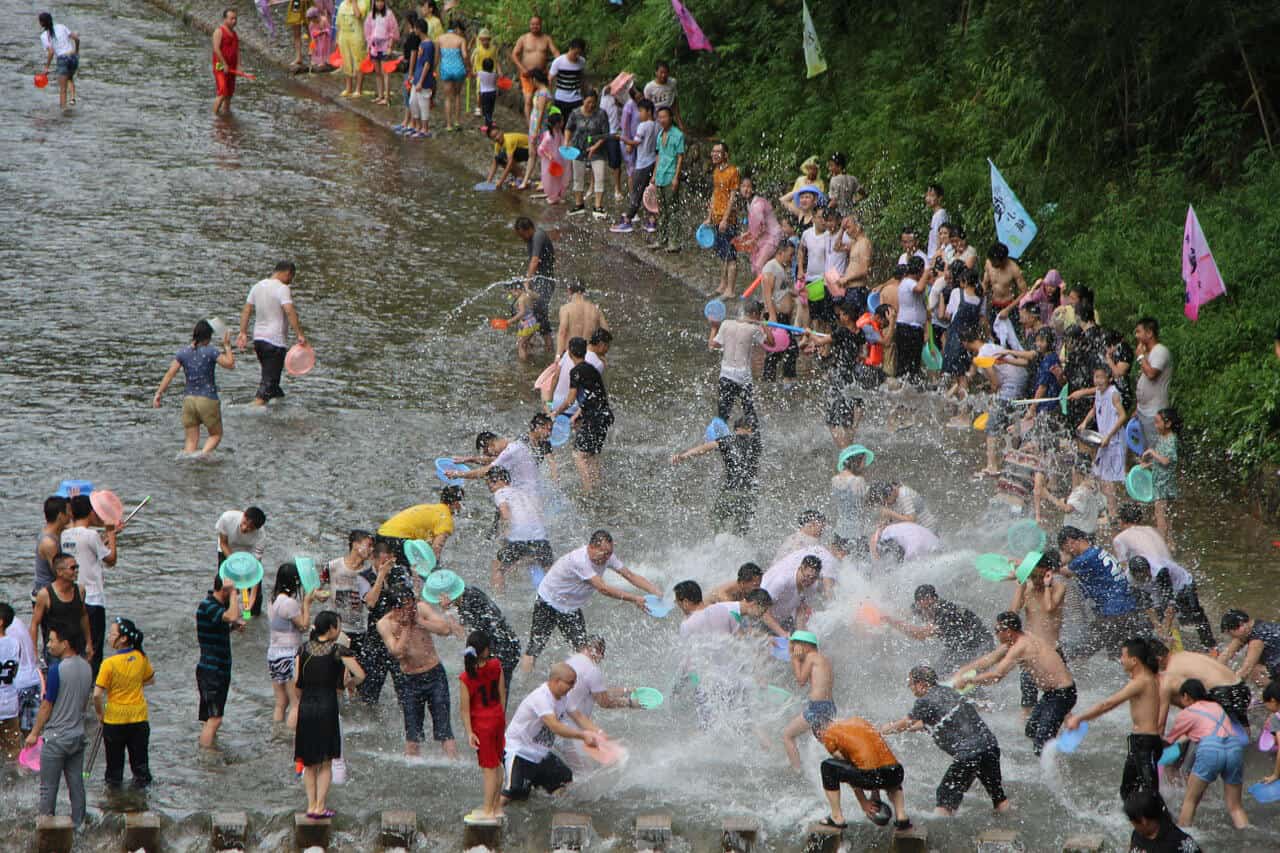 Thailand's traditional new year has evolved into a fun, interactive holiday for all. Though a tourist magnet these days, Thais still pay homage to Buddha images, clean their houses and sprinkle water on their elders out of respect. It's with the latter practice, however, that things have gotten a little wild—even for traditionalists. Elder or not, if you venture onto the streets during Songkran, expect a friendly (but thorough) dousing from water balloons and Super Soakers.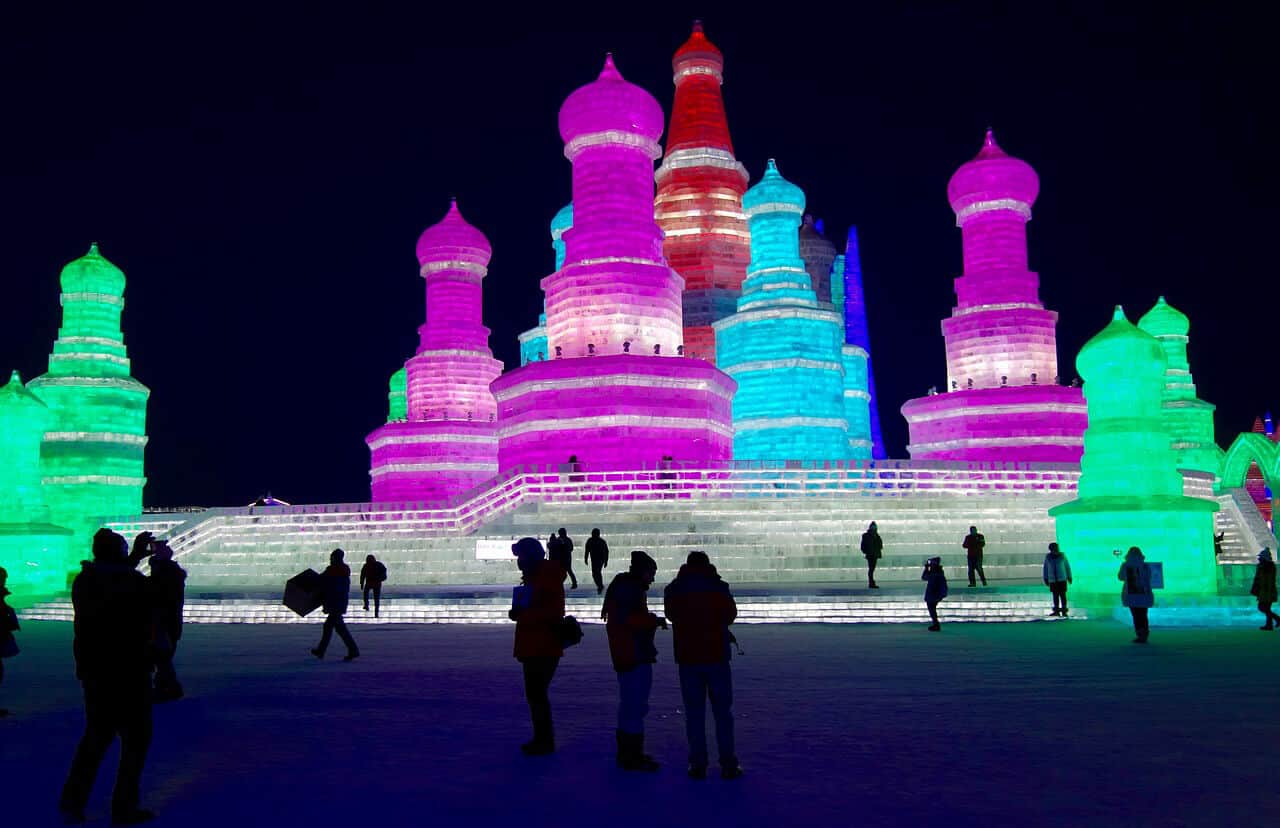 5. HARBIN INTERNATIONAL ICE & SNOW SCULPTURE FESTIVAL  (Harbin, China)
Listen, we're sure the snowman you built when you were 10 was nice. Still, you have to give it to the igloo-inspired ingenuity on display at this unique fest. Harbin, the Ice and Snow Festival's home on and off since 1963, is in chilly Northeast China. Thousands of curious, well-layered visitors make their way to the village annually to look at chiseled masterpieces that astonish the eye. Sculptures range from small mythical creatures to 250-feet monuments. It might be -20° C, sure, but it's the amazing display of craftsmanship and light that ultimately prove so darn cool.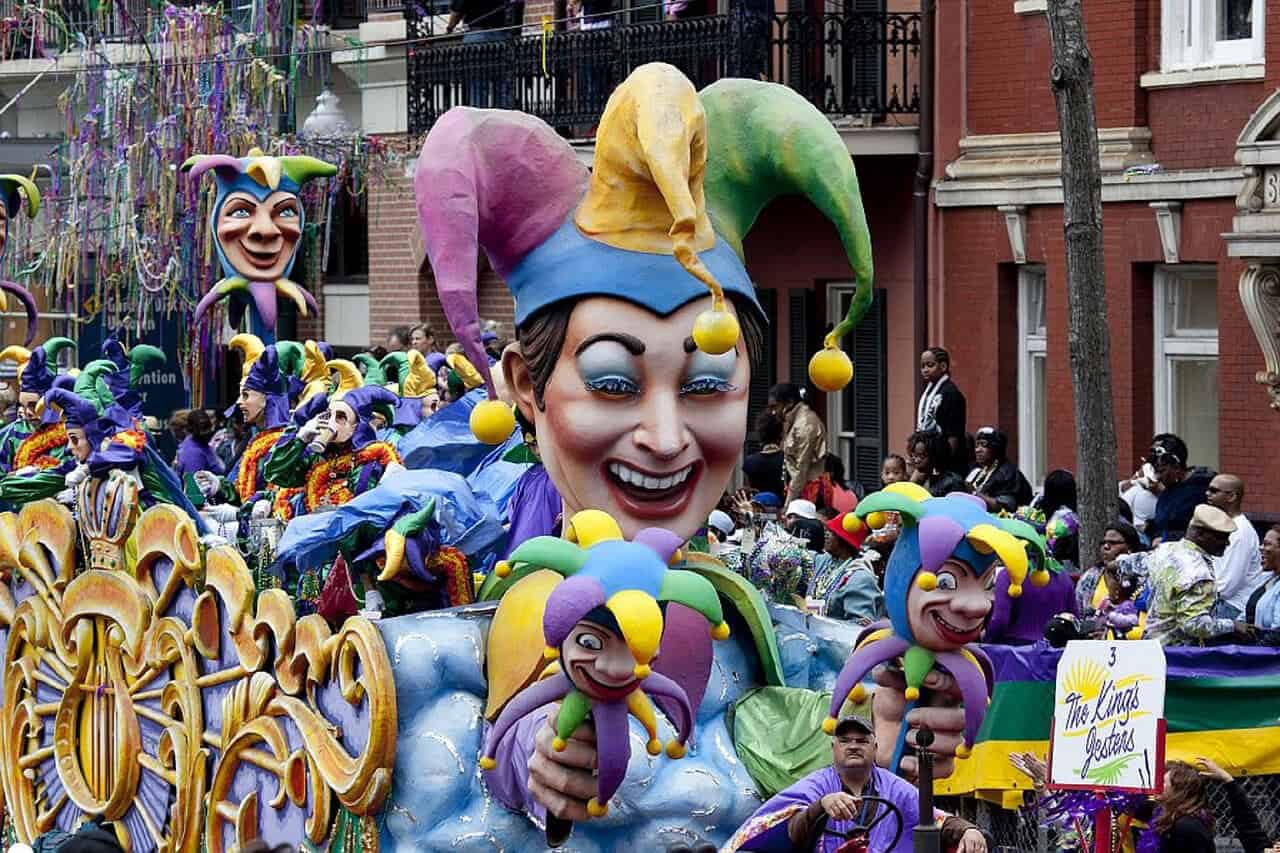 Though masks and beads are worn everywhere from Mobile, Alabama, to Quebec City, Canada, no place captures the carnival-like spirit of Mardi Gras quite like New Orleans. Far too fat for just one Tuesday these days, the million-plus party goers now take to the streets for a week-long celebration. And honestly, you'll need about that long to sample all the creole delicacies, listen to all the sweet jazz and admire all the loud, inventive outfits adorned by paraders and parade-watchers alike.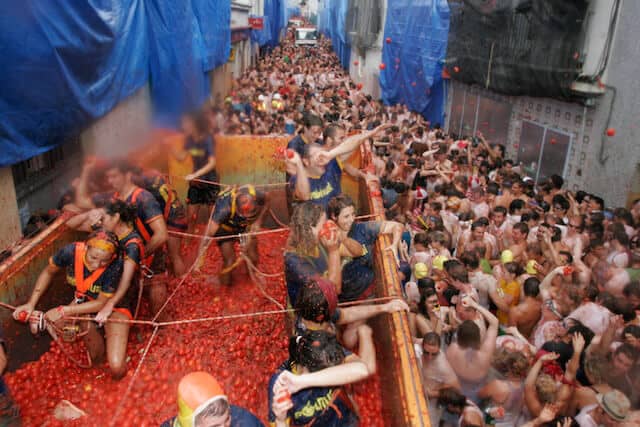 There are epic food fights in high school. There's even a wacky orange battle in Ivrea, Italy. But nothing on earth is quite like this human salsa. On the last Wednesday in August, the city of Valencia (and, we're guessing, anyone else with respectable aim) takes out a year's worth of frustration by hurling squashed tomatoes at all comers within striking distance. There are other happenings that give La Tomatina an event feel—as if 40,000 folks flinging squishy fruit at each other wasn't event enough. Even in all the excitement though, we're still trying to figure out who's crazier, the guy who endures the pelting ever year or the person who's always in charge of clean up.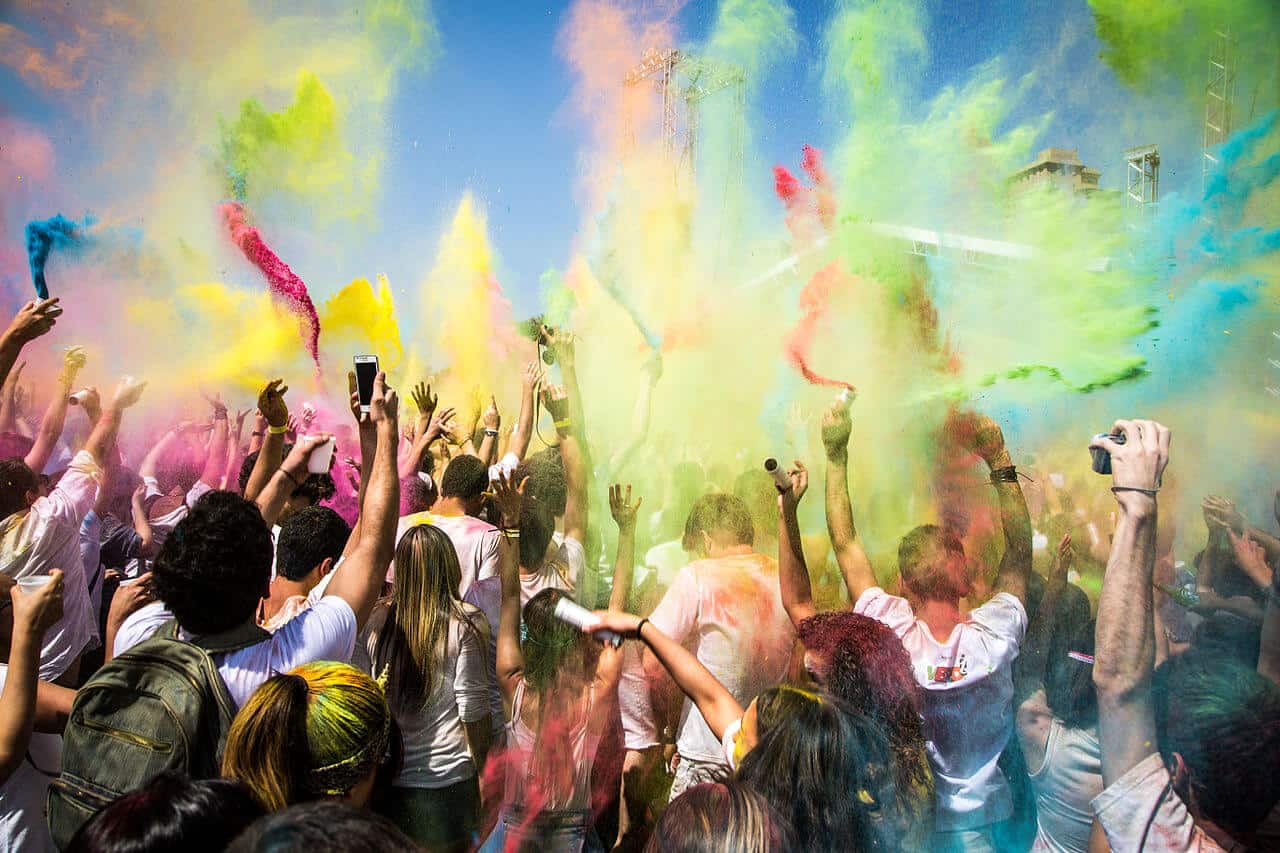 The Amazing Race once centered one of its weekly challenges around this spectacular festival. The colorful powder, the smiles, the mess– it's all still so vibrantly entrenched in memory. During this celebration, the Hindus across India and throughout the world share in prayer, food and a universal sense of mischief that sees no religious or economic boundaries. While we haven't experienced Holi for ourselves just yet, we know that when we do finally make our way to India, we'll pack for the unforgettable experience by leaving our nice, white linen pants at home.
1. CARNIVAL  (Rio de Janeiro, Brazil)
In the days leading up to Lent, all rich meats, fats and sugars had to be tossed. Historians believe this collective disposal of foods to be the origins of Carnival. Of course, the revelry of 1600s Italy is vastly different than what you see across the globe today. From hip shaking in Belize to parading through the French Quarter, Carnival's reach is unlike any other celebration on the planet. The most celebrated version takes place in Rio, where natives affectionately call it "The Greatest Show on Earth."  –DeMarco Williams
If you enjoyed reading about the Top 10 Festivals in the World, you might also like:
10 Most Threatened Rivers in the World
10 Best Mountains in the World
The Top Travel Destinations of 2016: 35 Travel Bloggers' Picks