This is our fourth year of rounding up our picks for the Best Gifts for Travelers. And every year, our product selection just keeps getting bigger and better.
This guide is our most epic by far, with over 125 different gift ideas for every type of traveler. From luggage and clothing to tech products and camera gear, there's something here for every travel style, budget, and personality quirk.
To make our expansive easier to navigate, you can jump straight to your section(s) of interest using the handy links below:
Gift Guide Sections:

1. Best Gifts for Active Travel
2. Best Gifts for Beach Lovers
3. Best Gifts for Fashionable Travelers- Women
4. Best Gifts for Fashionable Travelers- Men
5. Best Gifts for Foodies
6. Best Gifts for Nature Lovers
7. Best Gifts for Jetsetters
8. Best Gifts for Pet Lovers
9. Best Gifts for Photography Lovers
10. Best Gifts for Techies
BEST GIFTS FOR ACTIVE TRAVEL
We've never been snow skiing. It is, as they say, "on the list." But from climbing glaciers in Norway and exploring Yellowstone in Winter to chilling with Penguins in Antarctica, we've had our fair share of adventures in the world's winter wonderlands.
The Dare2b line's Figure in II Pant and Plica Jacket offer a fantastic balance between fashion and function. They're waterproof, wind-blocking, breathable, and stretchy, with an ergonomic waistband and detachable bib system on the pants and removable hood and faux fir trim on the jacket.
Both are designed to flatter the female form, whether you're racing down a gnarly hill or simply sipping hot cocoa at the lodge.
The official Ski Suit of U.S. Olympic Gold Medalist Johnny Mosely, the Men's Dusk Run Ski Suit from Tipsy Elves puts the fun in functional. In fact, it's in the brand's mission statement: "We make the most outrageous clothes known to mankind in order to make your life more fun."
But behind the flashy, '80s-style dayglo colors, you'll find great technical features. These include a 100% waterproof shell, insulated lining rated to 20ºF, zippered ventilation, retractable hood, and an articulated fit.
Where Tipsy Elves goes retro, the Ascent Gloves from Seirus Heatwave Plus seem futuristic. Their kinetic, reflective heat system keeps your hands warm and toasty, even in the frostiest weather conditions.
The Neofleece insulation on top and moisture-wicking HeatWave lining on the palm make them eminently comfortable. The UltraGrip palm makes holding ski poles (or cocoa mugs) a breeze, and the Soundtouch pads should appease those who can't abide being turned off from technology.
Whether we're in the mountains of Rwanda, the forests of Coron, Palawan, or Scotland's Isle of Skye, we tend to hike a lot when we travel. As a result of these rugged, rocky terrains, our shoes and boots tend to get a lot of wear and tear.
The stylish Vesta Nylon Snow Boot from Cougar is a great option for cold climates. They're waterproof and temperature rated to -30ºF, with polar plush lining and a memory molded insole to ensure absolute comfort (even when the weather is anything but).
The sneaker-style, anti-slip outsole gives them a sporty appeal, while the faux fur collar makes them fashionable enough to pair with a skirt or a ski suit.
The Innox Evo GTX from LOWA is a lightweight, low-top trail shoe endorsed by some the world's most high-profile hikers and high-altitude adventurers. The 90-year-old European footwear brand is the only one in the world granted ISO 9001 status for their quality construction process.
The result is a comfortable but durable fitness shoe with a GORE-TEX lining, shock-absorbing midsole, and frame that ensures stability even on the most uneven terrain.
When it comes to men's boots, I tend to favor function over fashion. But the Fully Wooly Lace Waterproof Boots from Woolrich offer both. The first thing you'll notice is how warm they are: With a waterproof shell, wool upper and "Fully Wooly" insulation inside, they'll keep your tootsies toasty down to -25ºF.
The Felt Flex midsole and rubber traction outsole provide stability, but without the stiffness that makes too many rugged boots uncomfortable to wear.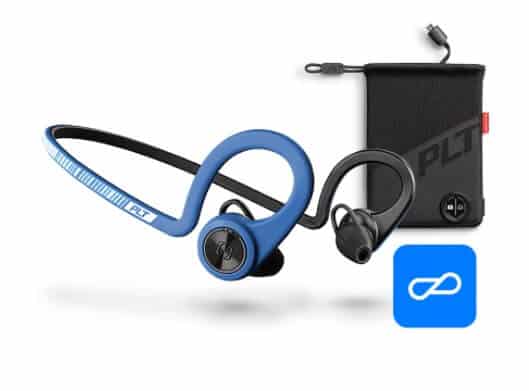 One of our major goals for 2017 was to get in better shape. I swam 1.5- 2 miles three to four times a week, while Mary mixed swimming, walking our dogs, and aerobics/strength training classes.
For those who need a little help with their workout, but don't want to join a gym, the BackBeat FIT wireless sport headphones are an affordable option. They're Bluetooth compatible, and come with their own water-resistant mesh charging pouch.
They're durable, fit perfectly, and provide sweat-proof sound with very clear mid-range and treble. But the bass could use a bit of a boost when you're listening to hip-hop, EDM, etc.
The best thing about them is that they connect wirelessly to the PEAR Personal Coach App (available on Google Play and the App Store). It's a great motivational coaching platform that goes beyond mere tracking of stats, providing interactive workouts guided by real-life professional trainers.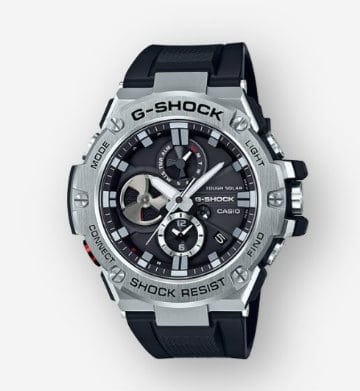 As hard as we are on shoes, I'm even harder on my watches. And yeah, some people may find them an antiquated notion in the smartphone era. But I like not having to reach for my phone whenever I want to know what time it is.
The G-Steel GSTB100-1A from G-Shock (part of the Casio family) is the perfect watch for active travelers like me. It's shock resistant, with forged steel parts and a layered guard structure. It's water resistant to 200 meters, so I can wear it when we go Scuba diving.
In terms of features, the watch offers Bluetooth wireless linking, super bright LED light, dual time, and a 24-hour countdown clock. But our favorite aspect is the solar power-saving function, which means no more changing batteries every 6 months.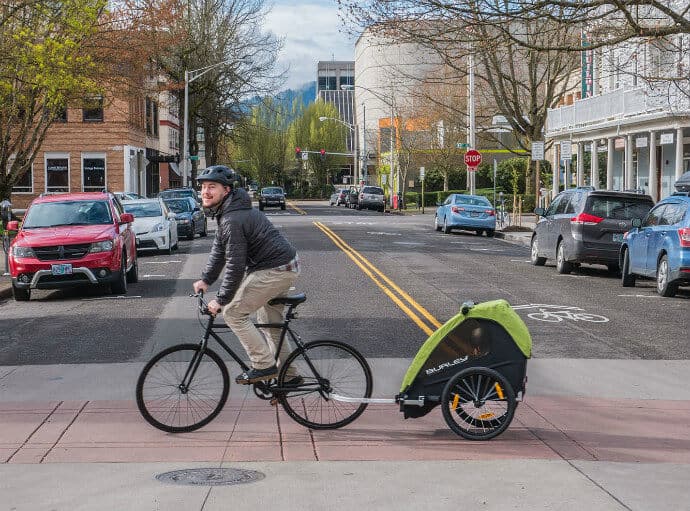 This bike trailer is one of those nifty gadgets I would've LOVED to have when my daughter was a baby (16 years ago… groan). She adored going for rides in her stroller and the car. I can only imagine the joy she would've experienced tagging along on bike rides!
The Burley brand has been known for high quality bike trailers for 40+ now. Released earlier this year, the Minnow offers the classic Burley features– aluminum roll cage, comfy hammock-style seat, 5-point harness system, and water resistant cover. But it does so at a price point ($269) that active families on a budget can afford.
The Minnow's construction makes it a great gift for travelers. It's got 20" push-button wheels designed for quick set up/breakdown, and folds flat for easy portability. You can also purchase a "Baby Snuggler" separately, which allows infants to go for a ride.
In recent years workout clothes have become ubiquitous, even among those who rarely (if ever) visit a gym. For active travelers they're essential, with technical features that provide everything from moisture-wicking and thermoregulation properties to repelling bugs that cause disease.
My daughter's a huge fan of the Evicii Athletica brand, which founder Jamie Lawrence refers to as "our take on the little black dress for the actively inclined." Their edgy twist on the "athleisure" trend thrives on cool textures and edgy modern designs rather than bold prints to stand out from the pack.
Their Inspired Legging line is a perfect example. With a form-flattering fit and a Black Quilted and Black Paisley pattern, they look more like a rock star's leather pants than something you'd wear to exercise.
The Motivate Running Capri and Women's Racer Tank from Cool Core are more focused on function than fashion. Their simple design belies a bevy of technical features.
The "smart" fabric is engineered to accelerate the evaporative process to keep your skin dry, while the thermoregulation and ventilation properties help you stay cool and comfortable even when you're working up a sweat. The stretchy fabric and subtle compression make sure you look fab while doing so.
Back To Table of Contents
BEST GIFTS FOR BEACH LOVERS
Summer may be six months away for countries in the Northern Hemisphere. But winter is the perfect time for a beach vacation in Belize, the Bahamas, or Tahiti!
My daughter has become a huge fan of the Skatie brand of swimwear, which prides itself on being locally made using surplus or up cycled fabrics. Their Laguna bikini is a perfect example of their flirty, fun style.
The Kate Top offers underwire support and two-way adjustable straps, while the Daley Bottom offers ruching detail on the derriere for moderately modest coverage.
Mary, who is more well-endowed, always has difficulty finding swimsuits that provide adequate support for her ample assets. But Deakin & Blue's Lily Swim Bikini proves up to the challenge, with a flattering for women up to an HH cup.
This line is also made from recycled waste such as fishing nets, and designed to be comfy even during activities like snorkeling and paddle boarding.
As I mentioned, swimming is my preferred workout. Last year I began using FINIS gear to improve the fitness and strength training aspects when I exercise. This year, Mary started joining me.
Her Voltage Goggles are designed for fitness and open water swims. Their curved polycarbonate lenses reduce distortion and offer a wide range of view. The strap extensions and easy-to-adjust back clip make them comfortable and easy to use. She pairs them with the Glide Snorkel, whose center-mount design allows you to focus on stroke without needing to turn your head for breathing.
She's also excited about her new Swimsense Live, a Bluetooth-compatible waterproof watch designed for swimmers. When connected with the FINIS Live app, it accurately records your stroke count, time/pace, total distance, and other stats. Knowing these numbers REALLY encourages us to swim further and faster with each subsequent workout.
Keen has been our favorite water shoe brand for years. The Evofit One, which won an Outdoor Industry Award for 2017, just reinforces our respect. The footbed is designed to cradle the contours of your foot for a sock-like feel, while the fabric wicks moisture away. The aqua grip outsole ensures solid footing on any terrain, while the natural odor control keeps your fellow travelers happy.
VivoBarefoot's Tracker FG boots held up well on our recent trip to the Scottish Islands, so we were excited to test out their new Ultra 3 Water Shoe. They're as lightweight (6.7 oz) as a running shoe, grip like a climbing shoe, and the hexagon EVA structure makes them eminently breathable. But the material felt a bit like Crocs (not a good thing), and I personally prefer a bit more cushioning.
Designed for water sports, Adidas' Terrex CC Boat Parley offers active comfort and eco-friendly appeal. The latter comes from their partnership with Parley For The Oceans, an NGO dedicated to ending plastic pollution. The knitted upper (which fits like a sock) is made from recycled plastic and keeps you comfy no matter the conditions. The outsole provides excellent grip and drains water.
I'm known for wearing sunglasses pretty much all the time because of my extremely light-sensitive eyes. And due to the recently broken frames of my beloved Hobies, I was in the market for a new pair of shades.
Fortunately, Kaenon's Montecito Sunglasses proved perfect. Their tortoiseshell frame and brown-gold polarized lenses match my casual, sporty style and flatter my full-shaped face. Mary loves their Lina Sunglasses for ladies, with a hand-painted waterfall frame design and a cat-eye silhouette that's as eye-catching as it is elegant. They're perfect for the beach, or long, lazy days at the lake.
Cool Care Eyewear's Freeze Frames offer a unique, innovative solution for weary travelers. Created by an advanced practice nurse, their unusually wide frames mask hidden Gel-Pads. These can be frozen and attached magnetically in order to cool, soothe, and shrink the sort of swollen, tired eyes created by jet lag.
Because we spend so much time on our pontoon boat at Lake Allatoona, we love waterproof bags that keep our stuff dry. And since our boat has a grill, we love coolers that don't take up much space.
Sea To Summit's Rapid 26L DryPack takes care of the first need. It's made of tough 420D nylon that's designed to keep the elements at bay, and the top loading main chamber has a waterproof roll-top. There's a zippered pocket inside perfect for small items, plus stretch mesh side pockets and a huge exterior pocket. The ventilated shoulder straps and ergonomic shape make for a comfortable carry, making the streamlined bag perfect for the beach, climbing, or kayaking.
A few years ago we got a Yeti cooler bag that ultimately proved too big/bulky for regular use. But IceMule's Cooler Tote + Mini Classic is a perfect combo for a day on the water. With heavy duty canvas outside and nylon inside, it's rugged enough that it'll never rip. The tote includes a 9-liter cooler designed to keep drinks cold up to 24 hours. But, at 24″ x 15″ x 8", the tote has plenty of room for lunch, snacks, and other essentials.
This is another fun product I wish had been around when my daughter was younger. Unfortunately, she's at an age now where she'd be mortified to be seen in public wearing a Mermaid Tail.
Fin Fun's Watercolor Waves Mermaid Tail is aimed at kids and in-touch-with-their-inner-child adults alike. Made of a soft-but-durable polyester/spandex blend, the vividly colored tails have a safety opening at the bottom that allow wearers to walk on dry land. But they're designed to have a realistic look and motion, especially when you add a Monofin (sold separately).
The Mermaid Monofin from FINIS isn't nearly as flashy, but it's still a lot of fun. They're really designed to be functional, helping young swimmers learn how to do a dolphin kick and building leg strength in the process. They only come in three colors (Fin Fun offers dozens of designs). But at $32, they're also nearly half the price.
Back To Table of Contents
FASHIONABLE TRAVELERS- WOMEN
Sweaters are a perennial favorite in our family, and this holiday season is no exception. The Huntington Cardigan from Baciano looks European, but comes from L.A. designers. This fashion-forward update on the classic cardigan features a red, black, and beige chevron pattern, with fringe falling at the knee. It's stylish enough for a night out on the town, but comfy enough for a night in.
The Erica Cardigan from Craghoppers offers a more casual style. The knit-look fleece is made from a wash-and-wear acrylic and wool blend. The relaxed fit and long cut make this cardigan ultra-cozy, perfect for a cold winter night of hot cocoa on the couch. And of course we love that it comes in Dark Moss (a.k.a. green)!
We love the Bray Fisherman Sweater from United By Blue for many reasons. The first is that its style reminds us of our recent trip to Ireland/Scotland. The second is that it comes in Brick Red, which makes it perfect for holiday gatherings. The most important is that it's made from biodegradable Merino wool, and UBB removed one pound of ocean trash for every product sold.
Mary loves wearing boots when we travel, especially for work-related conferences. But since we travel carryon-only, it can be tough to find boots that are stylish, comfortable, and easy to match with a diverse array of outfits.
The Milly Boot from the Charleston Shoe Company– a modern twist on the classic bootie style– totally fits that bill. The lightweight slip-on has an elastic upper (available in black, grey, or black/grey stripe) that confirms to your foot. The treaded 1.5-inch platform sole is comfortable enough to wear all day. And as their tagline says, it's designed to go "from cobblestones to cocktails."
We've been big fans of Bogs' boots for years. We love their blend of rugged durability and earthy style, and the Arcata Stripe Waterproof Winter Boot is no exception. Made from waterproof rubber, it's got 5mm Neo-Tech insulation to keep feet warm, Max-Wick lining to keep them dry, and DuraFresh technology to prevent stinkiness. The GlacialGrip outside also provides great traction.
We don't promote it as much as we should, but our GGT Fair Trade Shop offers a wide range of beautiful jewelry from artists around the world. Wildlife lovers will especially dig our Safari Collection, which includes bracelets and matching earrings featuring our favorite safari animals– Elephants, Giraffes, and Zebras. We make each of these ourselves, using 10mm beads of silver, Fossil Agate, White Magnesite, and Snowflake Obsidian.
We also offer gorgeous Turquoise & Lapis Teardrop Earrings from Artisana, a women's collective in Tecalpulco, Mexico. These handmade earrings feature inlaid stones artistically arranged in the shape of a 1.5 long teardrop. Like the rest of the Artisana line, this piece represents the ancient tradition of fine Mexican jewelry.
Our Glossy Recycled Paper Necklace comes from Kenya's Jedando Modern Handicrafts collective. They come in a dazzling array of colors: This one includes green and blue as the primary hues, with orange and pink accents. They're made from recycled calendars and brochures, with glass seed beads interspersed throughout. Each is 32 inches, and can be doubled or tripled to the length you prefer.
For travelers, bags are one of those gifts where function is more important than fashion. But if you can find a bag that offers both, that's even better!
The Blue Skye Tote from SkyeBags has excellent eco-friendly appeal. They're made from recycled aircraft leather donated by Delta, so each one is slightly unique. They're lined with organic cotton, and solidly constructed using upholstery-grade thread. And the company founder donates 10% of all profits to the Nature Conservancy's Carbon Offset Program.
The Fricaine brand focuses on exotic luxury purses, and their Alake Embellished Bag is a real beauty. It's the flagship piece in their embroidered line, with a vivid, exotic pattern that's bursting with color. At 15″L x 9″W x 9.5"D, it's large enough to use as a small overnight bag. And with a card pocket, cell phone pocket, drop pocket, and separate multi-purpose pocket, it's easy to keep organized.
As self-employed people, we spend a LOT of time working in our pajamas. When you work from home and your only visitors are UPS and FedEx, why not be comfortable? But the Travel Journal Stretch PJ Set makes sure you're always looking worldly. Available in men's and women's styles, the 95% cotton set is super comfortable, with a colorful travel journal-style print designed by Bedhead founder Renee Claire Bertrand.
Of course there are some days when you want to feel more fashionable and fabulous. Mary's new Estrella Stardom Long Silk Kimono from NK iMode fits that bill perfectly. The 100% silk fabric, lace trim, and open back offer a sexy appeal that looks just as good as it feels. And the rich Scarlet color makes it a perfect romantic gift for Christmas (or Valentine's Day, for that matter).
At 16, my daughter still embraces her inner child with glee. She loves Christmas, and she loves onesie-style PJs. So I know she's going to adore her new Polar Bear Adult Footless Onesie. Made from polar fleece, with hand warmer pockets, cuffed legs, and an attached hood, it's designed to keep you… well, Snug As A Bug. And its holiday colors couldn't be more festive!
Our family is dominated by sisters, moms, and aunts, so beauty products are always a popular gift. For my daughter, Chicago-based vegan beauty brand Kaike offers a Box Set that's sweet, both literally and figuratively. It includes a 4-oz Frosting (moisturizing body butter), 8-oz exfoliating Sugar Scrub, 4-oz Cleansing Oil, 2-oz Marshmallow Mask, and candelilla wax Frosting lip balm.
Mary has dry skin, so she's loving her new Moisture Essentials Set from nyl Skincare. The vegan, cruelty-free line is non-comedogenic (a.k.a. won't clog pores) and uses anti-aging, anti-inflammation oils. The gift set includes a 4-oz Whipped Hand & Body Lotion, .5-oz Velvet Transformative Serum, 8-oz Gentle Sugar Body Polish, and 2-oz Body Balm.
Snow Fox Skincare is an organic, plant-based line that prides itself on being cruelty-free and sustainable (see: 68% Waste Recycling Rate and they use 55% renewable energy). Their attractive All-in-One DIY Gift Box includes a Soothing Facial Cleansing Mousse, All-in-One Detox Mask, Defense Multi Cream, plus four bonus facial powders with which you can make your own DIY masks.
Back To Table of Contents
FASHIONABLE TRAVELERS- MEN
Created by guys who, like us, were inspired by their time in Costa Rica, Howler Bros has been my favorite men's brand for several years. (For evidence, take a look at my current Facebook profile pic!) Their clothes are equally suited for a day in the jungle or a night on the town. Their Horizon Hybrid Pants are made from durable, quick-drying ripstop nylon, and their new cotton blend Shaman Hoodie with Dark Heather/Washita Jacquard is even hipper than last year's model. For me, Santa came early this year.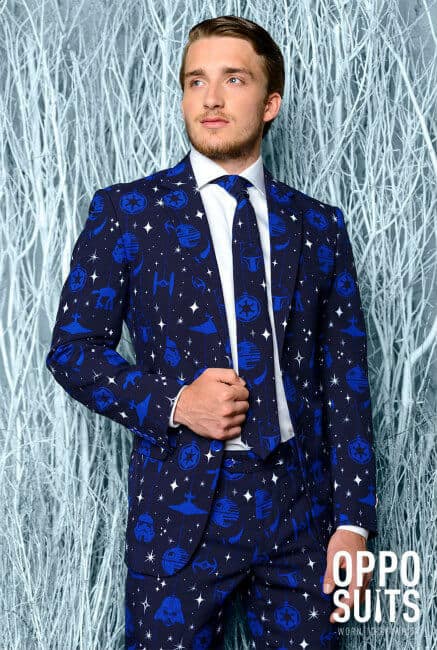 Until Mary and I went to a party in Downtown Atlanta on New Year's Eve in 2008 (our fifth date), I'd never owned a suit as an adult. But if quirky couture such as the Starry Side from OppoSuits had been available back in the '90s, I might have found the suit I was looking for! The Force is strong with this brilliant blue number, which boasts cobalt-colored Stormtroopers, Death Stars, TIE Fighters, and AT-AT walkers against a starry space backdrop. The slim fit cut is cooler than Hoth, giving new meaning to the term "geek chic."
As a burly Scottish-descent dude who tends to burn hot, most winter jackets are too warm and puffy to suit my tastes. But the Voyager Hybrid, part of Craghoppers' Men's Lightweight Collection, combines warmth and comfort with a sleek modern design. The classic puffer jacket torso is offset by Gore Windstopper on the sleeves and back, providing ThermoLite insulation without the bulk. Best of all, the jacket compresses to an impressively small size, transforming into a travel neck pillow!
Kuhl's Spyfire Jacket is equally flattering and fashion-forward, with a precision 3D fit designed to flow with your body's natural shape. It's warmer than it looks thanks to ethically sourced 800-fill goose down and baffles designed to provide thermal heat where you need it and reduce bulk where you don't. And it's strong enough to withstand the toughest adventures, with DWR soft-shell reinforced shoulders and 20 denier, 24 high filament nylon fabric that resists tearing. It's a fantastic-looking jacket.
Second only to Howler Bros. among my favorite brands of men's clothing, Toad & Co. also has the dressy casual look I love down to a science. Their Drover Denim Pants look like jeans, but feel more like khakis (made from 98% organic cotton, 2% spandex). I pair them with a Mahogany colored Kennicott 1/4 Zip, which has a recycled wool/poly/nylon blend outside and soft jersey inside. But my favorite T&C piece is my bronze Airvoyant Puff Vest, made from 100% recycled polyester. It's warm and water-repellant without the bulk you'd expect, adding a slimming look to any outfit.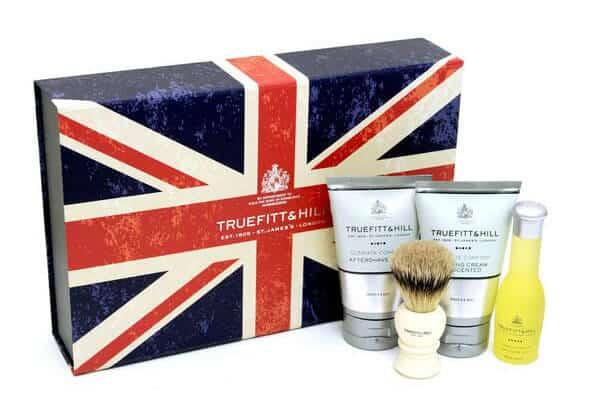 I've had facial hair for the better part of 30 years now, but in 2017 I really got my beard game on point. Keeping it that way when we're on the road can be tough (I actually broke my Wahl Groomsman on a trip earlier this year). But the Essential Travel Kit from iconic British brand Truefitt & Hill makes it easier. The set includes travel sizes of their award-winning Pre Shave Oil, Ultimate Comfort Shaving Cream, Ultimate Comfort Aftershave Balm, and a hand-made shaving brush. The only thing missing is the razor!
I've been called a metrosexual before, but I'm definitely no fashion maven. My only real indulgence is shoes, of which I have a pair (or two) for every possible occasion.
The Stuart Black/Castlerock sneakers are a perfect representation of my style. From the outside, they've got an upscale athletic feel that looks equally good on a boat or in the club. On the inside, they're lightweight and breathable, with Superfeet Supercork premium insoles providing excellent support. It's no wonder Bicycling called them "the most comfortable shoe to slip on after a workout."
Born in Boston, MA, ForSake is a new brand for us this year. They specialize in "sneakerboots" such as the Driggs, an urban-inspired high-top. The shoes blend the lightweight comfort and athletic fit of a sneaker with the waterproof construction of a sturdy boot. The result is a slick-looking shoe designed for rugged terrain that will also stand out in the concrete jungle.
TI:ME Slippers are another unique sort of hybrid, with the look of a sneaker and the comfort of a slipper. They slip on and off easily, which is perfect for going through airport security. The stretch laces and flexible outsoles give them a relaxed feel unlike any shoes I've ever worn. And the plush wool lining and cushioning 6mm insoles make them so cozy, you may not want to take them off.
Back To Table of Contents
READ MORE: The Best Travel Clothing For 7 Travel Styles (An Epic Guide)
 BEST GIFTS FOR FOODIES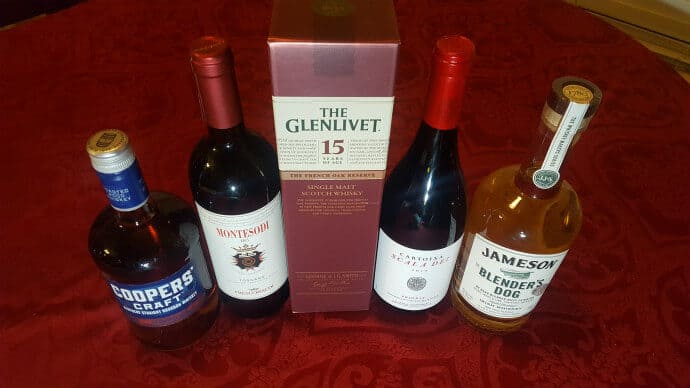 Wine & Spirits
What do you get for the person who has everything? Or conversely, the person who has nothing and prefers it that way? A lot of our blogging friends are permanent nomads with no permanent address, so food and drinks make the perfect gift. Come to think of it, we don't know many people who don't enjoy the "spirits" of the holiday season!
Mary and her friends are especially into wines, and this month we had a chance to sample three. Made from the Garnacha grape that originated in Spain, the 2013 Scala Dei Cartoixa Priorat DOQ offers a robust flavor with notes that include chocolate, red fruit, and vanilla. The 2013 Castello Nipozzano Montesodi is made from Sangiovese grapes grown on a Tuscan vineyard: It's fruity and full-bodied, with hints of blueberry, cherry, strawberry, and savory herbs. Charles Krug winery is the oldest in Napa Valley. Their 2014 Family Reserve Generations is a fine Cabernet-dominated Bordeaux blend with aromas of berries, cherry, coffee, and crème brûlée.
I'm more into liquor, and whiskey in particular. So I was delighted to sample three of those as well. Coopers' Craft was the only brand that was new to us. Their Kentucky Straight Bourbon benefits from a charcoal finishing process that uses beech and birch to create a soft, light taste that perfectly complements winter food flavors. Getting The Glenlivet's 15-yr Single Malt and The Blender's Dog from Jameson gave us a chance to compare/contrast Scotch and Irish whiskey. I'm partial to the rich, intense creaminess of the Single Malt, but Jameson's Head Blender Bill Leighton masterfully marries the flavors of their myriad maturing stock.

Foodie-friendly gift boxes are the perfect present, because who doesn't like good food? Sincerely San Francisco puts a fresh local spin on their offerings, sourcing delicious delectables from all around the Bay Area.
Their Happy Holidays Gift Box comes in four different sizes (including an elegant wooden crate version) ranging in price from $44 to $130. Our medium-sized box came packed with Nana Joe's Spiced Almonds, Caramelized Graham Crackers in Milk Chocolate from Kika's Treats, Jamnation's "Subliminal Message" Meyer Lemon Marmalade, Recchiuti's Asphalt Jungle mix (caramel nuts, dark chocolate dried cherries, peanut butter pearls, etc.), and a Golden Gate Dish Towel from The Heated.
At $64, the Munchies Gift Box is a perfect indulgence for anyone with a serious sweet tooth. Its tasty treats include Nana Joe's Orange Spiced Mixed Nuts, a Dark Chocolate Sea Salt bar from L'Amourette Chocolat, a Mini Dark Milk Chocolate Coffee Toffee Bar from Charles Chocolates, Salted Crunchy Caramels from Kika's, a 4-Truffle box of chocolates from Sixth Course, and more. We're still slowly eating our way through the collection, but everything we've tried so far has been scrumptious!
We're serious coffee lovers. From Costa Rica and Colombia to Hawaii and Rwanda, our travels have afforded us the opportunity to sample some of the Best Coffee in the World.
For friends who want a taste of the world's best coffees without the expensive flights, you can give Atlas Coffee Club's World Tour of Coffee. Available as a 3-month ($59.50), 6-month ($114), or 9-month ($199) gift subscription, the club sends 12-ounce bags of single origin coffees in gorgeously designed bags. Ours started with a deliciously rich varietal from Uganda, which came with a tasting profile, brewing recommendations, and a postcard. Next up, a sweet 'n' spicy bean from San Jual del Río Coco, Nicaragua!
Unfortunately, all regions of the world are NOT equal where coffee is concerned. When we travel, we often take our favorite Fair Trade coffees with us, but coffee makers aren't always available. The BOD Explorer from BodyBrew is a great portable solution, allowing you to brew a delicious cup with no electricity needed. The compact (12.5 x 6.25 inches) modular system brews up to 24 oz. at once, and includes a twist cap that allows you to store it in the fridge. c
Coffee snobs like me prefer fresh-ground beans. The Ceramic Coffee Mill from Kyocera offers travelers a portable solution for that, too. The grinding mechanism is made from a ceramic almost as hard as diamonds, which will never rust or grow dull. The grind can be adjusted as fine or course as you like, allowing you to create facsimiles of espresso, French press, or Turkish-style coffee.
I've rarely met a woman who didn't love chocolate. With Mary and my daughter both big fans, I've learned it's a good idea to keep good chocolate on hand at all times.
Ethel M is a brand that chocolate lovers can feel good about buying. Based in Henderson, NV, their plant is powered by a 4-acre solar panel garden, and all their chocolates are free from preservatives. Of course eco-friendliness is less of a concern for most consumers than taste, and their 16-piece Holiday Tin Classic and Holiday Liqueur Tin offer a scrumptious sampling of gourmet flavors. The latter is my favorite, as each barrel-shaped bite is filled with amaretto, bourbon, rum, and other adults-only yumminess.
Hnina is a gourmet organic chocolate brand we discovered last year that was founded on the principles of healthiness, happiness, and a holistic approach to food. All of their products are made from non-GMO, nutrient-rich, pesticide-free ingredients, full of antioxidants, proteins, and vitamins. Their 12 Rock Assortment Box makes a great gift, allowing you to choose a dozen truffles filled with roasted or raw nuts and seeds. From coconut and hazelnut to macadamia and pistachio, every one is low in sugar and lushly divine.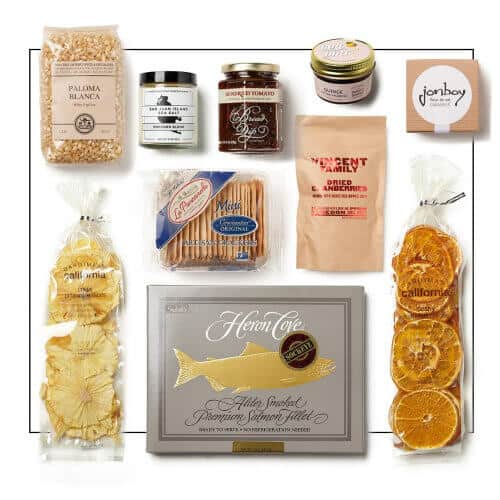 Foodie feasts are our favorite gifts to send friends and family who live far away because they're easy to ship and you know it's not something they'll wish they could return. Knack, a female-owned company that donates 5% of all sales to philanthropic causes, offers hundreds of different gift boxes to choose from. Our favorite, the Nut-Free Feast, is a beautiful package filled with crackers, sundried tomato bread dip, quince preserves, popcorn and sea salt seasoning, crispy fruit slices, smoked Sockeye Salmon filet, and much more. Best of all, each gift box can be customized to suit the individual taste of the recipient.
Back To Table of Contents
BEST GIFTS FOR JETSETTERS
We've been traveling carry-on only for nearly a decade now. The Best Carryon Luggage makes it easier to organize your stuff, helps you avoid baggage fees, and prevents your bags from being lost en route.
Weighing just 5.18 lbs, the Vx Touring Global Carry-On from Victorinox Swiss Army is one of the lightest wheeled bags we've tested this year. Its ingenious design includes a magnetic monopole that maximizes internal capacity as well as zippered expansion that allows you to customize the size. We also love that it has a removable strap that allows you to attach a backpack or laptop bag, which makes rolling through the airport a breeze.
The TLS Mother Lode Mini from eBags isn't quite as glam as the Victorinox. But, with a list price currently at $119.99, it is less than half the price. And it's not a bad 21" wheeled duffel, offering a packing capacity of 2752 cubic inches when the expansion zipper is opened. Other features include multiple storage pockets, photo-reflective cords for nighttime safety, and a lockable u-zip opening.
Noise-cancelling headphones are an absolute must for us on international flights, both for listening to music/movies and drowning out the loud talkers, crying babies, and the general roar of sound a jet creates.
The N60 NC Wireless from AKG is arguably the best we've ever tested. It's built on the Grammy-winning success of the original version, but now available as a Bluetooth wireless device perfect for travelers. The on-ear phones produce incredibly rich sound, with memory foam and protein leather providing Active Noise Cancellation that has been rated best-in-class. And with the Bluetooth turned off, the battery life will last up to 30 hours– long enough to make it to the other side of the world.
If you don't have $300 to spend, Audio-Technica's ATH-SR6BTBK Wireless Over-Ear Headphones are a more budget-friendly alternative. They're currently on sale for $149, and provide impressive high-resolution sound for the price. Bluetooth technology allows them to connect wirelessly to your devices. The only downside is that they lack the AKG's noise-cancelling feature.
Thanks to the crowds mass tourism, jetsetting in the world's major cities can make you a target for pickpockets and other thieves. But travel gear designers are becoming increasingly crafty with their security features.
The Full Crossbody Bag from Arden Cove's Anti-theft Waterproof Collection looks like a fashionable travel purse, with gold metallic accents and chain. But the entire fabric body is slash-resistant, the detachable strap cannot be cut or broken, the waterproof zippers lock, and there's RFID-blocking material to prevent electronic identity theft. It's available in five fab colors.
The CitySafe CX Convertible Backpack from Pacsafe is similarly well-designed. But it's considerably larger– 8 liters– and converts from cross-body purse to backpack when more storage is needed. Its security features include Turn 'n'Lock security hooks, slashguard fabric and strap, secured zip tab, Roobar-style locking system, and RFID-blocking pockets.
As mentioned elsewhere in this piece, I'm a terrible sleeper. I can't sleep on planes. I can't sleep in strange beds. The best I can usually do is make myself comfortable and hope that exhaustion kicks in.
The Tech Throw Travel Blanket and Hooded Travel Pillow from Grand Trunk go a long way towards helping with the former. Weighing in at just 20 oz, the blanket uses 150 grams of micro-thermal insulation to keep you warm and toasty. And it compresses down into a stuff sack that makes it easy to fit over your rolling bag. It pairs perfectly with their hooded pillow, which is made of micro fleece and ergonomic memory foam to provide a cushioning cradle for your head.
Weighing a hefty 10 lbs, the Airweave Portable mattress topper isn't going to fit into anyone's carryon luggage, so it's no good for international travel. But for extended overland travel, the polyethylene cushioning support it provides can make a world of difference when sleeping on less-than-perfect mattresses. Their Airfiber technology helps distribute weight more evenly and improve airflow, leading to a deeper, more restful slumber when you're on the road.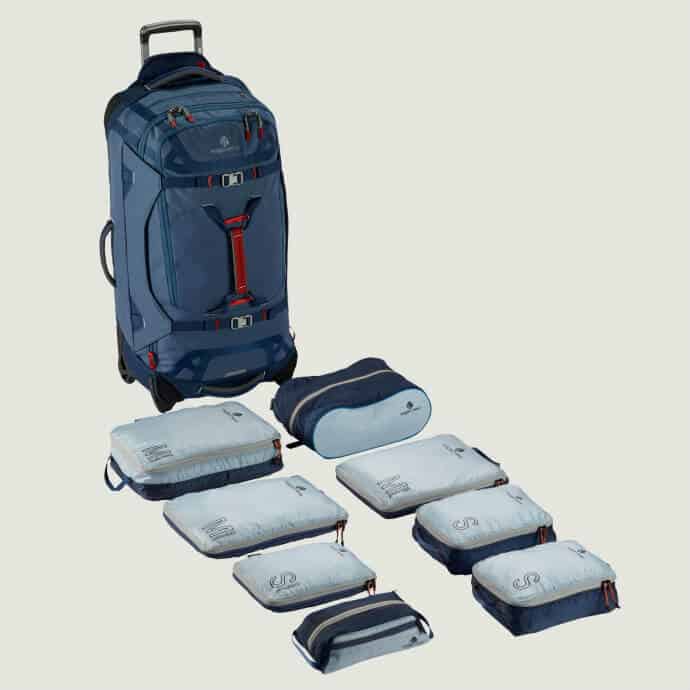 We've been Eagle Creek loyalists for years (and receive no compensation for saying so!), using their 21" 4-wheeled carryons every time we travel. Though it's too big for our carryon-only ethos, their Ultimate Adventure Gear Kit is an impressive collection perfect for long-term travelers. It starts with the 32" Gear Warrior roller, which offers huge pockets, sturdy handles, and chunky wheels that can tackle any terrain. Then they add enough Pack-It Specter Tech accessories to hold… well, everything. There's a Clean/Dirty Cube, Shoe Cube, Structured Cube (for delicates), Compression Cube (for clothes), Quick Trip (for toiletries), and more. Since everything is covered by Eagle Creek's lifetime warranty, this may just be the last piece of luggage you'll ever need to buy.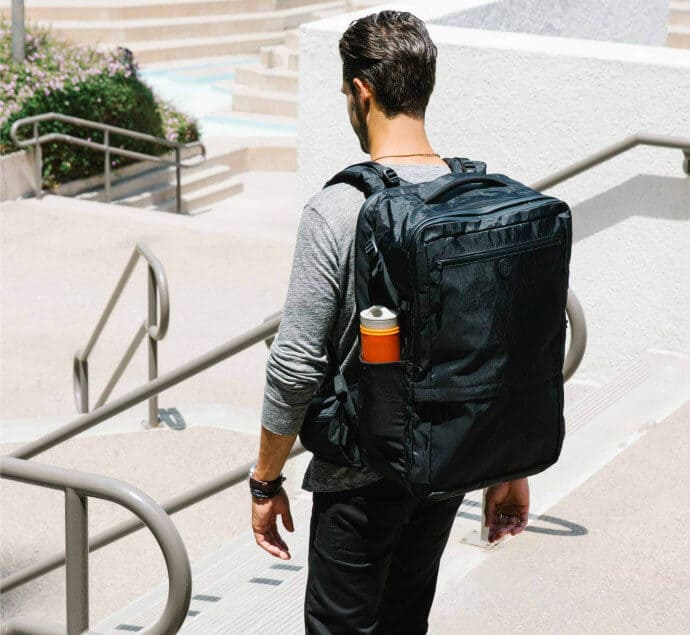 Named the Best Carryon Travel Bag by The Wirecutter, Tortuga's Outbreaker Backpack is designed to be more city-friendly than a rolling bag, but better organized than your usual hiking backpack. Made of waterproof sailcloth– the same kind using in racing sails– the pack has a height-adjustable suspension system that makes for a supremely comfortable carry. Inside, the 22″ x 14″ x 9" 45L pack boasts an expansive array of pockets that make organization easy, plus a TSA-friendly laptop compartment that lays flat.
Back To Table of Contents
BEST GIFTS FOR NATURE LOVERS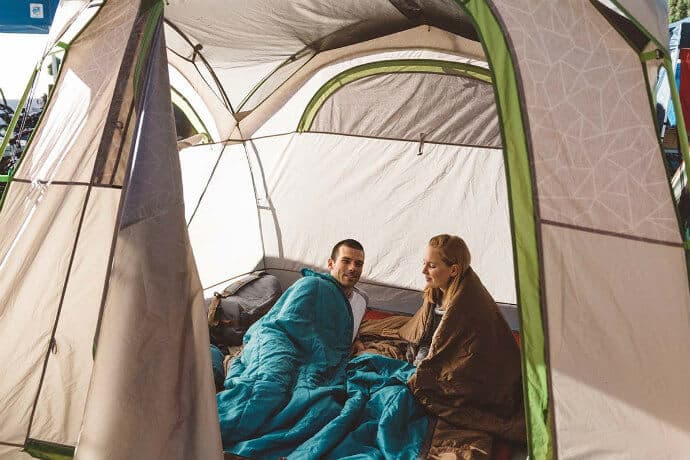 Mary's idea of camping is more like glamping– luxury yurts, hot water, electricity, and the beauty of nature right outside the door. Kelly's Camp Cabin is the next best thing, with a cabin-like design that offers 62 sq ft of space. At 77 inches, it's tall enough that even I can stand up inside, and windows on all four sides ensure stunning view and strong air flow. The angled roof and rain cap fly keep the elements at bay, and sturdy steel/fiberglass hybrid poles stand strong against the wind. But, at nearly 16 pounds, this one is more for drive-up campers than backcountry explorers.
My favorite thing about camping is camp cooking: Food just seems to taste better when you cook it outdoors!
BioLite's CampStove 2 Bundle has everything you need for a killer camp kitchen that can boil, grill, and charge while using renewable biomass (twigs, pinecones, etc.) as fuel. The bundle starts with the smokeless CampStove 2, which has 50% greater power than the original, on-board battery storage, LED dashboard, and four fan settings. It also comes with Portable Grill and Kettle Pot attachments and a FlexLight USB Lantern so you can see as you cook. Best of all, you can charge your devices at the same time.
For more light around the campsite, try BioLite's BaseLantern XL, the world's first 500-lumen flat-pack lantern. At about 1/3 the size of lanterns with similar power, the sandwich-sized light proves that big things do come in small packages. Its 12000 mAh rechargeable battery can provide up to 72 hours of illumination, or charge your smartphone four times. You can also connect it to your devices via their new mobile app, allowing you to control sleep alarms, colors, proximity activation, and more.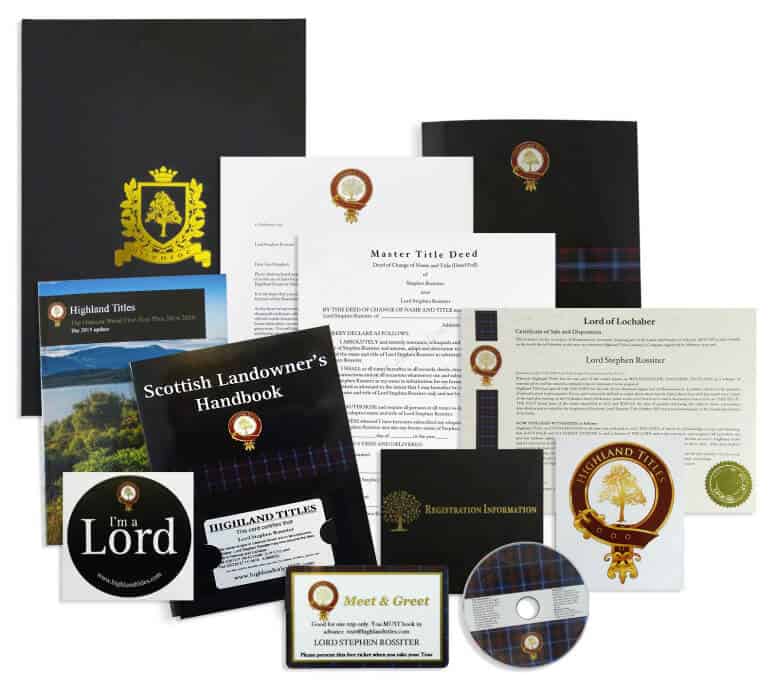 Once upon a time the Scottish Highlands were covered in woodland. Then commercial forestry and agriculture came along, and the landscape was neverthe same. Highland Titles is devoted to "Conserving Scotland, one square foot at a time." They buy land, sell small plots as souvenirs, and use profit to plant trees and wildflowers, remove non-native trees, and install beehives. For $176 you can give a loved one a 100 sq ft plot of land in Mountainview Nature Reserve. The beautiful gift pack includes VIP membership (i.e. discounts when you visit), a DVD tour, a tree dedicated in their honor, and camping rights at Keil Hill in their Glencoe Wood property. Plus, as landowners, they can rightfully call themselves a Lord or Lady!
Even when we're too busy working to get out and explore nature, we've surrounded ourselves with nature at home. From Permaculture Gardening to our clothing and decor, GGT has permeated every aspect of our lives. Even our house is green, both inside and out!
So the clothing of Barefoot Eco Outfitters is a perfect fit for us. The brand was founded by single mom Tracy Strandess and her kids, who escaped domestic violence and sought refuge in nature. Clothes such as their Mountain Lovers Joggers (which I'm wearing as I write this) and Trailblazer Sweatshirt show their love of the great outdoors, with earthy colors and iconic imagery. They're crazy comfortable, and made from organic and recycled materials. Plus they donate $2 from every purchase to environmental and ​wildlife preservation initiatives.
Crown Trails Headwear is another brand founded on the principles of conservation. They make a diverse array beanies, hats, and visors for America's National Scenic Trails and National Park Foundation. Some simply have logos against a plain background, but the Skyline mesh hats boast photos taken in/along the parks and trails. Best of all, the company donates a portion of the profits from every hat sold to these non-profit organizations, which helps to build, maintain, and protect our national trails and parks.
We love Cotopaxi, both for their sustainability initiatives and their 61-year guarantee on products. Their Allpa 35L Travel Pack Bundle is a rugged system designed for adventure. The exterior is made from tough, TPU-coated polyester and ballistic nylon. The low-profile harness, contoured shoulder straps, breathable back panel, and padded hip belt make for an impressively comfortable carry. There are zippered pockets (including padded laptop/tablet sleeves) everywhere. And the Bundle includes a stowable Batac Daypack, mesh laundry bags, nylon shoe bag, and snap-on water bottle sleeve– all in one carryon-sized pack!
The Converter Solar Backpack from Voltaic isn't quite so complex. But it's made for a completely different purpose: Allowing you to harness the energy of the sun to power your devices, even when you're off the grid. The 20-liter pack is made from 21 recycled plastic bottles, and includes SunPower solar panels and a 4000Ah USB battery pack. It's powerful enough to charge a smartphone in 3 hours, a DSLR camera battery is 5 hours, or a 7" tablet in 6.5 hours.
Due to my aforementioned size and level of body heat, finding a sleeping bag that works for me can be a challenge. I'm tall and broad-shouldered, so many bags are either too short, too narrow, or too hot for my comfort.
The lightweight Sine 20 Sleeping Bag from Kelty is just right. The water-resistant 800-fill DriDown and thermal comfort hood keep things soft, dry and cozy, with a 20ºF rating that keeps you warm even on cold nights. There's a long size big enough for people up to 6'6", and a zipper on the toe box that allows dual venting. When the weather's warm, you can just unzip and use it as a light blanket.
Rumpl's Down Puffy Blanket (available exclusively from REI co-op) is billed as the warmest travel blanket on the market. The 20D Ripstop Nylon with DWR repels water, stains, and odors, while the sustainably sourced 600-fill down insulation keeps you warm down to 40ºF. Weighing just 1.4 lbs, the blanket compresses down to a 7" roll perfect for backpacking or carryon-only travel.
Back To Table of Contents
BEST GIFTS FOR PET LOVERS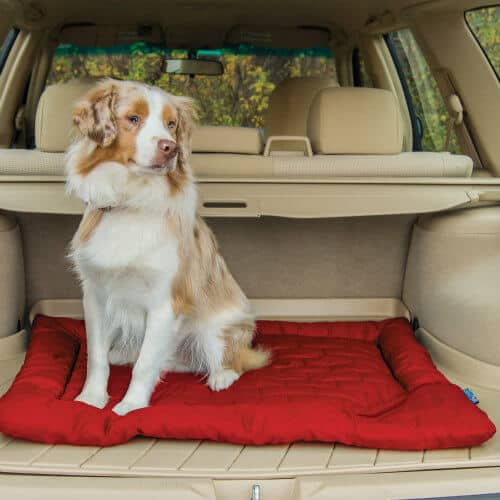 Working from home, we spend every day with our two dogs. So perhaps it's no surprise we love them as if they were our kids. The Loft Wander Dog Bed from Kurgo makes traveling with us much more comfortable for our Aussie Shepherd mix, Huckleberry, who has arthritic joints. Measuring 36in x 48in, the 3-inch thick bed is quilted, water-resistant, and rolls up in seconds for easy portability.
We outfitted Huckleberry with a handsome leash and collar from Pendleton's National Parks line last Xmas. This year we did the same for our 1-year-old Cocker-Papillion mix, Buddy (a.k.a. Boo Boo). There are 5 styles to choose from: Buddy's black, red, and beige design is named for Acadia National Park. It looks especially adorable when paired with his new Acadia National Park coat!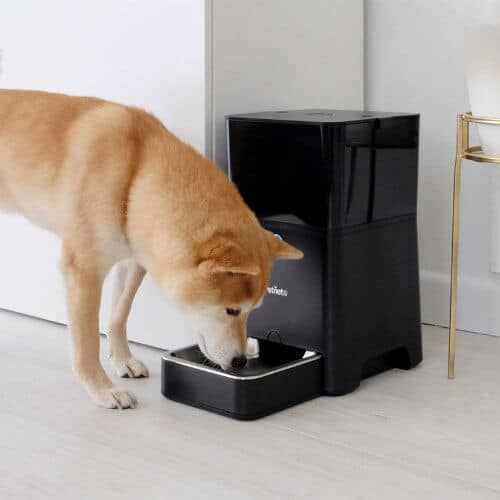 It's unfortunate we can't take our boys with us when we travel. But this year we used the Trusted Housesitters site to find people to watch our house/dogs while we're away. PetNet's Smart Feeder is a great solution for feeding pets when you're gone. Using their app, you can control when and how much they're fed, as well as scheduling alerts for meal times and overall food levels.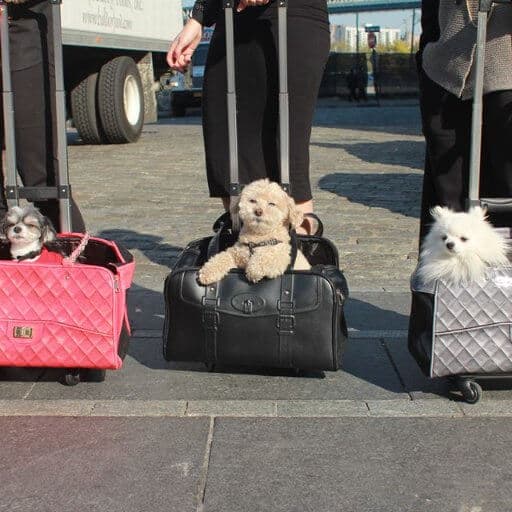 We've never had a dog small enough to travel on a plane (though Boo Boo, at 20 pounds is close). But for those who do, the Darien Pet Carrier from A Pet With Paws is a stylish solution. Made from recycled bottles, the vegan leather bag is 17 1/2" W x 9" D x 10" H, with mesh on top and sides for breathing. Pair it with the Pet-Trek 4-spinner trolley cart for easy rolling through the airport.
The best thing about having a puppy is watching our 10-year-old dog playing like a puppy again (and losing 15 pounds in the process).   Planet Dog's globe-like Old Soul Ball is perfect for Huckleberry, with a hole in the middle for stuffing treats in. Their puzzle-like Orbee Tuff Holiday Link is great for keeping Boo Boo busy while we're trying to work (or drive). And their virtually indestructible Tug is great for those rare, rambunctious times when our big boy and little boy decide they want to play together.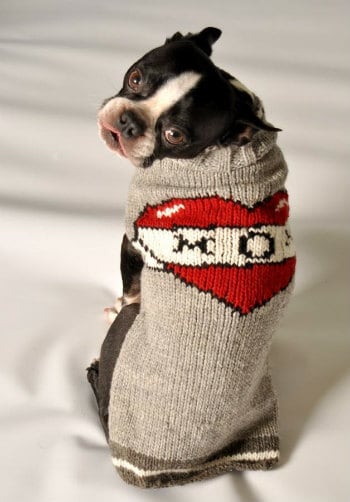 Mary had never raised a puppy before we got Buddy last year. In many ways, he is her first (and only) baby. So for Christmas this year we honored this special relationship by getting him a hoodie sweater from Rockstar Puppy. Not only does the hand-knit Fair Trade wool keep him warm and cozy in winter weather, but the tattoo-style "Mom" tells the world who's nearest and dearest to his heart.
Back To Table of Contents
BEST GIFTS FOR PHOTOGRAPHY LOVERS
Drones are the hottest thing in travel video right now. We're preparing to enter the market ourselves, buying a DJI Mavic Pro before year's end. But for those who don't want to spend $1,000+ just yet, this gadget provides an affordable price point ($339). Billed as the first pocket-sized drone, the AirSelfie weighs just 2 ounces and it's smaller than a cell phone. You control it using your smartphone or tablet, with images sent directly to your device via WiFi. At just 5MP, the images are nowhere near high-def enough to suit professional needs. But for beginners and families on a budget, it's a nifty little camera.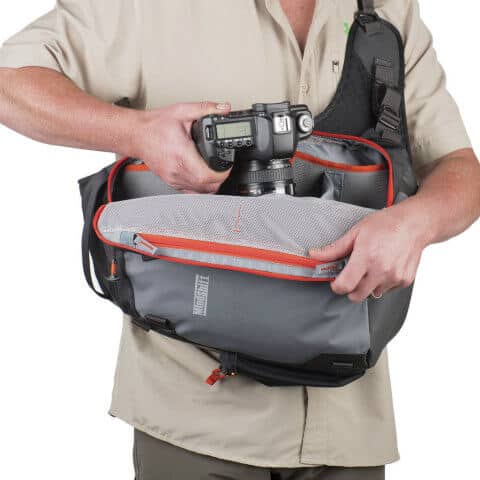 Adventurous travelers like us need backpacks and accessories built to withstand the most rugged elements. The PhotoCross 10 sling camera bag from MindShift Gear fits the bill, with its water-repellant coating, weather-resistant zippers, and 420D high-density nylon material. The 7.1" W x 12.5" H x 4.8" D interior makes the most of limited space, with room for a DSLR plus 1-2 lenses and a 10" tablet or 13" laptop. There's also a front pocket for accessories, a water bottle pocket, and straps for attaching a tripod.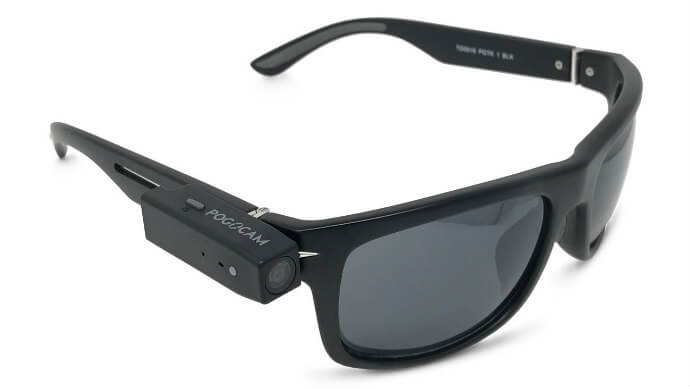 Measuring 1.7" L x .5" W and weighing about the same as two dimes, the PogoCam is a weird little device you attach to your glasses using a magnetic "PogoLoop" band. The camera can take up to 100 photos or six 30-second HD videos on a single charge, and comes with a smart case that can charge it 3 times and hold up to 16,000 photos or 180 short videos. The surprisingly decent quality images can be transferred to your devices wirelessly via Bluetooth. Their special $149 holiday offer also includes free PogoTrack sunglasses.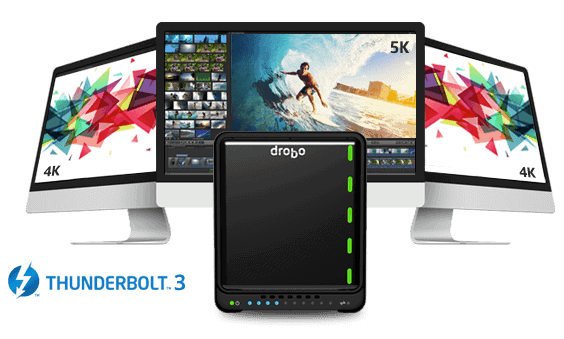 One of the biggest challenges we face as professional travelers is storing the thousands of hi-res photos and videos we shoot on every single trip we take. Last year we discovered Drobo's 5C, whose 5 bays made it 10x faster and offered 32x data capacity of their original model at 2/3 the price. The 5D3 is their epic third-generation DAS (direct-attached storage) model, specifically made for media professionals and small businesses like ours. At 8 pounds it's a bit heavy for international travel, especially if you're carryon-only. But it makes up for it with its lightning quick Thunderbolt 3 speed and enhanced backup for Mac's Time Machine.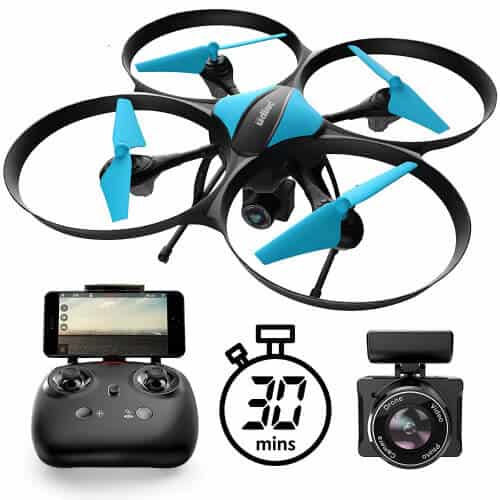 Another entry-level drone, this kid-friendly quadcopter gives beginners a chance to try their hand at piloting without fear of an expensive crash landing. The 3-speed drone offers simple 1-key controls for takeoff and landing, with Altitude Hold and Headless Mode making it really easy to control. The 120º wide-angle camera shoots HD video, streamed via WiFi directly to your mobile device. It also comes with spare motors and a bonus battery, allowing for up to 30 minutes total flight time. At a mere 720p resolution, it's nowhere near pro quality. But it's a fun gadget that eases new pilots into the drone hobby without breaking the bank.
Back To Table of Contents
BEST GIFTS FOR TECHIES
As travel bloggers, one of our greatest challenges is staying connected when we're exploring remote destinations. The Skyroam Solis  is a 4G LTE global WiFi hotspot and power bank, offering access to unlimited data in 100+ countries. Its lightning-quick speed is accessible by up to 5 devices, and you can charge your gadgets using the embedded 6000mAh power bank. The device offers 16 hours of battery life, and 24 hours of WiFi access for $9. The only drawback is that it doesn't work in much of Central Europe and Africa.
I never had a cavity until I hit 35. But the older we get, the more we see the importance of oral hygiene. The Genius Pro 8000 is billed by Oral-B as "the world's smartest toothbrush." Its bevy of features includes Oscillating/Rotating/Pulsating Technology, Position Detection Technology (which works with the app to provide real-time feedback), Triple Pressure Sensor Technology (to protect from over-brushing). It also comes with a stylish travel case that charges both the toothbrush and a USB device.

Music & TV Boxed Sets
I've never been able to sleep on airplanes. I usually pass the time by binge-watching movies/TV shows or listening to music. Boxed sets make great Christmas gifts, and this year many have been released just in time for the holidays. For comedy fans, there are complete series collections for the classic sitcom Green Acres and the David Spade hit Just Shoot Me. For those who like procedural crime dramas, there are expansive collections for CSI: Crime Scene Investigation, CSI Miami, and Homicide: Life On The Street. But our favorite boxed set this year is John Lee Hooker's King of the Boogie, a 5-CD set of greatest hits and unreleased tracks.
When you're on safari in Serengeti National Park or hanging out with Bedouins in Wadi Rum, keeping your cameras and laptops charged can be a challenge.
The new PowerKeep Wanderer backpack from Energizer Solar offers a simple solution. Lightweight (3.45 lbs) but durable, the daypack incorporates thin solar panels with a 10,000 mAh power bank that can charge a smartphone in 2.5 hours or a tablet in 4. The 19.3 x 13.4 x 7.1 in bag offers plenty of pockets for organizing your accessories, and it also includes a 2-liter hydration bladder.
The LightSaver from PowerFilm is easily the most compact, portable solar panel we've ever tested. It measures 7.8" wide and 18.5" long unrolled, but rolls up into a 1.5" thick pack you can fit in your pocket. But don't let the size fool you: The 3200 mAh battery is strong to charge your phone and one other small electronic device every day, and recharges with 6-8 of sun.
As professional travelers, we envy people who get to enjoy relaxing vacations. The type of adventure-filled travel we tend to do can be exhausting (i.e. getting sick 4 times in 3 weeks in Scotland/Ireland). And the jet lag you get from flying 20+ hours is no joke.
The N.O.W. Tone Therapy System was created by Michael Joly, a designer of boutique studio microphones who also practices meditation. His "New Origin Waveforms" concept is rooted in the ancient healing power of music, which has been used in shamanic ceremonies for centuries. Basically, the portable device is a "one button, 3-button solution for stress," designed to help travelers relax. Even if you're not into meditation, the soothing tones are like a short visit to a spa, and left us feeling calm, centered, and focused.
I've been an insomniac since I was 15 and have a lot of trouble adjusting to new beds when we travel. The iZBT5 Portable Sleep Therapy Speaker from iHome's Zenergy line takes a similar approach to combating sleeplessness. Endorsed by "The Sleep Doctor," Dr. Michael Breus,  the device uses sound and light therapy to help alter your energy levels and mood at different times of day. And after cranking out reviews of 125+ products and nearly 10,000 words in 3 days, you can bet I'll be using it to wind down tonight! -Bret Love